Two Below Zero Dinner Sleigh Rides & Summer Chuckwagon Rides/Wild West Show
800-571-6853 or 970-453-1520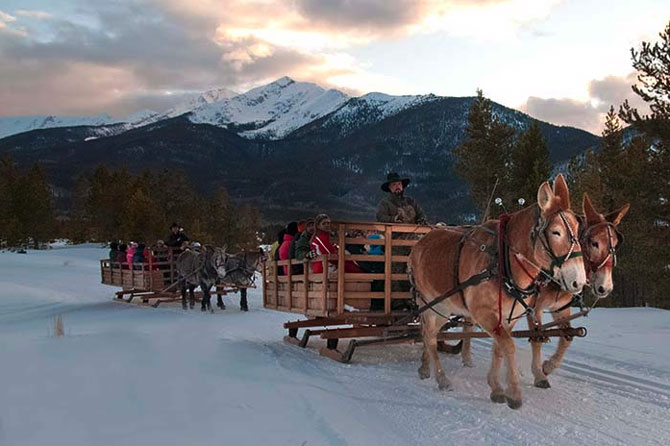 Winter Breckenridge Sleigh Rides | Summer Chuckwagon Dinner with Wild West Show
Reservations and direction to Two Below Zero
EXPERIENCE COLORADO -- Winter or Summer Horse-Drawn Rides with Dinner
Two Below Zero invites you to join us as we take you along for a memorable experience that will be the highlight of your vacation. Step back in time as we take you on a Colorado experience you'll never forget. Offering dinner sleigh rides with a live musical show in the winter and a chuckwagon with Wild West show in the summer. Trips depart from the Frisco Nordic Center. We were rated "Best Sleigh Ride" in America by Americas Best Online and featured on The Travel Channel with Samantha Brown- one of the top things she did in Colorado. This Colorado Experience is sure to please families, groups, and corporate events.
If you're planning a COLORADO WEDDING, your guests will be pleased by your destination experience where we do the work and the bride and groom share the experience of a lifetime.
WINTERTIME BRECKENRIDGE SLEIGH RIDES
Rated #1 Sleigh Ride in America! Denver's most Accessible Sleigh Ride!
Climb aboard a HAND-CRAFTED OAK SLEIGH and nestle yourself under an antique lap robe. A handsome team of mules will take you down a secluded, picturesque trail. Waiting for you at the end of the trail you'll find a warm and cozy camp tucked deep in the forest where you will receive the best dinner served this side of the Continental Divide. Camp life includes a personal touch, excellent music, and live entertainment. Even if it's two below zero, you'll warm up to our service and hospitality.
HOMEMADE DINNER MENU: Hearty Southwestern Soup (just enough kick to warm you up), artisan rolls, choice top sirloin & chicken breast marinated and grilled to perfection, baked potato and mixed vegetables and warm apple pie with whipped cream. Vegetarian & gluten-free options available.
DRESS FOR THE WEATHER: Hats, gloves, warm shoes and coats are a must! Three 14-passenger sleighs are available. Trail is groomed daily.
SUMMER CHUCKWAGON DINNER with WILD WEST SHOW
SUMMERTIME -- Chuckwagon Rides with a Taste of the Old West
Join us for an old-fashioned dinner wagon ride, take in stunning views of the Rocky Mountains and enjoy the incredible Colorado weather. Have fun in our game corral before dinner with ropin', cowboy golf, and horseshoes. Once the dinner bell rings; prepare to be thoroughly entertained! You'll enjoy a BBQ cookout with a family-oriented wild west show -- featuring the Jackman Brothers.
CHUCKWAGON MENU: Biscuits & honey (before the dinner bell), signature beans, corn on the cob, smoked BBQ beef brisket & grilled chicken breast (you get both), corn bread, and apple pie with whipped cream for dessert. Vegetarian & Gluten-free options available.
Experience all the warmth of summer gift wrapped with Colorado hospitality.
RESERVATIONS and DIRECTION -- TWO BELOW ZERO
Open everyday 5:30pm and 7:45pm dinner rides.
ARRIVE: 30 minutes early to check in. We depart on schedule!
DIRECTIONS: 8 miles from Breckenridge. 1 mile from Frisco. From I-70, take Exit 203, South on Highway 9, The Frisco Nordic Center is on your left. Follow the road straight to the log lodge; 18454 Highway 9, Frisco CO 80443.
Reservations are required.
For Current Rates and Availability; To Make Your Reservations: 970-453-1520; 800-571-6853.
FACILITIES
Elevation: 9500 feet above sea level.
Setting: Mountain views.
Meals Regularly Served: Dinner.
Credit Cards: Visa Card. MasterCard. Discover Card.
GROUPS REUNIONS AND WEDDINGS
Groups Welcome: Club. Corporate. Reunion. Weddings. Elopements. Youth group with adult leaders. Retreat.
Group Meeting Area: Indoor room and outdoor area.
Maximum # of Day-Use Guests in Indoor Meeting Room: 42
Maximum # of Day-Use Guests in Outdoor Open Picnic Area: 200
FUN THINGS TO DO
PRIMARILY SUMMER ACTIVITIES
Performing Arts Theatre: On site.
Cowboy Supper & Show: On site.
WINTER ACTIVITIES
Find local Maps & Fun Things To Do for your Colorado Vacation:
---