Adventure Camper Rental
800-250-3184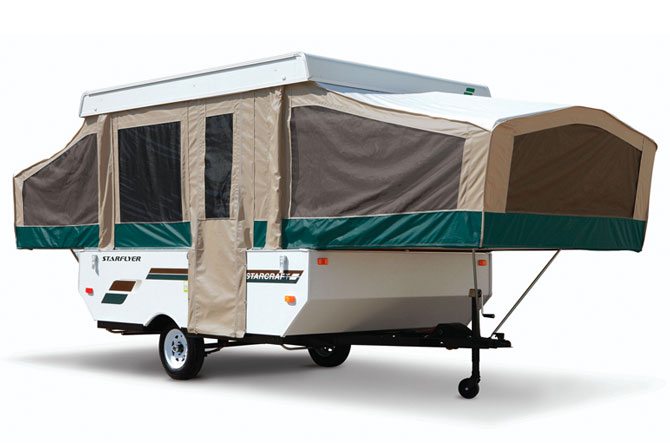 Adventure Camper provides the largest rental fleets in the Denver area.
OUR RENTAL DEPARTMENT: Expect quality Viking pop-up tent trailers and hard sided travel trailers in a variety of sizes to accommodate any size family or group. We do rentals for a weekend, weekly or longer time period. We offer new units, which are clean and well maintained. The campers have awnings, stoves, sinks, furnaces, refrigerators, and many with hot water and exterior showers. Units sleep 3-8 people depending on model.
Various models can be equipped with bike or canoe racks for your convenience. In addition we offer Honda generator rentals to give your camping trip almost all the comfort of home, no matter how far from civilization you are going!
CAMP-AND-DRIVE COMBO: Is one of our most popular rental options! Fly into Denver (DIA) we will pick you up. The CAMP-AND-DRIVE PACKAGE include a high-quality camper rental and a powerful van or SUV rental to tow it with. This gives you the freedom to drive wherever you please, and pick your campsites as you go!
All of our units are non-smoking, and we do allow pets.
Camping in a tent trailer is truly one of the most enjoyable ways to experience all that the Rockies have to offer. Any truck and even most six-cylinder passenger cars are capable of towing our campers to any of the numerous campgrounds in Colorado and the west. Once you arrive at your campsite, you have many of the conveniences of home such as comfortable beds and dining area, stoves, furnaces, sinks and in most models, refrigerators and even hot water with exterior showers. Even with these comforts, you are not isolated from the mountains around you as you are in an RV; you are part of the mountains. You can listen to the wind rustling through the pines, hear the forest animals explore their new neighbors, and enjoy the spectacular scenery through the large picture windows or under the shade of your awning. Best yet you still have full use of your vehicle to go into town for supplies, explore different areas around you, or just take a sight seeing drive.
LOCATION: We have a convenient pick-up and drop off location in Southeast metro Denver.
For Current Rates; Directions, and Reservations: 303-680-3670; 800-250-3184.
RATES

Specialty Discounts (call for availability): Firefighters and Police Officers. Military Personnel.

FACILITIES

Elevation: 8250 feet above sea level.
Credit Cards: Visa Card. MasterCard. Discover Card. American Express.
---
Find local Maps & Fun Things To Do for your Colorado Vacation:
---