Alamosa - South Central Colorado
Includes Blanca, Capulin, Center, Fort Garland, Hooper, Mosca, San Luis, Sanford
Experience Alamosa, Blanca, Capulin, Center, Fort Garland, Hooper, Mosca, San Luis, and Sanford, Colorado
Like many towns in Colorado, Alamosa was established in May 1878 by the Denver and Rio Grande Railroad. There was a construction, repair, and shipping facility located in Alamosa for many years. Now, the area attracts many vacationers with attractions like the Sand Dunes, the Colorado Gator & Reptile Park, and annual festivals.
The Great Sand Dunes National Park & Preserve, 35 miles northeast of Alamosa, is one of Colorado's most spectacular, constantly shifting natural formations. The dunes rise to 700' and are the tallest in America. Hiking is the most common activity done at the dunes but you can also sand board (similar to snowboarding), sledding, fly a kite, attend a photography workshop (sponsored by Friends of the Dunes Inc.), and wade through the waters of Medano Creek if it has recently rained.
Zapata Falls is an excellent hike only 30 miles from Alamosa. The journey up to the falls is adventurous taking you through chilly waters, over slippery rocks, and over a log bridge. The trip is fun and the waterfall is only half a mile from the parking lot.
San Luis State Park has an excellent wildlife watching area and a unique desert ecosystem bringing many animals and birds you might not see anywhere else in the state. Come here year round to catch a glimpse of all the wildlife the Park has to offer.
The Los Caminos Antiguos Scenic Byway is a great way to see the beauty of Southern Colorado. Start in Alamosa and pass through Mosca, Blanca, Fort Garland, San Luis, San Acacio, Romeo, and Conejos on your way to Antonito. Sections of the byway allow you to see two railroads: the Rio Grande Scenic Railroad and the Cumbres & Toltec Scenic Railroad.
Bird watchers should be sure to visit the Monte Vista Wildlife Refuge and the Alamosa National Wildlife Refuge; both are popular stops during spring and fall migrations for Sand Hill Cranes, various kinds of Ducks, Canadian Geese, and occasionally the endangered Whooping Crane. In the winter, numerous Hawks, Bald Eagles, and Golden Eagles stay at the refuges.
Hooper, Colorado has a hot springs pool open to the public called the Sand Dunes Pool. Feel the natural hot artesian waters seep into your pores as your stress melts away.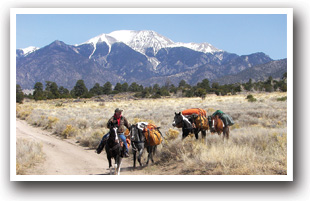 Mosca Pass, a historic route to drive, was once a toll road; the Great Sand Dunes are accessible from here on foot. On the way to Mosca Pass, stop at the deserted historic landmark of Sharp's Trading Post, a two-story adobe which once served as a hotel and trading post.
Fort Garland, a simple farm community known for its adobe buildings, has served this area of Colorado since the establishment of the fort Kit Carson commanded in the 1860s. Fort Garland was maintained to protect settlers against Indians. Abandoned in 1883, the Fort still remains as the town's principle attraction.
Driving Directions and Location: Alamosa, Blanca, Capulin, Fort Garland, Hooper, Mosca, San Luis, and Sanford, Colorado
Alamosa is 33 miles north of the New Mexico border along Highway 285 and 122 miles southwest of Pueblo, Colorado.
Commercial air travel accommodations are handled by the San Luis Valley Regional Airport. Please contact your preferred travel agent or airline for flight arrangements.
Alamosa is near: Antonito, Del Norte & San Luis Valley - Northern

Premium Alamosa Businesses
Sangre de Cristo National Heritage Area


Southern Colorado's Vacation Paradise! Your family will explore our National Heritage Area, the San Luis Valley, and the Sangre de Cristo Mountains: Great Sand Dunes National Park, train rides, river fishing.


---
Featured Alamosa Businesses
Great Sand Dunes Lodge at National Park

Stay with us at the entrance to National Park -- Alamosa, 32 miles. Serenity at the Great Sand Dunes. At the foot of Sangre de Cristo Mountains. Lodge rooms: Queen or King beds. Heated indoor pool. WI-FI.





---
Great Sand Dunes Oasis: Campground, RV Park, Cabins

32 miles NE of Alamosa, at the entrance of Great Sand Dunes National Park and Preserve. Striking oasis view of Dunes in San Luis Valley. Campground: camper cabins, full hookup RV park, tenting area.




---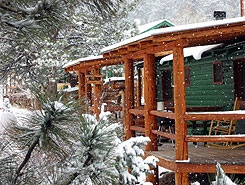 Riverbend Resort Cabins and RV Park


Between South Fork and Wolf Creek Ski Area; Riverbend Resort is close to Alamosa, Creede, Pagosa Springs. Cabins with fireplaces, decks overlooking private stocked river frontage. Full hookup RV Park.








---
San Luis State Park

At this wilderness state park see waterfowl, shorebirds, songbirds and raptors in the San Luis Valley. Near Alamosa, in the shadow of the Great Sand Dunes National Park: campsites, trails, bird watching.


---
Sangre de Cristo National Heritage Area


Southern Colorado's Vacation Paradise! Your family will explore our National Heritage Area, the San Luis Valley, and the Sangre de Cristo Mountains: Great Sand Dunes National Park, train rides, river fishing.


---
Ute Creek Campground & RV Park


Relax along Ute Creek in Fort Garland with long level RV sites and a separate tent campground area. Free WI-FI throughout Park. Enjoy exploring in south central Colorado. LESS PEOPLE = MORE FUN!


---
Woods & River RV Park and Campground Along the Rio Grande



Trout Fishing River Here! In Del Norte between South Fork and Alamosa. Friendly, quiet, campground along the wooded Rio Grande. A BIG RIG RV Park: full hookups, 70 pull-thru sites, room for slideouts.




---
For more travel information contact:
Alamosa Activities & Maps
National Parks and Monuments:
Great Sand Dunes National Park & Preserve

Scenic Byways:
Los Caminos Antiguos Scenic Byway -UPDATED-

Fishing:
Antonito Area Fishing Map -NEW-

Jeep & 4WD:
Upper San Luis Valley Jeeping & ATV/UTV Trails -NEW-

---