Alpine Lodge - Dinner Restaurant, Lounge, Mountain Cabins
719-783-2660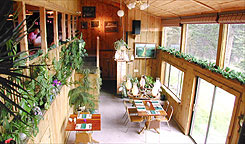 Quaint mountain cabins nestled among pines and aspens and bordered by San Isabel National Forest with its famous Rainbow Trail to the high country. Two-bedroom cabins sleep 2-4, have a kitchenette and private bath. All cabins are fully furnished and are cozy and comfortable.
Beyond the stark interstate . . . There is a world of natural beauty.
Beyond the hustle of Colorado's Front Range . . . There is a world of surprises as you slow down.
FINE DINING DINNER RESTAURANT: Peaceful atmosphere and good food in the beautiful Sangre de Cristo mountains! Excellent dinner restaurant and lounge offering steaks, seafood, pasta, sandwiches, homemade soup & pies.
SANGRE DE CRISTO MOUNTAINS: Hiking, fishing, climbing, hunting, mountain biking, and photography of wildlife and wildflowers. San Isabel National Forest includes over one million acres of beautiful scenery with snow-capped mountain peaks, spring wildflowers, autumn colors, crystal clear mountain lakes, and clear blue skies to enjoy.
SCENIC BYWAY: Spend a day our two exploring along the Frontier Pathways Scenic & Historic Byway. The pathway takes you on a journey full of vast natural and cultural variety, this part of southern Colorado was home to the nation's earliest explorers, trappers and traders.
LOCATION: Bordered by San Isabel National Forest; 9 miles southwest of Westcliffe. 6848 County Road 140, Westcliffe CO 81252.
For Current Rates and Availability; To Make Your Reservations: 719-783-2660.
LODGING

Lodging Open Dates: All Year

LODGING RATES

Nightly Lodging Rates On-Season: $85

ACCOMMODATION DESCRIPTION

About Smoking: All non smoking units.
Cabins/Cottages with Cooking Facilities: 5
Units with Queen Beds: All units.
Additional Amenities (ask about availability): Coffee Maker with coffee.

TECHNOLOGY IN UNITS

Units with TV: All units.

FACILITIES

Elevation: 9000 feet above sea level.
Location: Away from Town, but close to a community convenience store and restaurant.
Setting: Mountain views. Adjoins public lands. Forested.
Restaurant: On site.
Meals Regularly Served: Dinner.
On-Property in Central Area for Guests to Use: Central Picnic Area with BBQ Grills.
Credit Cards: Visa Card. MasterCard.

PET POLICIES

Pets in Lodging: All Dogs are allowed in private rental units. There may be a fee or a deposit.
Vet Services: 15 minutes drive.

TECHNOLOGY FOR GUESTS TO USE IN A COMMON AREA

DVD Player: Available.
Internet Cafe: 15 minutes drive.

GROUPS REUNIONS AND WEDDINGS

Groups Welcome: Club. Corporate. Reunion. Weddings. Elopements. Youth group with adult leaders. Retreat.
Group Meeting Area: Indoor room and outdoor area.
Central Picnic Area with BBQ Grills: Yes
Maximum # of Day-Use Guests in Indoor Meeting Room: 100
Maximum # of Day-Use Guests in Outdoor Open Picnic Area: 100
Maximum # of Lodging Guests with a Group: 30
Your Host will Cater or Arrange Meals with Advance Arrangements: Yes

FUN THINGS TO DO

PRIMARILY YEAR ROUND ACTIVITIES

National Forests & BLM Lands: Walking distance.
Designated Historic District, Site or Plaza: 15 minutes drive.
Ghost Town: 25 minutes drive.
Designated Scenic/Historic Byway: 15 minutes drive to the scenic byway.
Museum: 15 minutes drive.
Golf Course: 15 minutes drive.
Movie Theater: 15 minutes drive.
Art Gallery: 15 minutes drive.
Restaurant(s): On site.
Internet Cafe: 15 minutes drive.
Casino Gambling: 90 minutes drive.

PRIMARILY SUMMER ACTIVITIES

Fishing in River, Stream or Creek: 25 minutes drive.
Fishing in Lake, Reservoir or Pond: 25 minutes drive.
Fly Shop: 15 minutes drive.
Whitewater Rafting Office/Pickup point: 45 minutes drive.
Kayaking Rentals: 45 minutes drive.
Horseback Trail Rides (Guided): 20 minutes drive.
Horse Riding Lessons: 10 minutes drive.
Jeep Trails: 10 minute drive. (off road, back country, 4WD, Jeep, or jeeping).
ATV (All Terrain Vehicles) and/or Dirt Bike Trails: 10 minute drive.
ATV (All Terrain Vehicles) and/or Dirt Bike Rentals: 15 minute drive.
ATV Sales & Services: 15 minutes drive.
Tourist Train Rides: 60 minutes drive.
Mountain Bike Trails: Trails start on site.
Performing Arts Theatre: 15 minutes drive.
Cowboy Supper & Show: 30 minutes drive.

HUNTING

Hunting in Area: 10 minutes drive.
Colorado Hunting Units/Areas: 86, 84, 69, 691
Find local Maps & Fun Things To Do for your Colorado Vacation:
---