Del Norte - South Central Colorado
Includes Monte Vista
Experience Del Norte, and Monte Vista, Colorado
Del Norte has been around since 1871 and it's not hard to see why. The town still offers the same rugged beautiful scenery and recreational opportunities that first drew Native Americans and settlers to this area. Unlike many other Colorado mountain towns, Del Norte got it's start in the agricultural industry but later gave in to mining when gold was discovered. Known as "The Gateway to the San Juans", Del Norte has cultural, historical, and recreational opportunities year round.
The name Del Norte comes from Rio Grande del norte, which translates to "grand river of the north." Visitors can fish for some amazing trophy trout in the longest stretch of Gold Medal Waters in Colorado: the Rio Grande River between Del Norte and South Fork. Or find a quiet stream to spend your afternoon.
There are miles of Jeep and ATV trails surrounding Del Norte. To the east, ride in the Upper San Luis Valley to the west, check out the South Fork trails. Both have amazing trails that take you through the Rio Grande National Forest, over mountain passes, through the alpine trees, and seeing some gorgeous views.
Snowmobiling is an awesome winter activity in the Rio Grande Area. There are over 250 miles of groomed trails, parks, and meadows for you to explore. If you want something more laid back for your winter vacation, try snowshoeing!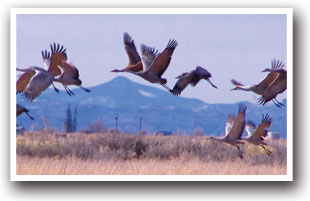 Bird watchers should be sure to visit the Monte Vista Wildlife Refuge and The Alamosa National Wildlife Refuge. The 14,000 acres created to provide habitat for a wide variety of waterfowl are a great afternoon family activity. Kids will get to see various birds and learn about them: mallards, pintails, Canadian geese, egrets, herons, and white-faced ibis.
Monte Vista is a historic, lively city located in the heart of the San Luis Valley. It's name is Spanish for "mountain view" because it is surrounded by some of Colorado's magnificent 14,000' peaks. Monte Vista is home of the famous Annual Sandhill Crane Festival, Colorado's Oldest Pro Rodeo, a golf course, and various restaurants and unique shops.
Driving Directions and Location: Del Norte, and Monte Vista, Colorado
Del Norte is 31 miles west of Alamosa and 118 miles east of Durango along Highway 160. Del Norte is 100 miles north of the Colorado-New Mexico Border via Highway 84 and Highway 160.
Monte Vista is 19 miles east of Del Norte along Hwy 160.
Commercial air travel accommodations are handled by the San Luis Valley Regional Airport. Please contact your preferred travel agent or airline for flight arrangements.
Del Norte is near: Alamosa Area & South Fork Area

Featured Del Norte Businesses
Woods & River RV Park & Campground Along the Rio Grande



Trout Fishing River Here! In Del Norte between South Fork and Alamosa. Friendly, quiet, campground along the wooded Rio Grande. A BIG RIG RV Park: full hookups, 50 feet pull-thrus, room for slideouts.




---
For more travel information contact:
Del Norte Activities and Maps
Fishing:
Rio Grande Area Fishing Map -UPDATED-

Jeep & 4WD:
South Fork Jeeping & ATV/UTV Trails
Upper San Luis Valley Jeeping & ATV/UTV Trails -NEW-

Snowmobiling:
Rio Grande Area Snowmobile Trails -UPDATED-

Local Area Maps:
San Luis Valley Area Map

---