Genoa RV Park
719-763-2155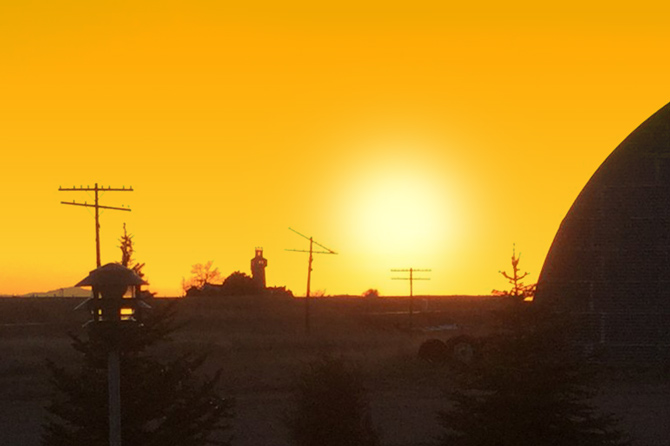 At the crossroads of Colorado: I-70, US Highways 287 and 24, Colorado Highways 71 and 86.
Quiet, small town Brand New Full-Service RV Park in Genoa, Colorado.
Full hookup sites 20-60 amp electrical, water and sewer connections on LED lighted concrete pads. Long sites, 150 feet long and 35 feet wide, easy parking for your extra vehicles and BIG RIG.
ON-SITE RENTALS: Small RVs, if yours is crowded!
FARM-to-TABLE: 10 chickens on-site, free eggs available.
CLUBHOUSE OPENING IN SPRING 2016: full kitchen, stove, refrigerator, bar. Meeting room for 25 people.
OPEN: 24 hours a day, 7 days a week, 365 days a year.
LOCATION: One hour from Colorado Springs and Denver International Airport. Eight miles east of Limon. Genoa RV Park is right off I-70 at Exit 371, Main Street and the railroad crossing, on your left.
No credit cards yet, cash, checks and PayPals. We beat all other RV park prices in the area!
For Current Rates and Availability; To Make Your Reservations: 719-763-2155.
CAMPING

Camping Open Dates: All to Year
Along a Highway: Easy access for quick and convenient RVing along Interstate or State Highways.

CAMPING RATES

RV Camping Rates: $28 a night for two people.
Weekly RV Camping Rates On-Season: $150.00 for two people.
Monthly RV Site Rates (Metered Electricity) On-Season: $250.00 for two people.

SITE DESCRIPTION

RV Sites: 4
Full Hookups: 4 sites with water, electric and sewer.
Luxury RV Sites: 4 full hookup sites with 50 amps, 45+ feet long, room for slideouts on two sides and a patio/deck.
50 Amp Hookups: 4 sites with 50 amp electrical service.
Long RV Sites 45+ Feet: 4 RV sites are 45 feet or longer.
RV Sites Wide Enough for Slideout(s): 4
Winterized Sites: 4

FACILITIES

Elevation: 5604 feet above sea level.
Region: Limon - Eastern, Colorado
Location: Close to Town.
Setting: Mountain views. Ranch setting.
On-Property in Central Area for Guests to Use: Central Area for OPEN Campfires. (If no local fire bans are active.) Central Picnic Area with BBQ Grills.

PET POLICIES

Pets in Lodging: All Pets are allowed in private rental units.

TECHNOLOGY FOR GUESTS TO USE IN A COMMON AREA

WI-FI Wireless Internet: Available free.

GROUPS REUNIONS AND WEDDINGS

Group Meeting Area: Indoor room.
Central Area for OPEN Campfires: Yes. (If no local fire bans are active.)
Central Picnic Area with BBQ Grills: Yes
Maximum # of Day-Use Guests in Indoor Meeting Room: 25
Maximum # of Camping Sites with a Group: 4

FUN THINGS TO DO

PRIMARILY YEAR ROUND ACTIVITIES

Designated Scenic/Historic Byway: 15 minutes drive to the scenic byway.
Museum: 15 minutes drive.
Golf Course: 15 minutes drive.
Movie Theater: 15 minutes drive.
Restaurant(s): 15 minutes drive.

PRIMARILY SUMMER ACTIVITIES

Fishing in Lake, Reservoir or Pond: 15 minutes drive.
Mountain Bike Trails: 15 minutes drive to trailhead.

HUNTING

Hunting in Area: 15 minutes drive.
Colorado Hunting Units/Areas: 106, 105, 114, 112, 111,
---
Find local Maps & Fun Things To Do for your Colorado Vacation:
---