Glenwood Caverns Adventure Park & Lookout Grille
800-530-1635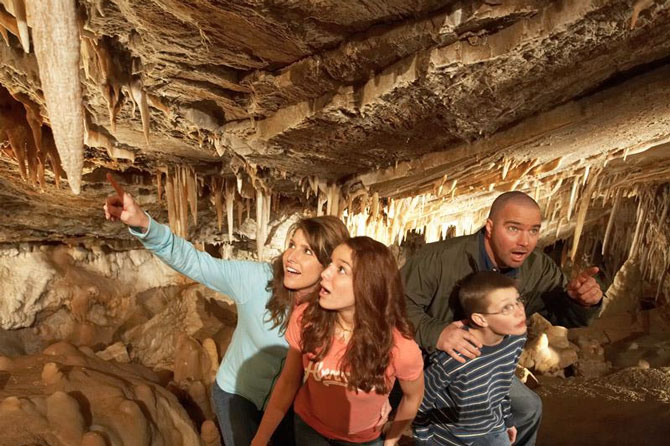 At the Top of the World -- ON TOP OF IRON MOUNTAIN, in Glenwood Springs, Colorado, Glenwood Caverns Adventure is recognized as one of the leading family cave tours in the country. Enjoy spectacular views while riding the IRON MOUNTAIN TRAMWAY to the top where family fun and adventure await!
FAMILY ADVENTURE...1300' ABOVE IT ALL: Take two different guided tours of Glenwood Caverns and Historic Fairy Caves, one of the country's 'Top 10 Places to go Underground'. Discover some of nature's most amazing scenery, millions of years in the making, hidden away deep inside Iron Mountain. Learn about the living caverns system that is home to thousands of formations, including stalactites, stalagmites, soda straws, cave bacon, flowstone, and more! The tours are 40 minutes each and great for kids. It's always a comfortable 52 degrees all year long and no reservations are needed.
For the truly adventurous there's also The Wild Tour, a 2-hour, on-your-belly tour of rarely visited areas of the caves.
Play on thrill rides like the Alpine Coaster. It was named 'One of the 10 Best Roller Coaster Rides of your Life' by USA today. The CLIFFHANGER is the country's highest elevation roller coaster and provides sweeping vistas of the Colorado and roaring Fork River valleys. The GIANT CANYON SWING and CANYON FLYER are also perched on the edge of Glenwood Canyon, 1300 feet above the Colorado River below. Kids love adventures like the WILD WEST EXPRESS kid's coaster and the MINE WHEEL FERRIS WHEEL, along with LASER TAG, the 4D MOTION THEATER and the SOARING EAGLE ZIP RIDE. Other attractions include a climbing wall, a giant maze, gemstone mining, a blacksmith shop and more. Certain attractions are open in the summer only.
WINTER ON THE MOUNTAIN WILL DAZZLE YOU: Glenwood Caverns is open all year round. In the winter, from November 11 through December 31, everyone will love the 'Winter on the Mountain' experience. With thousands of sparkling lights, holiday displays and music, along with outdoor fire pits for s'mores. At the heart of everything is a 24 foot ANIMATED CHRISTMAS TREE that puts on a choreographed light show to holiday music. Kids will delight in seeing SANTA and listening to CAROLERS. An on-mountain restaurant serves great food inside, by the fire. The Alpine Coaster, the Zip Ride, the 4D Motion Theater and the laser tag arena continue to operate throughout the winter months after New Years Day and until the summer mountain resumes full operations.
FUNDAY PASS: get it all for one low price. Certain rides and attractions are seasonal or subject to weather.
LOCATION: 51000 Two Rivers Plaza Road, Glenwood Springs, Colorado.
Call 1-800-530-1635, for seasonal hours.
Iron Mountain Hot Springs Along the Colorado River Just down the street, nestled along the Colorado River, you'll find Iron Mountain Hot Springs. Soak in the thermal mineral waters in 16 small pools, a large freshwater family pool and beautifully appointed bathhouse. Winter or summer, it's the perfect place to relax after a day at Glenwood Caverns Adventure Park or enjoying Colorado's incredible outdoors.
RATES

Specialty Discounts (call for availability): Seniors. Groups.

FACILITIES

Elevation: 7100 feet above sea level.
Restaurant: On site.
Meals Regularly Served: Lunch & Dinner.
Credit Cards: Visa Card. MasterCard. American Express.

TECHNOLOGY FOR GUESTS TO USE IN A COMMON AREA

Internet Cafe: On site.

GROUPS REUNIONS AND WEDDINGS

Groups Welcome: Club. Corporate. Reunion. Weddings. Elopements. Youth group with adult leaders. Retreat.
Group Meeting Area: Indoor room and outdoor area.
Conference Center: Meeting room with tables and chairs can be set up class room style. Some A/V equipment available for seminars. Call for more details.
Maximum # of Day-Use Guests in Indoor Meeting Room: 100
Maximum # of Day-Use Guests in COVERED Outdoor Picnic Area: 200
Maximum # of Day-Use Guests in Outdoor Open Picnic Area: 300
Your Host will Cater or Arrange Meals with Advance Arrangements: Yes
Your Host will Provide Wedding Planning Help: Yes

FUN THINGS TO DO

Open Dates For On-Site Activities: All Year

PRIMARILY YEAR ROUND ACTIVITIES

Movie Theater: On site.
Restaurant(s): On site.
Internet Cafe: On site.

PRIMARILY SUMMER ACTIVITIES

Cave Tours: On site.
Amusement Rides: On site.
Chairlift/Gondola/Tram Rides: On site.
Find local Maps & Fun Things To Do for your Colorado Vacation:
---