Colorado Jeep & 4WD
Grand Mesa Area Jeeping & ATV/UTV Trails
Not all towns appear on map. The publisher does not assume any responsibility for accuracy or completeness of maps. This information was compiled as accurately as possible.
The ATV trails of the Grand Mesa National Forest offer 150 miles of adventure in your ATV and 4WD vehicle. The trails travel through the forests filled with numerous lakes, meadows of thick, tall grass and wildflowers as well as dense strands of Aspen, Douglas fir and Englemann Spruce trees.
Both easier rides for beginners, as well as advanced trails travel through the area just south of the towns of Mesa and Collbran. The more advanced trails boast deep mud holes, and steep, rocky hill climbs. However, since most of the trails are located on the flat-top mountains, the trails are not as strenuous as other Colorado trails. However, the trails are still filled with rock crawling, water crossings, hill climbs and leisurely meadow tours. Once on top of the mesa, you have the opportunity to fish in one of the 300 Grand Mesa lakes.
For complete ATV & 4WD Information on the Grand Mesa Contact:
Grand Valley Ranger District
218 High Street P.O. Box 330
Collbran, Colorado 81624
970-487-3534
Rifle Ranger District
0094 County Road 244
Rifle, Colorado 81650
970-625-2371
More Activities & Information
Grand Mesa Area, Colorado includes: Austin, Cedaredge, Collbran, Eckert, Mesa
---
---
Jeep & 4WD in Colorado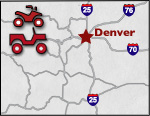 ---