Colorado Hiking & Backpacking Trails
Green Mountain Falls Hiking Trails
Green Mountain Falls is located about 15 miles west of Colorado Springs in the Pikes Peak area. Hiking is a popular activity with water falls, lakes and a fabulous view of Pikes Peak. The trails begin at the parking area near the Green Mountain Falls Lake at the intersection of Foster and Ute Pass Avenue.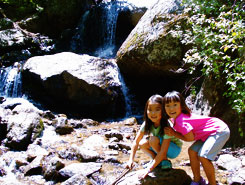 Catamount Falls is a series of waterfalls located west of Green Mountain Falls. To access the falls follow Hondo or Belvidere Ave. The roads provide access to private homes, so beware as cars also travel the road. This is the outflow from Catamount Reservoirs on the north slope of Pikes Peak. The reservoirs are 3 miles from the falls if you're looking for a longer trip.
Crystal Falls lies just to the south of Green Mountain Falls. A 1 mile round trip hike from Hotel/Park Ave./Boulder St., use caution as the road is also traveled by car. The falls are the out flow of Crystal Creek Reservoir on the north slope of Pikes Peak. A small Hydro Electric plant once provided electricity to the town during late summer evenings. Thomas trail provides access to both falls for a 3 mile round trip hike.

Places to Stay & Fun Things to Do
Lakeside Cottages


Hot tubs on site. Walk to lake fishing. Near all Pikes Peak attractions, including gaming in Cripple Creek. Small, friendly mountain town (15 minutes west of Colorado Springs) conducive to family vacations.
Rocky Top Motel, RV Park & Campground



RV Sites, Tent Sites and Motel. Free WI-FI. Playground. Great views of Pikes Peak! Near Garden of the Gods, Cripple Creek casinos, Royal Gorge, Air Force Academy, cliff dwellings, Cheyenne Mountain Zoo.
More Activities & Information
Pikes Peak Area, Colorado includes: Cascade, Chipita Park, Deckers, Green Mountain Falls, Manitou Springs, Woodland Park
---
---
Hiking Trails in Colorado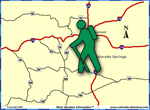 ---