Mesa County Fairgrounds
970-255-7107

The Mesa County Fair is Held Each July in Grand Junction, Colorado at Veterans Memorial Park
The Mesa County Fairgrounds has a variety of facilities that are available for rent: indoor spaces used for parties or weddings, outdoor livestock and equestrian facilities used for agricultural shows, and parks that are perfect for small festivals.
The Mesa County Fairgrounds hosts local and regional equestrian and livestock shows nearly every weekend from March through October in our livestock center. With two covered arenas, warm-up arena, livestock pavilion, and a stall capacity of 230 stalls, this facility is very diverse. Overnight boarding is also available.
The Fairgrounds features an outdoor stadium venue that hosts a variety of events including rodeos, circuses, concerts, and more! The Grandstands complex has plenty of space for just about any event and seats approximately 3,000 spectators.
Lions Park features covered pavilions with picnic tables and grills, large shade trees, a playground, and restrooms. The Mesa County Fairgrounds is also the proud home of Grand Valley BMX and Orchard Mesa Little League.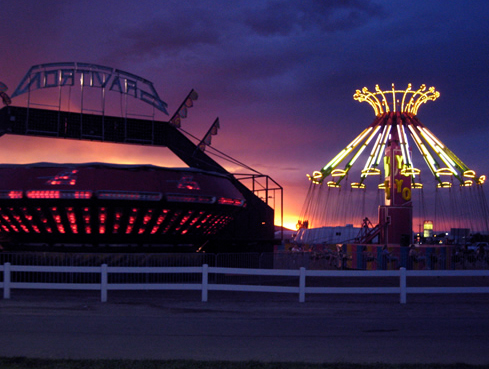 The following is a partial list of events at the Mesa County Fairgrounds. These shows are open to the public and there may be an admission fee. Please call for additional information.
February 25, 2017: Grand West Tractor/FFA Farm Auction
March 31-April 2, 2017: Daily Sentinel RV Show
April 8-9, 2017: CMU Rodeo
April 22, 2017: Best Slope Bull Brawl Show
May 12-13, 2017: Monster Truck Show
May 24-25, 2017: Shrine Circus
June 17-18, 2017: Rope the Rockies
July 25, 2017: Mesa County Fair
July 26, 2017: Mesa County Fair
July 27, 2017: Mesa County Fair
July 28, 2017: Mesa County Fair
July 29, 2017: Mesa County Fair
August 5-6, 2017: BMX Mile High Nationals
August 12-13, 2017: Youst Events Team Roping
September 22-24, 2017: Colorado Gypsy Fest Horse Show
September 28-October 1, 2017: Grand Valley Kennel Club Dog Show
For more information on rental pricing and availability, please contact us at 970-255-7107.
FACILITIES
Elevation: 4250 feet above sea level.
Credit Cards: Visa Card. MasterCard. Discover Card. American Express.
GROUPS REUNIONS AND WEDDINGS
Groups Welcome: Club. Corporate. Reunion. Weddings. Elopements. Youth group with adult leaders. Retreat.
Group Meeting Area: Indoor room and outdoor area.
Conference Center: Meeting room with tables and chairs can be set up class room style. Some A/V equipment available for seminars. Call for more details.
Maximum # of Day-Use Guests in Indoor Meeting Room: 350
Maximum # of Day-Use Guests in COVERED Outdoor Picnic Area: 50
FUN THINGS TO DO
Open Dates For On-Site Activities: All Year
Find local Maps & Fun Things To Do for your Colorado Vacation:
---