Colorado National Parks
Canyons of the Ancients National Monument
Canyon of the Ancients National Monument was home to the Anasazi people as early at 7500 B.C. For the past 8500 years, the Ancestral Puebloans, nomadic Ute and Navajo tribes have moved in and out of the region. The area was once a spot for villages, field houses, check dams, reservoirs, great kivas, cliff dwellings, shrines, sacred springs, agricultural fields, petroglyphs and sweat lodges. Now the highest density of archeology sites in the United States, the monument was designated a National Monument in June of 2000 by President Clinton. In the 164,000 acres the monument covers, there are 20,000 - 30,000 archeology sites. In some places such as the Mockingbird Mesa, there are as many as 40 sites per square mile. Located in the 4 corners area, the park is 28 miles from Mancos, 10 miles north of Cortez, just west of Dolores.
Be sure to stop at the Anasazi Heritage Center in Dolores. Here you can learn more about the ancient people who once inhabited the land. Also for your exploration are permanent exhibits on archaeology and the history of Native American cultures, interpretive programs, archaeological sites and a picnic area.
The Monument is home to many unique animals. One of its inhabitants is the Mesa Verde nightsnake, whose survival depends upon this area. Other inhabitants of the area are long nosed leopard lizards, twin spotted spiny lizards, peregrine falcons, golden eagles, and red tailed hawks.
Be sure to visit the McElmo Dome. This is one of the most beautiful areas of the park. The dome is buttressed by sheer sandstone cliffs with mesa tops rimmed by cap rock and punctuated by canyons.
Because of the fragileness of the archeology sites, there are a few rules to follow. Touching the rock art will transfer the oils from your hands to the rock and the art will fade away. Do not dig in the sites. It is illegal to remove artifacts from the sites. The desert environment is very fragile so you must also stay on trails at all times. Climbing on the archeology structures is strictly prohibited. Motorized or mechanized vehicles are only prohibited on a few designated trails.
Also located nearby is:
Hovenweep National Monument
Mesa Verde National Park
Downloads:
View an area map of the Canyon of the Ancients
(Map provided by the U.S. National Park Service)
Directions:
From Dolores: travel west on State Highway 145, then turn west (right) on State Highway 184.
From Cortez: travel north on State Highway 145, then turn west (left) on State Highway 184.

Places to Stay & Fun Things to Do
Canyon Trails Ranch - Guided Horse Rides


Family rides to ancient sites on a horse along trails in Canyons of the Ancients National Monument. Guided by Ranchers. LQ Horse Camping: private corrals, electric, water. 10 miles west of Cortez.
More Activities & Information
Dolores Area, Colorado includes: Mcphee Reservoir, Stoner
Mesa Verde Area, Colorado includes: Cortez, Mancos
---
---
National Parks and Monuments in Colorado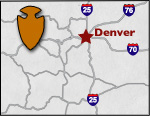 ---