Pagosa Riverside Campground & Camper Cabins
888-785-3234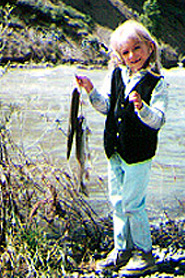 Pagosa Riverside is a Rocky Mountain playground along the San Juan River.
This people friendly campground is on the banks of the San Juan River with over a mile of private access to extraordinary trout fishing. Their private lake has campsite snuggling its bank. Be sure to try the paddle boats for a fun afternoon of cruising the Lake.
WI-FI on-site! Majestic scenery.
Large RV sites, grassy shaded tent sites, some sites are set beside the small lake. All sites have picnic tables and fire ring and there are BBQ grills throughout the park. Park amenities include: Cable TV and phone hookups, laundry, playground, paddle boats, and modem available.
Pagosa Riverside is truly a Family Friendly Resort: paddle boat on the small lake, fishing from the banks of the San Juan river, playing arcade games of game of billiards. Mom and Dad will be thankful for small playground, relax while your young'uns frolic!
Worry Free, even if you left the marshmallows behind! The Camp-Store has groceries, snacks, fishing supplies, firewood, ice, marshmallows, and ample RV supplies.
Near hot springs, horse rides, Indian ruins (Chimney Rock), rafting and championship quality 27-hole golf course.
Primitive Log Camper Cabins provide better protect from the elements than soft sided fabric yurts.
Location: Quiet, convenient off-highway location with cool evenings. On US Highway 160, Between milepost marker 145-146, 1-1/3 miles east of Highway 84.
PO Box 268, Pagosa Springs CO 81147; to make a reservation please call 888-785-3234; 970-264-5874.
LODGING

Lodging Open Dates: 4/15 to 11/15

LODGING RATES

Nightly Lodging Rates On-Season: Range from $45 to $60

ACCOMMODATION DESCRIPTION

About Smoking: All non smoking units.
Cabins/Cottages with Cooking Facilities: 1
Camper Cabins: 2
Microwave and Mini Fridge Only: Most units.
Units with Queen Beds: Some units.

TECHNOLOGY IN UNITS

Internet Access in Units: All units.
Internet Access at No Additional Fee: Through Wi-Fi wireless.

RATES

Specialty Discounts (call for availability): Groups.

CAMPING

Camping Open Dates: 4/15 to 11/15
Call for Winter Camping Dates.

CAMPING RATES

Tent Camping Rates: $25 a night for two people.
RV Camping Rates: Range from $34 to $45 a night for two people.
Additional Person Rate: Adult: $5. Kids free under the age of 6. Kids: $5.
Weekly RV Camping Rates On-Season: $269.07 for two people.
Monthly RV Site Rates (Electricity Included) On-Season: $650.00 for two people.

SITE DESCRIPTION

RV Sites: 55
Tent Sites: 32
Separate Tenting Area: Yes
Total Sites: 94
Electric & Water Hookups: 16 sites with electric and water only.
Full Hookups: 36 sites with water, electric and sewer.
50 Amp Hookups: 22 sites with 50 amp electrical service.
Long RV Sites 45+ Feet: 34 RV sites are 45 feet or longer.
Pull-Thru Sites: 31
RV Sites Wide Enough for Slideout(s): 45
Separate Group Camping Area: Yes
Hot Showers in Winter: Yes

FACILITIES

Elevation: 7100 feet above sea level.
Location: Close to Town.
Setting: Mountain views. Waterfront setting along a river, stream or creek. Waterfront setting beside a lake, reservoir or pond. Country feel. Forested.
OPEN Campfires (individual use): Yes. (If no local fire bans are active.)
BBQ Grills (individual use): Yes
On-Property in Central Area for Guests to Use: Laundry Area (washers and dryers).
Arcade Games: On site.
Kid's Play Structure: On site.
Credit Cards: Visa Card. MasterCard. Discover Card.

PET POLICIES

Pets in Lodging: Some pets are allowed in private rental units. There may be a fee or a deposit. Make advance arrangements
Pets at Campground & RV Park: Pets are allowed at campsites for no additional cost. Well-behaved dogs or cats are allowed on a leash outdoors while their owners are on-site.
Kennel (sitting service for your pet) Available: 5 minutes drive.
Vet Services: 1 minutes drive.

TECHNOLOGY FOR GUESTS TO USE IN A COMMON AREA

Television: Available.
Reception: Cable.
VCR: Available.
VCR Movie Library: 75
Internet Cafe: 5 minutes drive.
Wi-Fi Wireless Internet: Available free.

GROUPS REUNIONS AND WEDDINGS

Groups Welcome: Club. Weddings. Elopements. Youth group with adult leaders.
Group Meeting Area: Outdoor area.
Maximum # of Day-Use Guests in Outdoor Open Picnic Area: 50
Maximum # of Lodging Guests with a Group: 10
Maximum # of Camping Sites with a Group: 20

FUN THINGS TO DO

PRIMARILY YEAR ROUND ACTIVITIES

National Park OR Monument: 25 minutes drive.
National Forests & BLM Lands: 10 minutes drive.
Designated Historic District, Site or Plaza: 5 minutes drive.
Native American Reservation/Pueblo: 40 minutes drive.
Indian Ruins - Archeological Site: 25 minutes drive.
Designated Hiking Trails: 30 minutes drive to trailhead.
Museum: 5 minutes drive.
Hot Mineral Springs: 5 minutes drive.
Golf Course: 10 minutes drive.
Hot Air Balloon Rides: 10 minutes drive.
Movie Theater: 5 minutes drive.
Art Gallery: 5 minutes drive.
Restaurant(s): 2 minutes drive.
Internet Cafe: 5 minutes drive.
Casino Gambling: 60 minutes drive.

PRIMARILY SUMMER ACTIVITIES

Fishing in River, Stream or Creek: On site.
Fishing in Lake, Reservoir or Pond: 10 minutes drive.
Fishing Tackle Sold: On site.
Fly Shop: 5 minutes drive.
Paddle Shop: 5 minutes drive.
Whitewater Rafting Office/Pickup point: 5 minutes drive.
Kayaking Rentals: 5 minutes drive.
Horseback Trail Rides (Guided): 10 minutes drive.
Jeep Trails: 5 minute drive. (off road, back country, 4WD, Jeep, or jeeping).
Jeep Tours: 10 minute drive (off road, back country, 4WD, Jeep, or jeeping).
ATV (All Terrain Vehicles) and/or Dirt Bike Trails: 5 minute drive.
ATV Sales & Services: 5 minutes drive.
Tourist Train Rides: 60 minutes drive.
Historic/Cultural Tours: 5 minute drive.
Mountain Bike Trails: 5 minutes drive to trailhead.
Bike Path: 5 minutes drive.
Bicycle Shop: 5 minutes drive.
Waterfall Trails: 30 minutes drive to trailhead.
Performing Arts Theatre: 15 minutes drive.
Mini Golf: 10 minutes drive.

HUNTING

Hunting in Area: 15 minutes drive.
Colorado Hunting Units/Areas: 77, 78, 771, 751,
---
Find local Maps & Fun Things To Do for your Colorado Vacation:
---