Pikes Peak Mountain Bike Tours -- An Unforgettable Journey
855-505-6281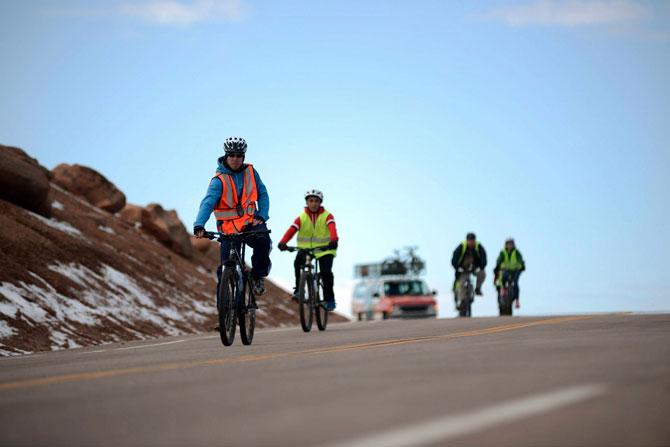 Bike Pikes Peak | Bike Gold Camp Tour | Ride-N-Rail Tour | Directions
HANG ON FOR A SCENIC AND MEMORABLE BIKE EXPERIENCE!
Seeing Pikes Peak from a bicycle gives you a unique experience that is among the finest options in sight-seeing. Our Mountain Bike Tours will provide you with breathtaking views as you are peddling down the mountain. All skill levels can enjoy bicycling, from the extreme sports enthusiast to the mountain biking novice. Our fun, professional guides will fit you with KONA mountain bikes and give a complete safety briefing.
BIKE PIKES PEAK -- Pikes Peak Highway Route
This unforgettable journey is designed for all abilities and requires no prior training. Get ready for an exciting 7,000 foot descent down one of America's most famous 14ers! Your bike ride begins at the summit of Pikes Peak (14,115 feet) where you can take photos and enjoy the breath-taking 360 degree view. Upon Finishing we will treat everyone to a mouthwatering lunch at Jake and Telly's Greek Taverna!
$125 per person; $105 per person, 4-10 person groups; Call for pricing for groups of 11 or more.
BIKE GOLD CAMP TOUR -- Upper Gold Camp Road Route
This self-paced and self-guided tour follows an historic 1800's railway, a well-established meandering path. This spectacular 2-3 hour downhill route traverses a vast canyon wall, passing through several railroad tunnels. We provide all necessary equipment, transportation and easy-to-follow map to return you safely to our shop. Stop where you want, when you want, and take as long as you want.
$75 per person; $70 per person, 4-10 person group; Call for pricing for groups of 11 or more.
RIDE-N-RAIL TOUR -- Pikes Peak Highway Route
Now offered all season long! By choosing this package you get the unique opportunity to experience more of Pikes Peak than ever before. Ride up one side of Pikes Peak on the Cog Train and bike down the other side with Pikes Peak Mountain Bike Tours. We take care of all the details!
$145 per person; $125 per person, 4-10 person group; Call for pricing for groups of 11 or more.
DIRECTIONS to Pikes Peak Mountain Bike Tours
LOCATION: From 1-25 take Highway 24 west. Turn right on 26th street. Turn right on Vermijo. Turn right on 25th street. Our shop is on the right side. If you cross the bridge, you've gone too far. 306 South 25th Street, Colorado Springs CO 80904.
To Make Your Reservation Call: 855-505-6281; 719-337-5311.
RATES
Specialty Discounts (call for availability): Groups.
FACILITIES
Elevation: 6400 feet above sea level.
Credit Cards: Visa Card. MasterCard.
FUN THINGS TO DO
Open Dates For On-Site Activities: All Year
PRIMARILY YEAR ROUND ACTIVITIES
National Park OR Monument: On site.
National Forests & BLM Lands: 20 minutes drive.
Designated Scenic/Historic Byway: Along the scenic byway.
PRIMARILY SUMMER ACTIVITIES
Horseback Trail Rides (Guided): On site.
Tourist Train Rides: On site.
Mountain Bike Trails: Trails start on site.
Find local Maps & Fun Things To Do for your Colorado Vacation:
---