Colorado Whitewater Rafting & Kayaking
Arkansas River Rafting & Kayaking
The Arkansas is open for rafting from May though September. The 100-mile stretch of water is used by more than 400,000 rafters, kayakers, fishermen, campers and wildlife viewers each year. The Arkansas River has an average gradient of 38 feet per mile.
The Arkansas River is divided in three different sections. The upper section, the Bighorn, flows by the Cotopaxi cliffs. As you cruise down the river, you will experience geological formations and views of the Sangre de Cristo mountain range. It is also common to see bighorn sheep as you raft down the river. These rapids are classified as III-IV rapids.
Continuing down the river is the Royal Gorge section of the river. This section of the river features giant waves, steep technical drops and almost continuous whitewater through the narrow canyon of the Royal Gorge. As you adventure though some of the most challenging whitewater you'll find, you may not even notice the Royal Gorge Bridge 1053' above the river. To traverse this section, you must be in good physical shape to navigate the class IV-V rapids.
Brown's canyon is the last section of the Arkansas River, which runs near the Buena Vista Area. This section of the river is tamer than the other sections and is more suitable for all ages with class III-III+ rapids.
The International Rapid Rating Scale:
Class I: Easy. Fast moving water with riffles, small waves.
Class II: Novice. Straightforward rapids, wide, clear channels.
Class III: Intermediate. Rapids, moderate, irregular waves.
Class IV: Advanced. Intense, powerful rapids, precise boat handling.
Class V: Expert. Long, obstructed, violent rapids.

Places to Stay & Fun Things to Do
More Activities & Information
Buena Vista Area, Colorado includes: Johnson Village, Nathrop, St. Elmo
Royal Gorge Area, Colorado includes: Cañon City, Coaldale, Cotopaxi, Florence, Guffey, Penrose, Texas Creek
Salida, Colorado includes: Howard, Monarch, Poncha Springs
---
---
Rafting & Kayaking in Colorado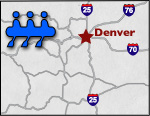 ---