Rifle - Northwest Colorado
Includes Battlement Mesa, Parachute, Silt
Rifle, Colorado has mystery to its name. There are a few different stories, some involve a Cowboy leaving his rifle behind and then going back to get it and some involve explorers finding a rifle. But one thing for sure is they all involve a rifle leaning against a tree near a creek.
Rifle is full of history; stop in at the Rifle Creek Museum, in the town's former city hall. It exhibits the area's history with themed rooms featuring everything from Native American artifacts to an old-fashioned general store.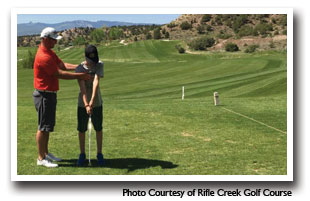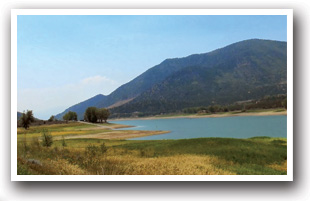 Rifle Falls State Park is lush with trees and greenery from the triple 70-foot waterfall; it's just like being in the tropics. There are quite a few hiking trails in the area leading up to waterfalls. But don't think you can't get your adventure fix during the winter months. Rifle also has as ice climbing area.
Other fun things to do near Rifle include, snowmobiling, fishing, big game hunting, rafting, jeeping, or picnicking in Rifle Gap State Park.
Parachute, Colorado has gone through a few name changes in its history, starting with Parachute in the late 1800s. It was named Parachute for how the water patterns flowing from the Roan Plateau resembled the lines of a parachute canopy. In the early 1900s, the town was renamed Grand Valley to lure vacationers to the Grand Valley area. But in the 1980s, the town citizens voted to rename the town back to Parachute.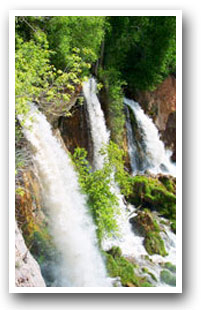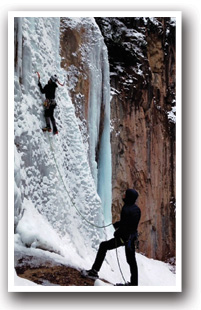 Parachute is located at the intersection of Parachute Creek and the Colorado River. Fishing here is plentiful with Brook Trout, Carp, and Catfish. Rafting on the Colorado River is an experience to remember. You will see history along the canyon walls as you ride some of the most intense waves in Colorado.
Battlement Mesa, Colorado is an upscale community within the town of Parachute. It was established to house the employees who worked for the oil company. Today, the largest attraction is the Battlement Mesa Golf Course, which was ranked as one of the Best Golf Courses in America by Golf Digest when it opened in 1987.
Silt, known as the "Gateway to the Outdoors," is between Glenwood Springs and Rifle in the arid mountains along I-70. The Silt Historical Park is just a few blocks from downtown across from the school. Here guests can walk through 7 buildings that have been relocated and restored to reflect what life was like in Silt around the 1900s. In the summer months, tour guides lead visitors through log cabins, a cow camp, country store, tool shop, and old school house.
Harvey Gap State Park is Silt's backyard playground. The 160-acre lake is stocked with Rainbow Trout, Crappie, Catfish, and Small-mouth Bass. Other fun things to do on the lake include windsurfing, hiking, picnicking, snowmobiling, and cross-country skiing.
Rifle is near: Glenwood Springs, Grand Junction & Meeker
LOCATION Rifle is at the Junction of State Highway 13 and Interstate-70 along the Colorado River. From I-70, take exit 90 toward CO Hwy 13.
The distance from Parachute to Silt by way of Rifle is 24 miles; each town is easily accessible from Interstate-70.
Rifle is located about 92 miles east of the Colorado-Utah border and about 130 miles south of the Colorado-Wyoming border.
Commercial air travel accommodations are handled by Grand Junction Regional Airport (GJT). Please contact your preferred travel agent or airline for flight arrangements. Rifle is about 61 miles east of the airport.

Featured Rifle Businesses
Coulter Lake Guest Ranch

Our Rifle Guest Ranch has six rustic cabins with a summer all-inclusive or an off-season a-la-carte adventure. Fish, swim, boat on Coulter Lake. Family Fun: Horseback ride, children's program, great food.




---
Parachute Inn Hotel

North of the Colorado River and I-70, between Grand Junction and Glenwood Springs in Parachute, this Inn is family Friendly: hot soup in the evening, morning breakfast, Cable TV, free WI-FI. Pets welcome.





---
Rifle Creek Golf Course


3 sets of teeboxes, play a family friendly game or challenge yourself. 18-hole regulation golf course between Grand Junction and Glenwood Springs. Rifle Creek, designed by Richard M. Phelps in 1960!

---
Rifle Falls/Rifle Gap/Harvey Gap State Parks

3 State Parks bundled into one amazing experience: Rifle Falls, Rifle and Harvey Gaps. Waterfalls feed a pond, campsites, Junior Ranger Program, and the best ice fishing and summer lake fishing in the area.


---
For more travel information contact:
Rifle Activities and Maps
Hiking Trails:
Rifle Hiking Trails & Waterfalls
Rifle Mountain Park Rock/Ice Climbing

Fishing:
Middle Colorado River Fishing Map

Rafting & Kayaking:
Colorado River Rafting & Kayaking

Jeep & 4WD:
Rifle Jeeping & ATV/UTV Trails

Snowmobiling:
Rifle Snowmobile Trails

---