Shining Mountain Rentals
719-783-2627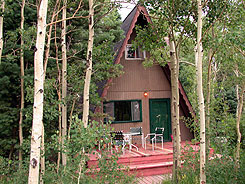 Escape from hectic schedule, distractions and the noise. Westcliffe is mountain air, breathtaking scenery, and starry nights.
Enjoy national forest access from your cabin with many trails to explore. Westcliffe is a quaint little Western town nestled in the peaceful valley it's small enough to be friendly, yet large enough to provide dining, groceries, and gift shops.
WE LOVE KIDS, BRING THE FAMILY! Our Alpine Retreat has 2-bedroom A-frame cabins surrounded by aspen, ponderosa and spruce forest. Hunters love our A-frame with forest access.
LOCATION: 11 miles southwest of Westcliffe; 920 Cutbank Hill Rd, Westcliffe CO 81252.
Glenn & Doreen Seibel, owners, welcome you.
For Directions, Current Rates and Availability; To Make Your Reservations: 719-783-2627.
LODGING

Lodging Open Dates: All Year

LODGING RATES

Nightly Lodging Rates On-Season: Range from $89 to $100
Weekly Lodging Rates On-Season: Range from $551 to $700
Monthly Rates Available: Yes, call for details.

ACCOMMODATION DESCRIPTION

About Smoking: All non smoking units.
Cabins/Cottages with Cooking Facilities: 3
Units with Queen Beds: All units.
Units with Wood Fireplaces: 1
Units with Wood Stoves: 3
Additional Amenities (ask about availability): Coffee Maker with coffee.

TECHNOLOGY IN UNITS

Units with TV: None.
Internet Access in Units: None.

FACILITIES

Elevation: 9000 feet above sea level.
Location: Away from Town, but close to a community convenience store and restaurant.
Setting: Mountain views. Country feel. Forested. Smoke-Free Environment (inside & out).
OPEN Campfires (individual use): Yes. (If no local fire bans are active.)
BBQ Grills (individual use): Yes
On-Property in Central Area for Guests to Use: Fully equipped kitchen with pots, pans, dishes and serving utensils. Wood Fireplace. Wood Stove.

PET POLICIES

Pets in Lodging: Sorry, NO pets are allowed in private rental units.

HORSE FACILITIES

Guest's Horses Welcome (call for availability): You may bring your horse.
Fenced Pasture: On site.
Individual Horse Run/Pen: On site.
Individual Horse Indoor Stall/Shed: On site.
Horse Trailer Parking: On site.
Horse Trails: Trails start on site.

TECHNOLOGY FOR GUESTS TO USE IN A COMMON AREA

Internet Cafe: 20 minutes drive.

FUN THINGS TO DO

PRIMARILY YEAR ROUND ACTIVITIES

National Park OR Monument: 90 minutes drive.
National Forests & BLM Lands: Walking distance.
Designated Historic District, Site or Plaza: 15 minutes drive.
Designated Scenic/Historic Byway: 15 minutes drive to the scenic byway.
Designated Hiking Trails: Walking distance to trailhead.
Museum: 15 minutes drive.
Golf Course: 15 minutes drive.
Movie Theater: 20 minutes drive.
Art Gallery: 20 minutes drive.
Restaurant(s): 8 minutes drive.
Internet Cafe: 20 minutes drive.
Casino Gambling: 90 minutes drive.

PRIMARILY SUMMER ACTIVITIES

Stocked Fishing Pond: 25 minutes drive.
Fishing in River, Stream or Creek: 10 minutes drive.
Fishing in Lake, Reservoir or Pond: 15 minutes drive.
Fly Shop: 30 minutes drive.
Whitewater Rafting Office/Pickup point: 50 minutes drive.
Kayaking Rentals: 50 minutes drive.
Horseback Trail Rides (Guided): 20 minutes drive.
Horse Rides with a Wrangler (Open Range): 20 minutes drive.
Jeep Trails: 30 minute drive. (off road, back country, 4WD, Jeep, or jeeping).
ATV (All Terrain Vehicles) and/or Dirt Bike Trails: 30 minute drive.
ATV (All Terrain Vehicles) and/or Dirt Bike Tours: 30 minute drive.
ATV Sales & Services: 10 minutes drive.
Tourist Train Rides: 60 minutes drive.
Mountain Bike Trails: 10 minutes drive to trailhead.
Waterfall Trails: 10 minutes drive to trailhead.
Performing Arts Theatre: 10 minutes drive.
Cowboy Supper & Show: 20 minutes drive.

HUNTING

Hunting in Area: On site.
Colorado Hunting Units/Areas: 86, 84, 69, 691
Find local Maps & Fun Things To Do for your Colorado Vacation:
---