Colorado
Downhill Skiing & Snowboarding
Telluride Ski Resort
Telluride is one big mountain. Big as in it soars to an elevation of 12,260 feet, with 3,500 vertical feet to have fun with. Here, nestled in the San Juans, we're always excited to see the snow fly and we get over 300 inches a year to keep all of us (and you) happy. Those are some pretty big numbers. Now, add in the unveiling of Prospect Bowl, and we've nearly doubled its size. And that sure is saying something, isn't it?
The best of all worlds with 25 percent beginner terrain, 36 percent intermediate and some of the best black diamonds in the nation. And now, with Prospect Bowl, there are over 1,700 acres more! Plus there's the coolest town in the West to explore, and we'll show you how to get here too.
Others hightail it to the new Gold Hill Lift for the deepest of freshies, an abundance of open bowls and chutes. Late in the day, powder stashes can still be found in the trees off of Lifts 6, 9 and 12 (Prospect Lift). Guests get the inside scoop from friendly locals to find the "sweetest powder shots" on the mountain.
Be sure to take the Plunge, one of the most popular runs in the United States, known for its breathtaking views of town as well as its starring role in a VISA commercial. The Plunge is a jaw-dropping, black diamond bump run descending 3,140 vertical feet from the top of the Mountain into historic Telluride.
General Skiing Information

Season Opening Date: November 23, 2017
Season Closing Date: April 8, 2018
Vertical Rise: 4,425 ft.
Terrain: 2,000 acres
Number of Trails: 127
Longest Run: 4.6 miles (Galloping Goose)
Trails:
Beginner - 23%
Intermediate - 36%
Advanced - 41%
Annual Snowfall: 309 inches
Lifts: 18 Total (2 High-Speed Gondolas, 7 High-Speed Quads, 1 Fixed Quad, 2 Triples, 2 Doubles, 2 Surface & 2 Magic Carpets)
Lift Capacity: 22,386 skiers/hour
Facilities
Base Elevation: 8,725 ft.
Summit Elevation: 13,150 ft.
Map Location: Southwest M-5
Location: 65 miles south of Montrose, 125 miles northeast of Durango, 127 miles southeast of Grand Junction.
More Activities & Information
Naturita & Norwood Area, Colorado includes: Nucla, Norwood
Telluride, Colorado includes: Rico
---
---
Downhill Skiing & Snowboarding in Colorado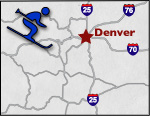 ---