Roaring Fork Skydivers
970-364-3737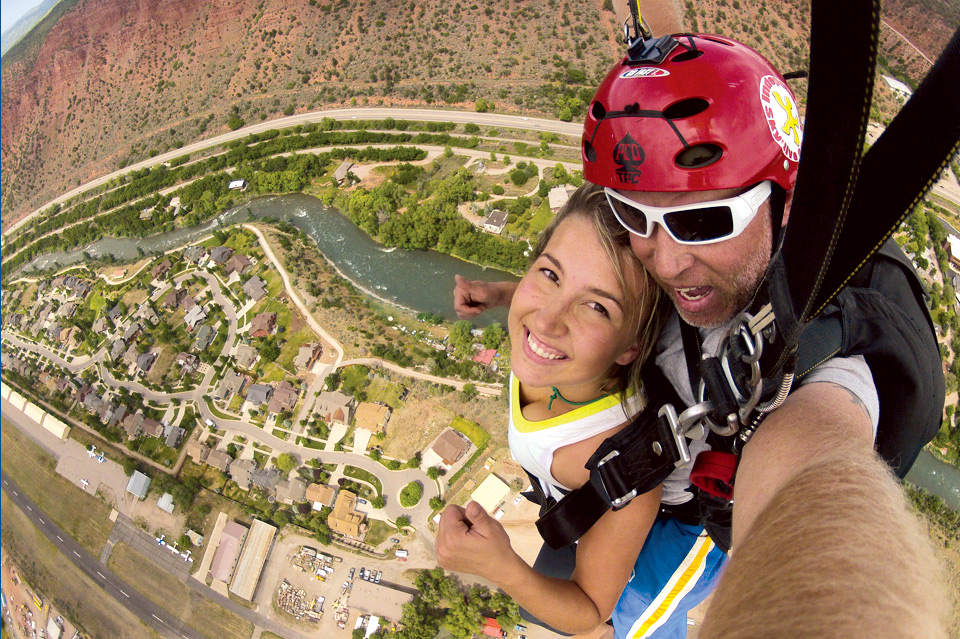 Roaring Fork Skydivers offers the only skydives in the heart of the Rocky Mountains in beautiful Glenwood Springs, Colorado. 1 hour from Vail or Aspen. We offer tandem skydiving, skydive training, and experienced skydiving. We have an outstanding safety record and a fun professional staff. We take the time to give you a relaxed, safe, skydiving experience you will never forget! Whether it be your first or 5th tandem jump or you are an experienced skydiver our facilities will accommodate you.
Tandem skydiving is one of the safest ways to experience the thrill of flight! You and your instructor fly high above the earth while the anticipation builds! Before making your leap the tandem instructor will ensure you are securely attached together and brief you about the jump you are about to experience. "READY! SET! ARCH!" and out the door you go! Reaching speeds of up to 120 mph this is an experience you will never forget! Drop from 8000 feet above ground and 14,000 feet above sea level.
WEEKDAY SPECIAL: Ask about our Monday through Thursday Tandem and Photo package!
FREQUENTLY ANSWERED QUESTIONS (FAQ):
WEATHER CONDITIONS: 40 degrees, sunny, no wind; there are no refunds, we will issue a rain-check and reschedule your jump. November - March weather conditions are iffy for jumping.
AGE REQUIREMENT: You must be 18 years of age to make a Tandem skydive.
Most of the time we will be able to accommodate special needs tandem jumps, but every case will be assessed individually.
GROUPS: Discounts are available for groups of 5+. Military and Students discounts ID-required.
PLAN YOUR SKYDIVE ADVENTURE: 1172 Airport Center Rd, Glenwood Springs CO 81601.
Make Your Reservations: 970-364-3737.
RATES
Specialty Discounts (call for availability): Seniors. Groups. Firefighters and Police Officers. Military Personnel.
FACILITIES
GROUPS REUNIONS AND WEDDINGS
Groups Welcome: Club. Reunion. Elopements. Retreat.
Group Meeting Area: Outdoor area.
Central Picnic Area with BBQ Grills: Yes
FUN THINGS TO DO
Open Dates For On-Site Activities: All Year
Find local Maps & Fun Things To Do for your Colorado Vacation:
---