Stonewall - South Central Colorado
Includes Weston
Stonewall, another town on the highway, is near a rock wall that rises 250 feet above town which is part of the Dakota Sandstone formation. In the 1880s, Stonewall was the site of a stand-off between settlers and the government over the Maxwell Land Grand. Today, this is a peaceful, pristine area where the spring waters are said to be enchanted. The Scenic Highway of Legends (Highway 12) was designated as a Colorado State Byway in 1987 and a National Byway in 1988. Like its name, the highway passes through numerous towns which played a part in forming Colorado's fascinating historical legacy. Monument Lake is nestled among the pines and high altitude lakes. A legend here tells of two Indian chiefs who, in search of water for their thirsty tribes, met and embraced in peace, crying for the lack of water. A lake formed at their feet and a volcano erupted, enclosing the two chiefs in rock in the center of the lake. Today both this lake and nearby North Lake offer fishing and other year round outdoor activities.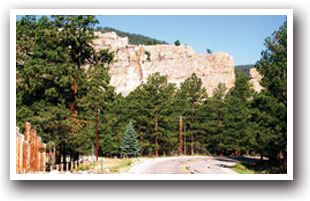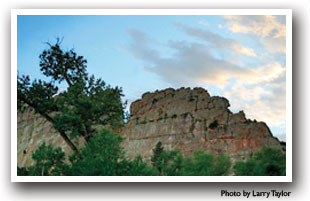 Stonewall is near: Cuchara Valley Area & Trinidad

Featured Stonewall Businesses
Crusty Moose Ranch

Near Weston in the Sangre de Cristo Mountains this two story, 3-bedroom, 2 bathroom, fully furnished mountain ranch paradise is waiting. Crusty Moose will recharge your life: fish, hike, laugh, play, relax.



---
Fiddler's Pole Pine Lodge


Great fishing! 30 minutes from Trinidad near Weston, this pole-pine lodge cabin is ideal for relaxing with your family. At Fiddler's you will often see ELK, the 2nd largest herd in Colorado calls Stonewall home.



---
Picketwire Lodge & Store

2 types of lodging: lodge rooms and apartments. Picketwire is open all year in Stonewall, 32 miles west of Trinidad & I-25, stop for gas open 24/7. Fish at Monument, Bear & North Lakes. Gifts and Tackle Store.




---
Stonewall Shopping Bag & RV Park

Great fishing! Home-style restaurant: breakfast, lunch and dinner. Wonderful HOME-MADE DESSERTS. Shopping Bag Grocery, Tackle, Liquor Store. RV Park in Stonewall, 30 miles to Trinidad. Laundromat.


---
Stonewall View Cabins


Longing for the simple pleasures of nature? Weary of the hectic pace of life? Need a quiet beautiful view to relax? Discover Stonewall, Colorado. Small, private, personable, eco-friendly cabin apartments.


---
Stonewall Activities and Maps
National Historic Sites and Landmarks:
Raton Mesa and Pass National Landmark
Spanish Peaks

Scenic Byways:
Highway of Legends Scenic Byway -UPDATED-

---