Thunder Mountain Lodge - Modern Cabins, Snowmobile Tours & Rentals
970-856-6240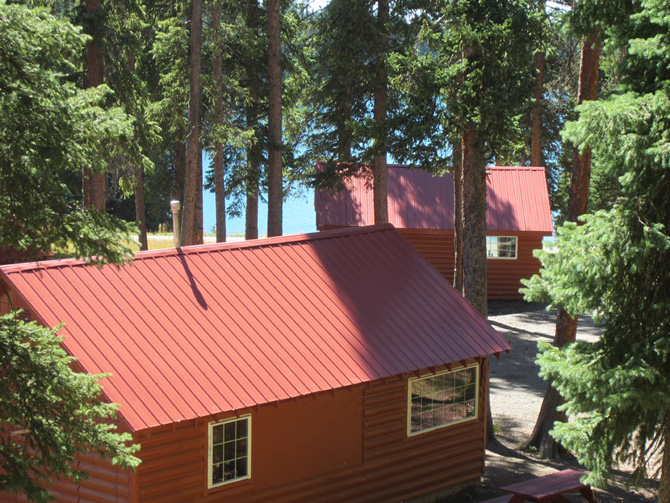 OUR MODERN CABINS are surrounded by towering spruce trees. All our mountain cabins have kitchens or kitchenettes, bathrooms with showers, and a BBQ grill outside on a large deck. Each cabin has a queen bed and at least one fold-out double futon.
ON AN ALL-WEATHER HIGHWAY within Grand Mesa National Forest, overlooking 2 sparkling blue trout filled mountain lakes. Thunder Mountain Lodge is your vacation home for fishing, hiking, snowmobiling, snowshoeing, cross-country skiing and hunting.
We rent canoes, kayaks, hydro-bikes, snowshoes, and snowmobiles! Snowmobile tours for all ability levels are offered on-site! OVER 400 inches of snow falls on the Mesa each year. Experience Untracked, Uncrowded and Unbelievable riding!
Well-mannered pets are permitted in the cabins for an additional cost per night, per pet.
LOCATION: Take a beautiful 55-mile picturesque drive east of Grand Junction to Grand Mesa at 10,300 feet elevation. 16 miles north of Cedaredge; 1 mile south of Highway 65 on Forest Road 121. 20658 Baron Lake Drive, Cedaredge CO 81413.
For Current Rates and Availability; To Make Your Reservations: 970-856-6240.
LODGING

Lodging Open Dates: All Year

LODGING RATES

Nightly Lodging Rates On-Season: Range from $110 to $180
Multi-Night Stay Required: During holidays and special events, please call for details.

ACCOMMODATION DESCRIPTION

About Smoking: All non smoking units.
Cabins/Cottages with Cooking Facilities: 12
Units with Queen Beds: All units.
Units with Wood Fireplaces: 1
Additional Amenities (ask about availability): snowshoes.

TECHNOLOGY IN UNITS

Internet Access in Units: All units.
Internet Access at No Additional Fee: Through Wi-Fi wireless.

RATES

Specialty Discounts (call for availability): Groups. Military Personnel.

FACILITIES

Elevation: 10300 feet above sea level.
Location: Away from Town, but close to a community convenience store and restaurant.
Setting: Mountain views. Adjoins public lands. Country feel. Forested.
OPEN Campfires (individual use): Yes. (If no local fire bans are active.)
BBQ Grills (individual use): Yes
Restaurant: On site.
On-Property in Central Area for Guests to Use: Outdoor Hot Tub. Wood Fireplace. Wood Stove.
Credit Cards: Visa Card. MasterCard. Discover Card. American Express.

PET POLICIES

Pets in Lodging: All Dogs are allowed in private rental units. There may be a fee or a deposit.

HORSE FACILITIES

Guest's Horses Welcome (call for availability): You may bring your horse for an additional fee or deposit.

TECHNOLOGY FOR GUESTS TO USE IN A COMMON AREA

Big Screen TV: Available.
Wide Screen TV: Available.
VCR: Available.
VCR Movie Library: 50
DVD Player: Available.
DVD Movie Library: 15
Fax Machine: Available.
PC with Internet Access: Available.
Printer Connected to Computer: Available.
WI-FI Wireless Internet: Available free.

GROUPS REUNIONS AND WEDDINGS

Groups Welcome: Club. Corporate. Reunion. Weddings. Elopements. Youth group with adult leaders. Retreat.
Group Meeting Area: Outdoor area.
Conference Center: Meeting room with tables and chairs can be set up class room style. Some A/V equipment available for seminars. Call for more details.
Maximum # of Lodging Guests with a Group: 69
Your Host will Cater or Arrange Meals with Advance Arrangements: Yes
Your Host will Provide Wedding Planning Help: Yes

FUN THINGS TO DO

PRIMARILY YEAR ROUND ACTIVITIES

National Park OR Monument: 60 minutes drive.
National Forests & BLM Lands: On site.
State Parks: 30 minutes drive.
Designated Scenic/Historic Byway: 3 minutes drive to the scenic byway.
Designated Hiking Trails: Trails start on site.
Museum: 20 minutes drive.
Golf Course: 20 minutes drive.
Movie Theater: 30 minutes drive.
Art Gallery: 20 minutes drive.
Restaurant(s): On site.
Wine Tours OR Tasting: 20 minutes drive.

PRIMARILY SUMMER ACTIVITIES

Fishing in River, Stream or Creek: 5 minutes drive.
Fishing in Lake, Reservoir or Pond: Walking distance.
Guided Fishing Trips (Licensed): Wade Fishing. Float Fishing. Lake Fishing.
Fishing Tackle Sold: On site.
Fly Shop: On site.
Boat Rentals: Canoe, Raft, Row, Paddle &/or Motor: On site.
Whitewater Rafting Office/Pickup point: 45 minutes drive.
Horseback Trail Rides (Guided): 10 minutes drive.
Jeep Trails: 5 minute drive. (off road, back country, 4WD, Jeep, or jeeping).
ATV (All Terrain Vehicles) and/or Dirt Bike Trails: 5 minute drive.
Mountain Bike Trails: Trails start on site.
Performing Arts Theatre: 20 minutes drive.
Mini Golf: 25 minutes drive.

HUNTING

Hunting in Area: On site.
Guided Hunts: Yes.
Drop Camps: Yes.
Rifle Hunting Season: Yes.
Archery Hunting Season: Yes.
Muzzle Loading Hunting Season: Yes.
Bird Hunting (Turkey, Grouse, Pheasant): Yes.
Deer Hunting: Yes.
Elk Hunting: Yes.
Bear Hunting: Yes.
Mountain Lion Hunting: Yes.
Bighorn Sheep Hunting: Yes.
Mountain Goat Hunting: Yes.
Moose Hunting: Yes.
Antelope Hunting: Yes.
Colorado Hunting Units/Areas: 41, 52, 411, 421,

WINTER ACTIVITIES

Downhill/Snowboarding Ski Area: 20 minutes drive.
Cross Country Skiing Trails: Trails start on site.
Ski/Snowboard Equipment Rentals: 15 minutes drive.
Snowshoe Trails: Trails on site.
Snowmobile Trails: Trails start on site.
Snowmobile Rentals: On site.
Snowmobile Tours: On site.
---
Find local Maps & Fun Things To Do for your Colorado Vacation:
---