United Campground of Durango - A Train Enthusiast's Campground
970-247-3853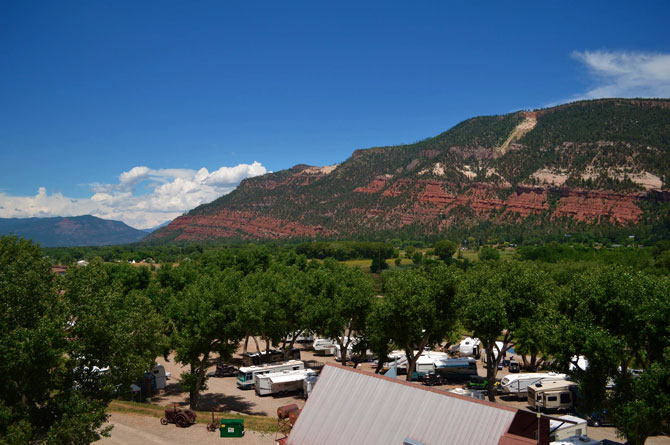 Deluxe Camping and Recreation at moderate rates.
Large pull through sites. Separate tent area. Pool. Convenience store, gift shop and RV supplies.
CAMPGROUND AMENITIES: Jump into our heated swimming pool! Small store with groceries, gifts, and RV supplies. FREE WI-FI. An arcade, billiards room, and laundry facilities round out our family friendly services. The Animas River borders our park, cast a line and catch a trout.
CAMPSITES: Stay in a level RV site with water, electricity and sewer under shade trees. Some sites are pull-thrus. Pitch your tent in our grassy mountain meadow with picnic tables and campfire pits.
We are the only RV park served by Durango's $1 Trolley going to historic downtown and the train station! No tow car; No worries!
United Campground has been family-owned for three generations! The park camp hosts go out of their way to promote a warm and welcoming feeling to all, tenters and RVers alike.
CENTRAL FOR VISITING DURANGO ATTRACTIONS: Explore Mesa Verde National Park. Ride the famous Silverton Narrow Gauge Rail Road-it runs thru our park! We are an Ideal place to observe and photograph the train in action. Play at Vallecito Lakes, spend the day fishing, boating and hiking.
LOCATION: On the north edge of Durango; just off US Highway 550, after milepost marker 25. 1322 Animas View drive, Durango CO 81301.
For Current Rates and Availability; To Make Your Reservations: 970-247-3853.
CAMPING

Camping Open Dates: 4/15 to 10/15
Along a Highway: Easy access for quick and convenient RVing along Interstate or State Highways.

SITE DESCRIPTION

RV Sites: 129
Tent Sites: 64
Separate Tenting Area: Yes
Total Sites: 193
Electric & Water Hookups: 26 sites with electric and water only.
Full Hookups: 103 sites with water, electric and sewer.
50 Amp Hookups: 32 sites with 50 amp electrical service.
Long RV Sites 45+ Feet: 41 RV sites are 45 feet or longer.
Pull-Thru Sites: 42
RV Sites Wide Enough for Slideout(s): 121
Separate Group Camping Area: Yes

FACILITIES

Elevation: 6512 feet above sea level.
Region: Durango - Southwest, Colorado
Location: Close to Town.
Setting: Mountain views. Waterfront setting along a river, stream or creek. Country feel.
BBQ Grills (individual use): Yes
On-Property in Central Area for Guests to Use: Outdoor swimming pool. Laundry Area (washers and dryers).
Arcade Games: On site.
Kid's Play Structure: On site.
Credit Cards: Visa Card. MasterCard.

PET POLICIES

Pets at Campground & RV Park: Pets are allowed at campsites for no additional cost. Well-behaved dogs or cats are allowed on a leash outdoors while their owners are on-site.
Kennel (sitting service for your pet) Available: On site.
Vet Services: 5 minutes drive.

TECHNOLOGY FOR GUESTS TO USE IN A COMMON AREA

Fax Machine: Available with an additional fee.
Internet Cafe: 10 minutes drive.
WI-FI Wireless Internet: Available free.

FUN THINGS TO DO

PRIMARILY YEAR ROUND ACTIVITIES

National Park OR Monument: 45 minutes drive.
National Forests & BLM Lands: 10 minutes drive.
State Parks: 30 minutes drive.
Designated Historic District, Site or Plaza: 10 minutes drive.
Indian Ruins - Archeological Site: 45 minutes drive.
Designated Scenic/Historic Byway: Along the scenic byway.
Designated Hiking Trails: 5 minutes drive to trailhead.
Museum: 10 minutes drive.
Hot Mineral Springs: 5 minutes drive.
Public Rec Center: 5 minutes drive.
Golf Course: 5 minutes drive.
Movie Theater: 10 minutes drive.
Art Gallery: 10 minutes drive.
Outlet/Mall Shopping: 15 minutes drive.
Restaurant(s): Walking distance.
Internet Cafe: 10 minutes drive.
Casino Gambling: 35 minutes drive.

PRIMARILY SUMMER ACTIVITIES

Fishing in River, Stream or Creek: Walking distance.
Fishing in Lake, Reservoir or Pond: 15 minutes drive.
Guided Fishing Trips (Licensed): Wade Fishing. Lake Fishing.
Fishing Tackle Sold: On site.
Fly Shop: 10 minutes drive.
Boat Rentals: Canoe, Raft, Row, Paddle &/or Motor: 10 minutes drive.
Paddle Shop: 10 minutes drive.
Whitewater Rafting Office/Pickup point: On site.
Kayaking Rentals: 10 minutes drive.
Horseback Trail Rides (Guided): 15 minutes drive.
Jeep Trails: 15 minute drive. (off road, back country, 4WD, Jeep, or jeeping).
Jeep Rentals: On site. (off road, back country, 4WD, Jeep, or jeeping).
Jeep Tours: On site (off road, back-country, 4WD, Jeep, or jeeping).
4-Wheel Drive Sales & Services: 10 minutes drive. (off road, back country, 4WD, Jeep, or jeeping).
ATV (All Terrain Vehicles) and/or Dirt Bike Trails: 15 minute drive.
ATV (All Terrain Vehicles) and/or Dirt Bike Tours: On site.
ATV Sales & Services: 10 minutes drive.
Tourist Train Rides: 10 minutes drive.
Historic/Cultural Tours: 5 minute drive.
Mountain Bike Trails: Trails start on site.
Bike Path: 5 minutes drive.
Bicycle Shop: 5 minutes drive.
Waterfall Trails: 25 minutes drive to trailhead.
Performing Arts Theatre: 10 minutes drive.
Cowboy Supper & Show: 15 minutes drive.
Amusement Rides: 20 minutes drive.
Mini Golf: 15 minutes drive.
Chairlift/Gondola/Tram Rides: 25 minutes drive.

HUNTING

Hunting in Area: 30 minutes drive.
Colorado Hunting Units/Areas: 74, 741, 75, 751, 77, 771,
Find local Maps & Fun Things To Do for your Colorado Vacation:
---