Lamar Sportsman's Campground and Horse Motel
719-336-3623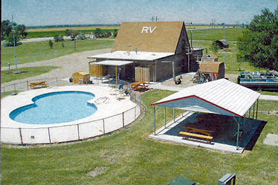 Truly a family park! Make the Sportsman's RV Park and Horse Motel your next stop when you're in Southeast Colorado.
Large RV pull-thru sites with full hookups (re-wired 50 amp)! Tent sites with water and electric. New showers and laundry facilities.
OUTDOOR SWIMMING POOL.
GUEST HORSES WELCOME: If you are on the rodeo trail, we will accommodate your horses. Motel (barn) with 10X14 feet stalls with outdoor runs and draft horse stall of 12X14 feet.
AREA ACTIVITIES: Great Plains Reservoir, John Martin Reservoir State, Bent's Old Fort, Comanche National Grasslands, and Big Timbers Museum with Native American and cowboy artifacts.
LOCATION: Along the Santa Fe Trail Scenic Byway, 3 miles west of Lamar on north side of Highway 50/287.
ADDRESS: 5385 Highway 50, Lamar CO 81052
For Current Rates and Availability; To Make Your Reservations: 719-336-3623, mention the Colorado Vacation Directory.
LODGING
Lodging Open Dates: All Year
Lodging Rates
Please call for rates, thank you.
Accommodation Description
About Smoking: All non-smoking units.
Camper Cabins/Yurts Outdoor Cooking: 2
Technology In Units
Internet Access in Units: All units.
Internet Access at No Additional Fee: Through Wi-Fi wireless.
CAMPING
Camping Open Dates: All Year
Along a Highway: Easy access for quick and convenient RVing along Interstate or State Highways.
Site Description
RV Sites: 38
Tent Sites: 5
Separate Tenting Area: Yes
Total Sites: 43
Electric & Water Hookups: 10 sites with electric and water only.
Full Hookups: 33 sites with water, electric and sewer.
50 Amp Hookups: 38 sites with 50 amp electrical service.
Long RV Sites 45+ Feet: 38 RV sites are 45 feet or longer.
Pull-Thru Sites: 38
RV Sites Wide Enough for Slideout(s): 38
Winterized Sites: 20
Hot Showers in Winter: Yes
FACILITIES
Elevation: 3500 feet above sea level.
Region: Lamar - Eastern, Colorado
Location: Close to Town.
Setting: Country feel. Forested. Ranch setting.
BBQ Grills (individual use): Yes
On-Property in Central Area for Guests to Use: Outdoor swimming pool. Central Area for OPEN Campfires. (If no local fire bans are active.) Central Picnic Area with BBQ Grills. Laundry Area (washers and dryers).
Credit Cards: Visa Card. MasterCard. Discover Card. American Express.
Pet Policies
Pets in Lodging: All Pets are allowed in private rental units.
Pets at Campground & RV Park: Pets are allowed at campsites for no additional cost. Well-behaved dogs or cats are allowed on a leash outdoors while their owners are on-site.
Horse Facilities
Guest's Horses Welcome (call for availability): You may bring your horse.
Individual Horse Run/Pen: On site.
Individual Horse Indoor Stall/Shed: On site.
Horse Trailer Parking: On site.
Horse Trails: 20 minutes drive to trailhead.
Technology For Guests To Use In a Common Area
Phone: In common area.
PC with Internet Access: Available.
WI-FI Wireless Internet: Available free.
FUN THINGS TO DO
Primarily Year Round Activities
National Park OR Monument: 5 minutes drive.
National Forests & BLM Lands: 5 minutes drive.
Designated Historic District, Site or Plaza: 5 minutes drive.
Designated Scenic/Historic Byway: Along the scenic byway.
Museum: 5 minutes drive.
Golf Course: 5 minutes drive.
Movie Theater: 5 minutes drive.
Art Gallery: 5 minutes drive.
Restaurant(s): 5 minutes drive.
Primarily Summer Activities
Outdoor Swimming Pool: Walking distance.
Fishing in River, Stream or Creek: 10 minutes drive.
Fishing in Lake, Reservoir or Pond: 15 minutes drive.
Hunting
Hunting in Area: 15 minutes drive.
Find local Maps & Fun Things To Do for your Colorado Vacation
---