4J+1+1 RV Park & Campground
970-325-4418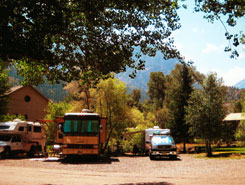 OVER 50 YEARS! Opened in 1956! Let our family serve your family.
Make our full-service campground along the Uncompahgre River your home base for all your adventures into Colorado's Rocky Mountain with 4WD trails, fishing, rafting, hiking and soaking in the clean mountain air. Shady sites are along the river.
Use our convenient foot bridge to relax at Ouray's public mineral Hot Springs Pool. We are in town; an easy walk to everything.
The Clark family, owners since 1956 welcome you. Box F, Ouray CO 81427; 970-325-4418.
LODGING

Lodging Open Dates: 5/1 to 10/15

LODGING RATES

Nightly Lodging Rates On-Season: $40

ACCOMMODATION DESCRIPTION

About Smoking: All non smoking units.
Camper Cabins/Yurts: 1
Units with Queen Beds: All units.

TECHNOLOGY IN UNITS

Internet Access in Units: All units.
Internet Access at No Additional Fee: Through Wi-Fi wireless.

CAMPING

Camping Open Dates: 5/1 to 10/15

CAMPING RATES

Tent Camping Rates: $25 a night for two people.
RV Camping Rates: Range from $30 to $36 a night for two people.
Additional Person Rate: Adult: $2. Kids free under the age of 8. Kids: $2.

SITE DESCRIPTION

RV Sites: 58
Tent Sites: 10
Separate Tenting Area: Yes
Total Sites: 68
Electric Hookups: 7 sites with electric only.
Electric & Water Hookups: 6 sites with electric and water only.
Full Hookups: 45 sites with water, electric and sewer.
50 Amp Hookups: 22 sites with 50 amp electrical service.
Long RV Sites 45+ Feet: 20 RV sites are 45 feet or longer.
Pull-Thru Sites: 19
RV Sites Wide Enough for Slideout(s): 58

FACILITIES

Elevation: 7800 feet above sea level.
Region: Ouray - Southwest, Colorado
Location: In Town.
Setting: Mountain views.
OPEN Campfires (individual use): Yes. (If no local fire bans are active.)
BBQ Grills (individual use): Yes
On-Property in Central Area for Guests to Use: Central Area for OPEN Campfires. (If no local fire bans are active.) Laundry Area (washers and dryers).
Kid's Play Structure: On site.
Credit Cards: Visa Card. MasterCard.

PET POLICIES

Pets in Lodging: Some pets are allowed in private rental units. There may be a fee or a deposit. Make advance arrangements
Pets at Campground & RV Park: Pets are allowed at campsites for no additional cost. Well-behaved dogs or cats are allowed on a leash outdoors while their owners are on-site.
Kennel (sitting service for your pet) Available: On site.
Vet Services: 15 minutes drive.

TECHNOLOGY FOR GUESTS TO USE IN A COMMON AREA

Phone: Public payphones.
Internet Cafe: Walking distance.
WI-FI Wireless Internet: Available free.

GROUPS REUNIONS AND WEDDINGS

Groups Welcome: Club. Reunion. Youth group with adult leaders.
Group Meeting Area: Outdoor area.
Central Area for OPEN Campfires: Yes. (If no local fire bans are active.)
Maximum # of Day-Use Guests in Outdoor Open Picnic Area: 50
Maximum # of Lodging Guests with a Group: 2
Maximum # of Camping Sites with a Group: 25

FUN THINGS TO DO

PRIMARILY YEAR ROUND ACTIVITIES

National Park OR Monument: 90 minutes drive.
National Forests & BLM Lands: 5 minutes drive.
State Parks: 20 minutes drive.
Designated Historic District, Site or Plaza: On site.
Ghost Town: 15 minutes drive.
Designated Scenic/Historic Byway: Along the scenic byway.
Designated Hiking Trails: 2 minutes drive to trailhead.
Museum: Walking distance.
Hot Mineral Springs: Walking distance.
Public Rec Center: Walking distance.
Golf Course: 15 minutes drive.
Movie Theater: Walking distance.
Art Gallery: Walking distance.
Restaurant(s): Walking distance.
Internet Cafe: Walking distance.

PRIMARILY SUMMER ACTIVITIES

Fishing in River, Stream or Creek: 15 minutes drive.
Fishing in Lake, Reservoir or Pond: 20 minutes drive.
Marina: 20 minutes drive.
Fishing Tackle Sold: Walking Distance (within 1 block).
Boat Rentals: Canoe, Raft, Row, Paddle &/or Motor: 20 minutes drive.
Whitewater Rafting Office/Pickup point: 15 minutes drive.
Kayaking Rentals: Walking distance.
Horseback Trail Rides (Guided): Walking distance.
Jeep Trails: Trails start on site. (off road, back country, 4WD, Jeep, or jeeping).
Jeep Rentals: Walking distance. (off road, back country, 4WD, Jeep, or jeeping).
Jeep Tours: Walking distance (off road, back country, 4WD, Jeep or jeeping).
ATV (All Terrain Vehicles) and/or Dirt Bike Trails: 5 minute drive.
ATV (All Terrain Vehicles) and/or Dirt Bike Rentals: Walking distance.
Tourist Train Rides: 60 minutes drive.
Mine Tours: 5 minutes drive.
Historic/Cultural Tours: Walking distance.
Mountain Bike Trails: Trails start on site.
Bike Path: Path starts on site.
Bicycle Shop: 15 minutes drive.
Waterfall Trails: 2 minutes drive to trailhead.
Performing Arts Theatre: Walking distance.
Mini Golf: Walking distance.

HUNTING

Hunting in Area: 15 minutes drive.
Colorado Hunting Units/Areas: 65, 66, 61, 62, 70, 74,
---
Find local Maps & Fun Things To Do for your Colorado Vacation:
---