Colorado Tourist Attractions
Family activities criss-cross our amazing state - whether you're looking for outdoor adventure, a quiet fishing hole, or a place to experience history and culture, Colorado will keep your vacation packed with memory making moments!
The Royal Gorge in South Central Colorado -- Home of The Royal Gorge Bridge and Park - an outdoor amusement park, featuring summer concerts, a peaceful gondola ride, the Royal Rush Sky Coaster, and the highest zipline in North America! This suspension bridge was constructed in 1929 and was the world's highest for 75 years! 955 feet below the bridge is the Arkansas River.
Historic Train Rides -- No vacation to Colorado is complete without a journey on one of our Railroads. They helped build our commerce and brought pioneers to this great state. Pick the Georgetown Loop RR, the Leadville CO-Southern RR, the Cripple Creek-Victor NGRR, the Pikes Peak Cog Railway, the Royal Gorge Route RR, or the Cumbres-Toltec Scenic RR.
Fall Recreation, Attractions & Fun Things To Do in Colorado
Ride With A View
Colorado ATV-UTV Trails
Stake Your Site
Colorado Tent Camping
Catch The Big One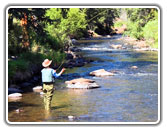 Colorado Fishing & Fly-Fishing
Colorado Vacation Planning - Cabins, Motels, Campgrounds, Vacation Homes, RV Parks
Explore Colorado's Towns by Region: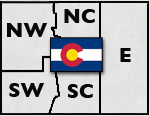 View Colorado Regions Map
Downloads & E-News - Great Vacation Resources on Colorado