Colorado Parks & Wildlife
303-866-3437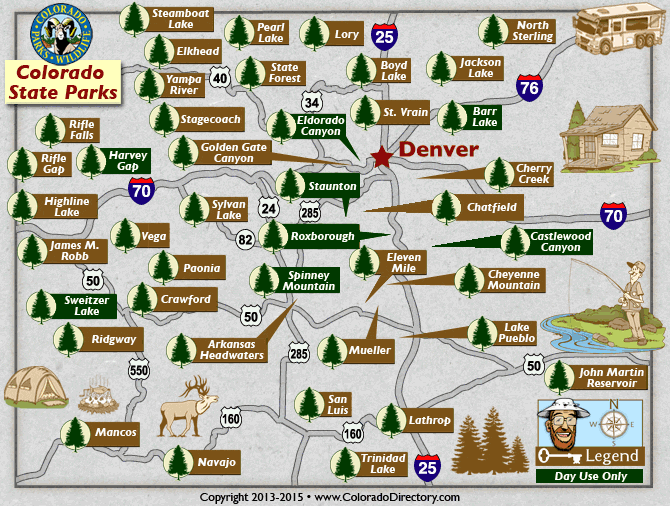 COLORADO PARKS & WILDLIFE
RESERVE YOUR CABIN, YURT, OR CAMPSITE TODAY!
Colorado Parks and Wildlife is a vital cornerstone in Colorado's economy and quality of life, offering some of the highest quality outdoor recreation destinations in Colorado. Visitors can find a variety of landscapes to match the state's geography, from urban playgrounds to backcountry retreats, from mountain lakes to whitewater adventure.
With more than 4,000 campsites, and 58 cabins and yurts, our State Parks offer something for every family vacationing in Colorado from 1 night, to a full weekend, to a week destination retreat. Enjoy camping, hiking, fishing, biking, boating, hunting, junior ranger programs and more! Dozens of activities with on-site rangers, volunteers and nature programs.
AFFORDABLE AND CONVENIENT -- PLAN TODAY!
Annual passes and Aspen Leaf passes (discounted senior pass) are good for entrance to all 42 state parks. Reservations for all parks can be made on-line or by calling 1-800-678-CAMP or 303-470-1144 in Denver metro area.
42 State Parks with more than 4,000 Campsites, 58 Cabins & Yurts
---
Arkansas Headwaters Recreation Area
Near Salida, Arkansas Headwaters is one of the nation's premier recreation areas! Camp (bring drinking water), fish, raft, kayak, picnic, hike, mountain bike all along 152 miles of the Arkansas River.
Barr Lake State Park
DAY-USE ONLY STATE PARK in Brighton, near Denver, nature enthusiasts enjoy Barr Lake: prime bird watching (300+ species), archery, hiking, horseback riding, boating -- 10-HP restriction canoe, sailboat.
Boyd Lake State Park
A modern water sports State Park near Loveland Boyd Lake has campsites open year-round. The 1,700 acre reservoir offers: boating, fishing, camping, picnicking, swim beach, hiking & biking trails, hunting.
Castlewood Canyon State Park
DAY-USE ONLY PARK near Castle Rock, the ruins of the century-old Castlewood Canyon Dam forms the centerpiece of this State Park, perfect for picnicking, rock climbing, bird watching, nature study, hiking.
Chatfield State Park
In Littleton, off E-470 in Denver's foothills Chatfield has a diverse ecosystem, expansive reservoir, swim beach, multi-use trails. State Park with views of the Platte River Valley, 197 campsites, marina, full livery.
Cherry Creek State Park
DENVER'S BACKYARD! Minutes from downtown Denver. Enjoy recreation at Cherry Creek State Park: 139 campsites, boating, fishing, hiking, swimming, horseback riding, bird watching, and snowshoeing.
Cheyenne Mountain State Park
Explore this amazing State Park in Colorado Springs. Cheyenne Mountain: archery range, 20 miles of hiking and biking trails, Geo-Caching. RV in a full-service campsite. Park and easy walk-in tent sites.
Crawford State Park
A western slope State Park in the peace and tranquillity of Crawford! Elevation 6,600 feet guarantees a mild climate in any season. Play, fish, water-sports, hike, hunt, camp. The campsites are scattered.
Eldorado Canyon State Park
DAY-USE ONLY STATE PARK, 15 minutes from Boulder, Eldorado Canyon has technical rock-climbing routes, fun bouldering, hiking, snowshoeing trails for all abilities, picnicking, spectacular views, wildlife!
Eleven Mile State Park
VACATION WHERE FISHING IS KING. Eleven Mile State Park: scenic vistas, un-crowded ideal sailing, great ice fishing, 349 campsites. Experience 11-Mile Reservoir, one of Colorado's largest reservoirs!
Elkhead Reservoir State Park
West of Steamboat Springs in NW Colorado, Elkhead Reservoir is the only flat-water recreation area in Moffat County: State Park campsites, boat, swim, jet ski, nature trails, birding, wildlife watch, bike, fish.
Golden Gate Canyon State Park
30 miles from Denver in the mountains! 12,000 acre state park awaits you at Golden Gate Canyon: camp sites, yurts, vacation home, fishing, nature programs, mountain trails. Horses Welcome - stall available!
Highline Lake State Park
In the Grand Valley of western Colorado Highline Lake is the ideal base camp for exploring the Grand Junction. Fishing at two lakes. State Park: 31 campsites, swim beach, jet skiing, hiking, boating, sailing.
Jackson Lake State Park
Near Orchard and Fort Morgan, CO this State Park is known for warm-water, sandy beaches, wildlife viewing, OHV area. 260 shoreline campsites. Jackson Lake offers boating, fishing, and swimming.
James M Robb-Colorado River State Park
Near Grand Junction James M Robb has access to the Colorado River: fishing, hiking, biking. Stay at a campsite near the Colorado National Monument and Grand Mesa. A State Park with 5 unique sections.
John Martin Reservoir State Park
The "sapphire on the plains" is near Lamar on the Eastern Plains in the Lower Arkansas River Valley. State Park: camp, fish, hunt, boat. John Martin Reservoir a paradise where birds flock, wildlife roam.
Lake Pueblo State Park
Minutes from Pueblo the State Park is anchored by a large reservoir lake with 400 campsites, marinas, a SWIM BEACH. Sun-lovers and water-sports enthusiasts vacation here! Hiking and biking nature trails.
Lathrop State Park
3 miles west Walsenburg, COLORADO'S FIRST STATE PARK, Lathrop offers views of the Spanish Peaks. Play then Stay on 1,594 acres of recreation: 103 campsites, 2 lakes, 9-hole golf course, hiking.
Lory State Park
Along the edge of Horsetooth Reservoir; minutes from Fort Collins is Lory State Park, vacationers enjoy hiking, horseback riding, 6 backcountry camps. Mountain biking: trails, pump, skills, dirt jump courses.
Mancos State Park
In the San Juan Mountains, near Mesa Verde National Park, Mancos State Park offers: trout fishing, campsites, 2 ultra-modern yurts with propane heat. Jackson Gulch Reservoir: wakeless boats.
Mueller State Park
Near Divide: 3 cabins with full kitchens; STAY in Winter and SAVE Money. Mueller State Park: 55 miles of nature trails: hike, horseback ride, cross-country ski, snowshoe. Plus 119 campsites and pond fishing.
Navajo State Park
Colorado's answer to Lake Powell near Arboles! Navajo Reservoir 15,000 surface-acre A water sport Mecca: boat, water-ski, wind-surf, fish. State Park: marina with pontoon boat rentals, campsites, cabins.
North Sterling State Park
Reservoir 12 miles north-west of Sterling. This is the State Park families are looking for: a boater's paradise, Saturday night campfires, swim beach, campsites, wildlife watching, hiking, winter camping.
Paonia State Park
A nature lover's dream near Crawford, Paonia State Park is nestled between steep mountainsides and a narrow fishing lake. Primitive campsites. Near Ragged Wilderness Area -- hunting units: 43 and 521.
Ridgway State Park
5-mile long reservoir near Ouray, surrounded by mountain scenery. Ridgway State Park: 283 campsites, 3 yurt/tents, swim beach, nature trails, fishing, gift shop, nature programs. GROUP EVENT FACILITIES.
Rifle Falls/Rifle Gap/Harvey Gap State Parks
3 State Parks bundled into one amazing experience: Rifle Falls, Rifle and Harvey Gaps. Waterfalls feed a pond, campsites, Junior Ranger Program, and the best ice fishing and summer lake fishing in the area.
Roxborough State Park
DAY-USE ONLY near Denver, no pets at Roxborough. 1.2 billion years of geologic time is represented at this State Park: spectacular red-rock formations with history and geology programs, hiking, and wildlife.
San Luis State Park
At this wilderness state park see waterfowl, shorebirds, songbirds and raptors in the San Luis Valley. Near Alamosa, in the shadow of the Great Sand Dunes National Park: campsites, fishing, water sports.
Spinney Mountain State Park
DAY-USE ONLY PARK in Park County. FISHING is KING! Spinney Mountain Reservoir, Gold Medal fishery trophy cutthroat, brown, rainbow, northern pike. State Park allows game and waterfowl hunting seasonal.
St. Vrain State Park
Near Longmont, 30 miles north of Denver, St. Vrain is a charming State Park with full hookup and electric only campsites. The ponds are home to Egrets, White Pelicans, Tall Cormorants. Warm water fishing!
Stagecoach State Park
Centered around an 820-acre RESERVOIR with marina on the western flank of the Park Mountain Range, by Oak Creek and Yampa. Stagecoach is the State's base camp for Flattops Wilderness Area.
State Forest State Park
Rugged Colorado, near Walden. At this state park MOOSE claim the fame! 71,000 acres of forest, alpine lakes, electric campsites. Cabins and yurts, no indoor cooking. Backcountry hiking with developed sites.
Staunton State Park
DAY-USE ONLY PARK, a 3,800 acre State Park near Pine CO off Highway 285. Staunton has multi-use and hiker-only nature trails, rock climb, mountain bike, fish, geo-cache. Picnicking and wildlife viewing.
Steamboat Lake/Pearl Lake State Parks
Near Steamboat Springs, sits the pearl of state parks, at the base of majestic Hahn's Peak! Stay & Play: campsites, cabins, yurts. Experience premier hiking trails, 2 lakes, fishing, swim beach, boating, marina.
Sweitzer Lake State Park
DAY-USE PARK ONLY. Nicknamed "oasis on the edge of a desert," Sweitzer Lake is near Delta. Enjoy picnicking, swimming, boating, sailing, water skiing. The State Park has excellent waterfowl watching.
Sylvan Lake State Park
South of Eagle CO, at the gateway to Holy Cross Wilderness, Sylvan Lake gazes at majestic mountains. State Park: Cabins/yurts (heat, solar light, no indoor cooking), tent sites, hike, fish, bike, snowmobile, ski.
Trinidad Lake State Park
In the foothills of the Sangre de Cristo Mountains of Southern Colorado, west of Trinidad with year-round campsites. Sylvan has recreation! State Park include 800 acre lake, fishing, boating, hiking, ice fishing.
Vega State Park
Near Collbran, this 4 season State Park surrounds by Vega Lake. A vacation destination for birding, hiking, fishing (ice), cross-country skiing, snowmobiling. Cabins - microwave, refrigerator. Campsites.
Yampa River State Park
134 mile stretch of the Yampa River is the heart of this State Park, undeveloped camping, canoe, kayak, and raft near Steamboat Springs. The Visitor Center near Hayden has 70 campsites and nature trails.
---
Find local Maps & Fun Things To Do for your Colorado Vacation:
---