South Fork Visitor Center
800-571-0881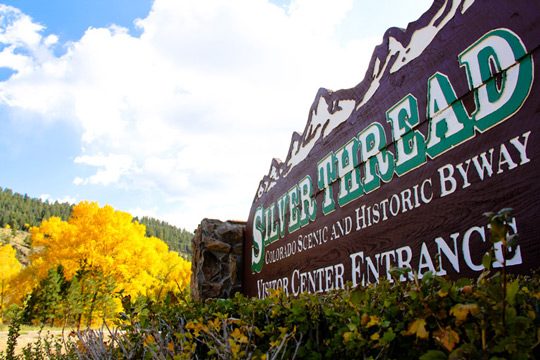 South Fork is at the junction of the famous Rio Grande River and Highways 160 & 149
Getaway to the Silver Thread Scenic Byway - South Fork is famous for hunting, fishing, camping, rafting, snowmobiling, skiing, hiking, biking, golf, wildlife, photography, scenic and historic driving tours and much more. With 24 lodges, 11 restaurants and many unique shops we invite you to join us in the good life where the breathtaking scenery and family oriented atmosphere will captivate and draw you back year after year.
WELCOME TO SILVER THREAD COUNTRY -- A VACATION DESTINATION
In 1990, a portion of Highway 149 was given the distinction of becoming a National Forest Service and Colorado Scenic and Historic byway. This historic route carries you on a 135 mile journey between the towns of South Fork, Creede, Lake City and on to Blue Mesa Reservoir just west of Gunnison. As you travel through the Silver Thread rich history, you will drive through the Gunnison and the Rio Grande National Forests and you can see parts of the La Garita, Weminuche and Powderhorn wilderness Areas. The colorful old mining camps of the Silver Thread offer history, scenic beauty, and a heavy dose of authenticity.
The Rio Grande River
THE RIO GRANDE RIVER is an awesome river with a lot of diversity. The Rio Grande is primarily a brown trout river with some nice bows and cuts. Fish are very gullible and range in size from 11 to 16 inches and you always need to be ready for a monster. If you are into scenery as well, then this place fits the bill. Insect hatches are incredible in early summer and the float fishing is fantastic. If you like streamers and dries then this is the river for you. Streamer fishing in the late winter and spring gives way to dry fly fishing in early summer. Dry patterns are large, fluffy and easy to see. Fall angling can also be great.
For more information or a brochure: 28 Silver Thread Lane, PO Box 1030, South Fork Colorado 81154; 800-571-0881; 719-873-5512.
Rio Grande National Forest
RIO GRANDE NATIONAL FOREST is host to the beginning of the Rio Grande River as it makes its 1,885 mile journey to the Gulf of Mexico. Designated as a national forest by a Presidential Proclamation in 1908 by Theodore Roosevelt. The Rio Grande Forest covers more than 1.8 million acres of mountain peaks and valleys that are rich in minerals, timber, wildlife and scenic resources. Activities within the Forest are limitless. Excellent fishing opportunities are provided by the area's 80 cold water lakes, 150 streams and the specially designated Gold Medal fishing waters of the Rio Grande River. Whether you enjoy hiking, mountain biking, scenic driving tours, horseback riding or photography, the Rio Grande National forest has something for everyone. Big game hunters find abundant deer, elk, mountain sheep, bears, antelope and mountain lions. Although the area also boasts large numbers of small game mammals, birds, and water fowl. Winter brings the opportunity to enjoy downhill and cross country skiing, snowmobiling, snowshoeing and sledding. Throughout the forest one will also find scattered remnants of Colorado's rich history. Early day mining camps, and homesteads are abundant.
Wolf Creek Ski Resort
WOLF CREEK SKI RESORT is a high alpine ski resort, 10,300 feet at the base and 11,900 feet at the summit. Sunscreen and sunglasses are a necessity in the high altitude sun. Six lifts service incredibly beautiful terrain, over 1,600 acres. The Magic Carpet is a moving conveyor lift for the Wolf Pup Program. The Nova Lift services beginner terrain for children and new skiers. The Raven Chairlift services primarily beginner and intermediate terrain. The Bonanza and Treasure Triple Chairlift service intermediate and expert slopes. The new Alberta Chairlift replaces the snowcat shuttle that served the Water Fall Area. This unique area is beautiful and adventuresome; full of incredible glades and changing terrain. Predominantly tree skiing and boarding, these 1,000 acres have a few groomed trails for intermediates' interests and enjoyment.
Interesting Tidbits About the Greater Area of South Fork
Elevation: 8,180 feet
Average annual precipitation: 15.8 inches
Terrain: Mountain and valley, South Fork is at the boundary where the wide, flat plain of the San Luis valley juts into the San Juan Mountains
January temperature: High: 48 Low: 8
July temperature: High: 91 Low 58
Days of Sunshine per year: 300+
For More Information or a Brochure
28 Silver Thread Lane, PO Box 1030, South Fork CO 81154; 800-571-0881; 719-873-5512.
FACILITIES

Elevation: Stay & Play Packages
---
Find local Maps & Fun Things To Do for your Colorado Vacation:
---