Cottonwood Cove Guest Ranch: Cabins, RV Park, Jeeps, Horse Rides
719-658-2242









The days at The Cove are a little slower, a little quieter, and the only appointment you need to keep is with the fish!
This guest ranch, in continuous operation since 1944, is on Highway 149 (Silver Thread Scenic Byway) between South Fork and Creede. A Family friendly ranch in Wagon Wheel Gap with breathtaking scenery and surrounded by the Rio Grande National Forest discover 100s of miles of four-wheel drive roads.
Enjoy an afternoon or morning in the mountains on a horseback ride. You may fly-fish in the stocked Rio Grande River for gold medal trout at the Ranch. Watch your kids catch their first fish in one of our fishing ponds. Rent a Jeep to explore Wheeler Geologic National Monument. Rent a "blue-water" raft for self-guided trip on the Rio Grande. Shop in our unique and beautiful gift shop.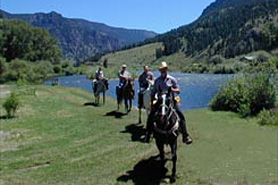 Our full service restaurant provides an enjoyable a meal with no cleanup. Visitors of all ages love to get back to nature at this authentic guest ranch.
MOUNTAIN VACATION CABINS: 1, 2 and 3 bedroom mountain cabins have kitchens (most with fireplaces). Our cabins have no telephone! Cabin guests receive a complimentary hot breakfast. PLEASE NOTE, the cabins have limited availability from November-April
RV PARK WITH FULL HOOKUPS: Hook 'em up and breathe in that cool mountain air. 30 and 50-amp hookups. Enjoy the incredible views and watch for the bighorn sheep that occasionally visit. Laundry services available.
30 miles to Wolf Creek Ski Area. Golf in nearby South Fork.
PETS ALLOWED: Must make a reservation for a Pet Friendly unit; PLEASE NOTE there is an additional fee.
LOCATION: Between Creede and South Fork just off Highway 149; 13046 Highway 149, Creede CO 81130.
For Current Rates and Availability; To Make Your Reservations: 719-658-2242.WEB DEPT:
LODGING

Lodging Open Dates: 5/1 to 11/30

LODGING RATES

Nightly Lodging Rates On-Season: Range from $110 to $250
Off-season rates available, call for information.

ACCOMMODATION DESCRIPTION

About Smoking: All non-smoking units.
Cabins/Cottages with Cooking Facilities: 24
Vacation Homes or Guest Houses: 3
Units with King Beds: Some units.
Units with Queen Beds: Most units.
Units with Wood Fireplaces: 10
Additional Amenities (ask about availability): Coffee Maker with coffee.

TECHNOLOGY IN UNITS

Units with TV: All units.
Type of Reception: Cable.
Number of Channels: 4
Internet Access in Units: All units.
Internet Access at No Additional Fee: Through Wi-Fi wireless.

CAMPING

Camping Open Dates: 5/1 to 10/1
Along a Highway: Easy access for quick and convenient RVing along Interstate or State Highways.

CAMPING RATES

RV Camping Rates: $34 a night for two people.
Weekly RV Camping Rates On-Season: $175.00 for two people.
Monthly RV Site Rates (Metered Electricity) On-Season: $450.00 for two people.

SITE DESCRIPTION

RV Sites: 41
Total Sites: 41
Full Hookups: 41 sites with water, electric and sewer.
50 Amp Hookups: 8 sites with 50 amp electrical service.
Long RV Sites 45+ Feet: 18 RV sites are 45 feet or longer.
Pull-Thru Sites: 15
RV Sites Wide Enough for Slideout(s): 41

FACILITIES

Elevation: 8448 feet above sea level.
Region: Creede - Southwest, Colorado
Location: Away from Town, but close to a community convenience store and restaurant.
Setting: Mountain views. Waterfront setting along a river, stream or creek. Adjoins public lands. Country feel. Forested.
OPEN Campfires (individual use): Yes. (If no local fire bans are active.)
BBQ Grills (individual use): Yes
Restaurant: On site.
Meals Regularly Served: Breakfast, Lunch & Dinner.
On-Property in Central Area for Guests to Use: Wood Stove. Central Picnic Area with BBQ Grills. Laundry Area (washers and dryers).
Kid's Play Structure: On site.
Credit Cards: Visa Card. MasterCard. Discover Card.

PET POLICIES

Pets in Lodging: All Pets are allowed in private rental units. There may be a fee or a deposit.
Pets at Campground & RV Park: Pets are allowed at campsites for additional fee or deposit. Well-behaved dogs or cats are allowed on a leash outdoors while their owners are on site.

HORSE FACILITIES

Guest's Horses Welcome (call for availability): You may bring your horse.
Individual Horse Run/Pen: On site.
Horse Trailer Parking: On site.
Grain/Hay: On site.

TECHNOLOGY FOR GUESTS TO USE IN A COMMON AREA

Television: Available.
Fax Machine: Available.
WI-FI Wireless Internet: Available free.

GROUPS REUNIONS AND WEDDINGS

Groups Welcome: Club. Corporate. Reunion. Weddings. Elopements. Youth group with adult leaders. Retreat.
Group Meeting Area: Indoor room and outdoor area.
Central Picnic Area with BBQ Grills: Yes
Maximum # of Day-Use Guests in Indoor Meeting Room: 12
Maximum # of Day-Use Guests in COVERED Outdoor Picnic Area: 100
Maximum # of Day-Use Guests in Outdoor Open Picnic Area: 100
Maximum # of Lodging Guests with a Group: 100
Maximum # of Camping Sites with a Group: 28
Your Host will Cater or Arrange Meals with Advance Arrangements: Yes

FUN THINGS TO DO

PRIMARILY YEAR ROUND ACTIVITIES

National Park OR Monument: 90 minutes drive.
National Forests & BLM Lands: 5 minutes drive.
Designated Historic District, Site or Plaza: 15 minutes drive.
Ghost Town: 30 minutes drive.
Designated Scenic/Historic Byway: Along the scenic byway.
Museum: 15 minutes drive.
Golf Course: 15 minutes drive.
Art Gallery: 10 minutes drive.
Restaurant(s): On site.

PRIMARILY SUMMER ACTIVITIES

Fishing in River, Stream or Creek: On site.
Fishing in Lake, Reservoir or Pond: 30 minutes drive.
Fishing Tackle Sold: On site.
Boat Rentals: Canoe, Raft, Row, Paddle &/or Motor: On site.
Whitewater Rafting Office/Pickup point: On site.
Horseback Trail Rides (Guided): On site.
Jeep Trails: 10 minute drive. (off road, back country, 4WD, Jeep, or jeeping).
Jeep Rentals: On site. (off road, back country, 4WD, Jeep, or jeeping).
ATV (All Terrain Vehicles) and/or Dirt Bike Trails: 10 minute drive.
ATV (All Terrain Vehicles) and/or Dirt Bike Rentals: 15 minute drive.
ATV Sales & Services: 15 minutes drive.
Mine Tours: 15 minutes drive.
Mountain Bike Trails: Trails start on site.
Bicycle Shop: 15 minutes drive.
Waterfall Trails: 30 minutes drive to trailhead.
Performing Arts Theatre: 15 minutes drive.
Mini Golf: 25 minutes drive.

HUNTING

Hunting in Area: 15 minutes drive.
Colorado Hunting Units/Areas: 76, 79, 80
Find local Maps & Fun Things To Do for your Colorado Vacation:
---