Creede - Southwest Colorado
Isolated and picturesque, Creede, at 8,854', is in Mineral County where 95 percent of the land is national forest or wilderness. Prospector Nicholas Creede discovered silver here in 1889 and one of his mines, the Amethyst, produced $2 million one year. What attracted hundreds of miners also brought crooks: "Soapy" Smith opened the Orleans Club to separate miners from their riches. He was eventually banned from Creede which was also home to other famous westerners, including Calamity Jane and Bob Ford, the man who shot Jesse James in the back. Today, the old mining town atmosphere still exists in restaurants, shops and the Creede Repertory Theater. North Creede, Spar City, and Bachelor are all ghost towns located within 14 miles of Creede.
The Wheeler Geologic Area, 24 miles northeast, is a photographer's dream: unusual volcanic rock formations have earned it the name City of Gnomes.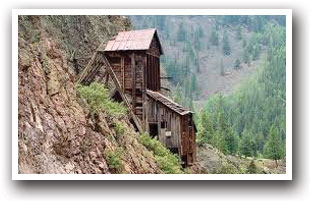 From the Rio Grande Reservoir, 30 miles away, to Creede, people raft and fish for the plentiful German brown trout along the Rio Grande headwaters. Colorado's upper Rio Grande from the Rio Grande Reservoir above Creede through Wagon Wheel Gap and South Fork to Del Norte is "a high-country angler's paradise...an undiscovered paradise," according to American Angler, the magazine of fly fishing and fly tying. The Bachelor Historic Loop, a 17-mile ride through the unique silver mining district and two ghost towns, and the Silver Thread Scenic Byway, which runs from South Fork through Creede northwest to Lake City, are two ways to enjoy the backcountry without crowds. Along the Silver Thread Scenic and Historic Byway, State Highway 149, are some of the most majestic valleys in all of Colorado - the distances between mountain peaks appears vast and mesmerizing.
Creede is near: Lake City & Wagon Wheel Gap

Featured Creede Businesses
Continental Guest Ranch


Fishing on-site at the headwaters of the Rio Grande outside of Creede and near Continental Reservoir, this remote ranch has pioneer cabins for rent. Enjoy the areas hiking, horse, ATV, and Jeep trails.

---
Cottonwood Cove Guest Ranch: Cabins, RV Park, Jeeps, Horse Rides



A Family Vacation along the Silver Thread Scenic Byway (Highway 149) between Creede and South Fork in Wagon Wheel Gap. Mountain Cabins with kitchens and fireplaces. Full hookup, pull thru, RV sites.










---
Creede-Mineral County Chamber of Commerce
Creede is best known for fishing and ATVing! Stop at the Creede-Mineral County Chamber of Commerce on Main Street for maps, tips and helpful information for your vacation adventure.


---
Last Chance Mine & Gift Shop


Historic Creede Colorado is the site of the last major Silver Camp of the 1880s! Last Chance Mine is being restored to its glory days! Spend a day: rock hunting, geo caching, taking an underground tour.


---
RC Guest Ranch and Circle Divide Outfitters

Family owned historic guest ranch near Creede, RC is true western hospitality! Furnished log cabins: 1, 2, 3 bedrooms. Circle Divide Outfitters Guided Trips: fishing, hunting, horse riding into National Forest.



---
South Fork Lodge, Cabins & RV Park



Between South Fork and Creede on Highway 149. Year round cabins with Satellite TV, Free WI-FI, pets welcome. Spacious SEASONAL Park with full hookup RV sites. Lodge hot tub. Discounted ski tickets.





---
Soward Ranch: Colorado Cattle Ranch - Guest Cabin - Fly-Fishing


Guest-Cabin est 1932; a cattle ranch for 125 years. Exclusive fishing at Soward: fly-fishing streams and stocked ponds. Secluded, Colorado, cabins on 1200 acres in the upper Rio Grande Valley near Creede.



---
For more travel information contact:
Creede-Mineral County Chamber of Commerce

Creede Activities and Maps
National Historic Sites and Landmarks:
Slumgullion Earthflow

Scenic Byways:
Silver Thread Scenic and Historic Byway -UPDATED-

Hiking Trails:
The Colorado Trail

Fishing:
Creede Fishing Map -UPDATED-

Jeep & 4WD:
Creede Jeeping & ATV Trails

Snowmobiling:
Lake City & Creede Snowmobile Trails -UPDATED-

Local Area Maps:
Lake City, Creede, South Fork Area Map

---