Lake City - Southwest Colorado
Includes Powderhorn
Experience Lake City and Powderhorn, Colorado
Lake City is home to several 14,000' mountain peaks; Uncompahgre, Sunshine, Handies, Red Cloud and Wetterhorn. Tucked into the grassy canyon where Henson Creek and the Lake Fork of the Gunnison River meet, Lake City is the perfect hub for your southwest Colorado vacation.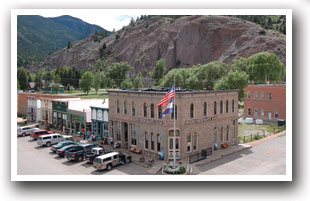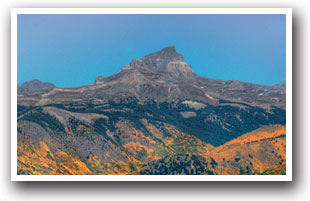 Explore the historical Victorian charm of downtown with over 75 buildings from the late 1800s - one of Colorado's largest historical districts. Both Henson and Capitol City are old ghost towns located less than 10 miles west of Lake City.
One story refuses to disappear from history; in 1874, Alfred Packer guided some prospectors through the nearby snow-covered mountains. Six weeks later, he appeared 76 miles to the northeast alone with a beard and long hair. He claimed to have survived on roots and berries but Packer was accused of murder and cannibalism and sentenced to hang in 1883 at Lake City's courthouse. Packer got off on a legality of an unconstitutional trial and ended up only serving 5 years in jail.
Hike in one of the National Forests that surround Lake City: Uncompahgre or Gunnison. Or try a stretch of The Colorado Trail running along the southwest side in Gunnison National Forest.
Lake City is lucky in that two wonderful Scenic Byways run through it. The Alpine Loop Backcountry Scenic Byway begins in town and runs through Ouray and then on to Silverton on 65 miles of dirt and gravel roads. The backcountry byway has some of the most stunning four-wheel driving in the world! The Silver Thread Scenic and Historic Byway ribbons through the communities of South Fork, Wagon Wheel Gap, Creede, Lake City, and Powderhorn until it connects with Highway 50. Once a toll road and stage route for miners, it is now a 75-mile paved highway.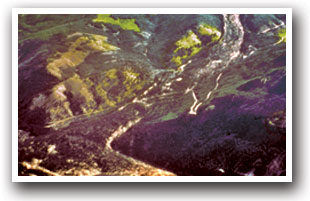 Water activities: Fish for trout in the Blue Mesa Reservoir, Gunnison River or other places around Lake City; raft along the Lake Fork of the Gunnison River; try boating on spectacular Lake San Cristobal, Colorado's 2nd largest natural lake created by the Slumgullion Earthflow. About 700 years ago, a mass of earth material began sliding down toward the valley and dammed up Lake San Cristobal. It was designated a National Natural Landmark in 1983 and still continues to move about 7 meters each year.
Some other awesome outdoor activities include Jeeping/ATVing or snowmobiling to the east and west of Lake City.
Driving Directions and Location: Lake City and Powderhorn, Colorado
Lake City is 140 miles north of the Colorado-New Mexico border and sits between Gunnison and South Fork along Highway 149. Powderhorn is 30 miles north of Lake City.
Commercial air travel accommodations are handled by the Durango - La Plata County Airport . Please contact your preferred travel agent or airline for flight arrangements. Lake City is 174 miles northeast of Durango.
Lake City is near: Creede & Gunnison Area

Featured Lake City Businesses
Alpine Moose Lodge & Bruno's Restaurant & Grill

Spacious lodge rooms in Lake City with a king or 2 queen beds. Alpine Moose has views of our historic town, the San Juan Mountains, and the River. Enjoy Chef Bruno's gourmet restaurant and wine selection.




---
Alpine Village Cabins - On Top of The Rockies

Unwind in our quiet village in Lake City; a low-key, comfortable, alpine destination. Log cabins 1- and 2- bedrooms, modern kitchenettes. On top of the Rockies: fishing, hiking, jeeping, horseback riding. WI-FI.



---
Castle Lakes Campground and Cabins


On Cinnamon Pass Road. Along Alpine Backcountry Byway, south of Lake City with a forested mountain setting, overlooking 2 private Castle Lakes: log cabins, RV hookups, tent campground. Good WI-FI.





---
Farabee Jeep Rentals

Drive one of our top-of-line, off-road-ready Jeep Wrangler to spectacular sights in the WEST! Farabee Rentals in Colorado - Lake City, Silverton, Telluride; and California - Death Valley. Trail maps provided.


---
G & M Cabins - Downtown Lake City

Fully equipped G&M mountain cabins have kitchens and screened porches. Stay in Lake City, CO; walk to shops, restaurants, and river fishing. Visit ghost towns on top of the world along the 4WD Alpine Loop.


---
Matterhorn Motel


Mountain-side motel rooms and cozy seasonal cabins, 1 block from Lake City's Historic District. Est in 1949, Matterhorn is SMOKE-FREE property. Free WI-FI. Reservations recommended - open year round.




---
Oleo Ranch - Colorado Vacation Cabins

In the Mountains between Creede and Lake City, Colorado. Each log vacation cabin on Oleo Ranch has its own privacy. Enjoy the best fishing on-site Cebolla Creek. Pets welcome when in designated cabins.


---
Sportsman Outdoors: Fly Shop, Fly-Fishing Trips, Scenic Tours



In Lake City, at the same location for 50+ years. A full service outdoors, gift, Pro Fly Shop specializing in fishing guides, Jeep tours, sportsman equipment rentals, hiking trips, snowshoe tours, and trail maps.



---
Wagon Wheel Cabins



Mountain rustic meets simple modern when you vacation at Wagon Wheel Cabins: WI-FI, DirecTV, ATV trailer parking, comfortable beds. Non-smoking. Pet friendly. In Lake City, walking distance to everything.


---
Woodlake Park Campground and Cabins


Uncrowded BIG RIG Park! Pull-thru, full hookup RV sites. A tenters Campground. Rentals: Cabins and a vacation home. Woodlake is along Silver Thread Scenic Byway, near Lake City and Alpine Loop Byway.





---
For more travel information contact:
Lake City Activities & Maps
National Historic Sites and Landmarks:
Slumgullion Earthflow

Scenic Byways:
Alpine Loop Backcountry Byway -UPDATED-
Silver Thread Scenic and Historic Byway -UPDATED-

Hiking Trails:
The Colorado Trail

Fishing:
Blue Mesa Reservoir & Gunnison River Fishing Map -UPDATED-
Lake City Fishing Map -UPDATED-

Rafting & Kayaking:
Lake Fork of the Gunnison River Rafting & Kayaking -UPDATED-

Jeep & 4WD:
Alpine Loop Backcountry Byway
Lake City, Ouray, & Silverton Jeeping & ATV/UTV Trails -UPDATED-

Snowmobiling:
Lake City & Creede Snowmobile Trails -UPDATED-

Local Area Maps:
Lake City, Creede, South Fork Area Map

---