Colorado Jeep & 4WD
Lake City, Ouray, & Silverton Jeeping & ATV Trails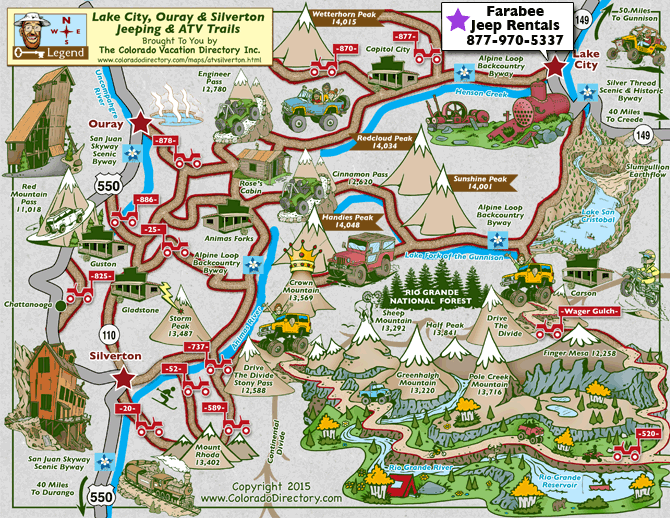 Not all towns appear on map. The publisher does not assume any responsibility for accuracy or completeness of maps. This information was compiled as accurately as possible.
Ouray and Telluride four wheel drive trails revive Colorado's history. Imogene pass road, Yankee Boy & Governor Basin Roads, Alta Ghost Town Trail and Black Bear Pass Trail provide a glimpse into the roots of early western life.
Tomboy Mine, along Imogene Pass, was the center of a real life wild west story. Mine workers parlayed labor strikes resulting in state and federal troops. The union commissioned a hired gun to assassinate the governer of Tomboy Mine and township. The attempt failed and violence escalated until the mine was sold. Operation continued until 1927. In 1966 the route opened due to the efforts of various 4WD clubs.
Yankee Boy Basin produced gold and silver with the Virginius, Atlas and Revenue mines. The town of Sneffels rose and fell with the mining boom between 1875 and the 1940's. Majestic peaks, waterfalls and wildlife grace the views along Yankee Boy Basin road and offer a good solution for beginning 4WD enthusiasts. Access to Governor Basin is also available along the route but requires a greater level of experience to traverse.
Alta Ghost Town serviced the Alta and Gold King mines beginning in 1878. Both mines produced gold, silver, lead, and copper. The Gold King mine operated thanks to alternating current electricity despite strong oppostion from Thomas Edison.
Black Bear Pass (AKA Ingram Pass) connects telluride to the Million Dollar Highway US 550 at Red Mountain Pass. The route provided access to Black Bear Mine in the late 1800's. The mine only operated into the early 1900's. Along US 550, just south of Red Mountain Pass, Bullion King Lake Trail provides access to a few small alpine lakes.

Places to Stay & Fun Things to Do
Farabee Jeep Rentals

Drive one of our top-of-line, off-road-ready Jeep Wrangler to spectacular sights in the WEST! Farabee Rentals in Colorado - Lake City, Silverton, Telluride; and in Moab - Utah, and Death Valley - California.
San Juan Backcountry Tours & Rentals



Guided tours in the majestic San Juan Backcountry near Silverton, CO. Choose a 4x4, ATV, UTV, dirt bike or snowmobile to have fun in Colorado's Mountains. Or head out on your own after renting from us.
More Activities & Information
Ouray, Colorado includes: Ridgway
---
---
Jeep & 4WD in Colorado
---