Colorado Jeep & 4WD
Silverton & Ouray Jeeping & ATV Trails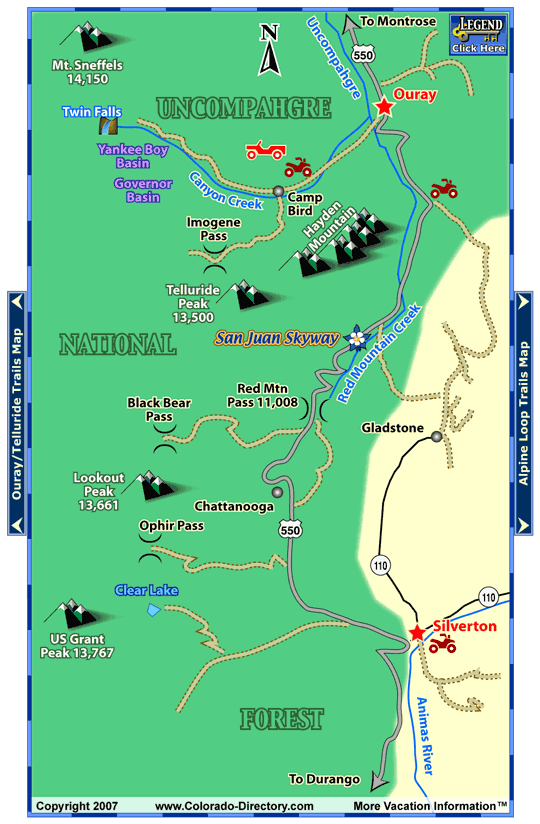 Not all towns appear on map. The publisher does not assume any responsibility for accuracy or completeness of maps. This information was compiled as accurately as possible.
The area around Silverton and Ouray holds some of the most beautiful ATVing and 4x4 trails in the state. All the trails center around the San Juan Skyway Scenic Byway in southwest Colorado, the ATV trails travel hundreds of miles through the Uncompahgre National Forest.
The Imogene Pass trail travels 18 miles from Ouray. Two mines, the Japan and Tomboy mines near the summit of the pass were some of the most productive in the area. Here, the highest YMCA in the nation was located at the top of the pass. The road is fairly well maintained.
The Black Bear Road starts near Red Mountain Pass, running between Ouray and Silverton. This road is one of the toughest and most beautiful 4WD roads. The road is full of steep climbs up to the 12,800-foot Black Bear Pass and dramatic drops down the mountain. The road runs over Ingram Falls and past Bridal Veil Falls. Snow banks on the side of the road are available to play in all summer long.
The Ophir road climbs above timberline past the old mining town of Ophir, located south of Telluride. This was originally a toll road between Telluride and Silverton, built in 1891, and is the easiest of three passes. The road travels near the mining ruins and Hidden Lake to the 12,789-foot summit of Ophir Pass.
Clear Creek is a 12-mile trail traveling west of Silverton near the 13,767 foot US Grant Peak. The road has an elevation gain of 1,626 foot. The forest is filled with lush aspen, pine and shrub growth.

Places to Stay & Fun things to Do
Farabee Jeep Rentals

Drive one of our top-of-line, off-road-ready Jeep Wrangler to spectacular sights in the WEST! Farabee Rentals in Colorado - Lake City, Silverton, Telluride; and in Moab - Utah, and Death Valley - California.
San Juan Backcountry Tours & Rentals



Guided tours in the majestic San Juan Backcountry near Silverton, CO. Choose a 4x4, ATV, UTV, dirt bike or snowmobile to have fun in Colorado's Mountains. Or head out on your own after renting from us.
More Activities & Information
Ouray, Colorado includes: Ridgway
---
---
Jeep & 4WD in Colorado
---