Colorado Jeep & 4WD
Roosevelt National Forest Jeeping & ATV/UTV Trails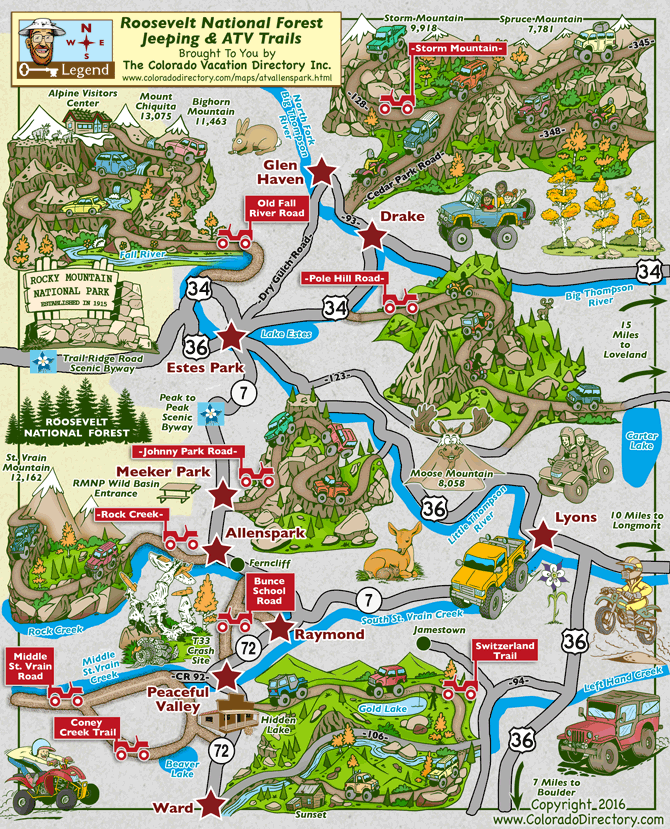 Not all towns appear on map. The publisher does not assume any responsibility for accuracy or completeness of maps. This information was compiled as accurately as possible.
Close to the Denver area, Estes Park and Rocky Mountain National Park, the ATV trails around Allenspark are easy to access and ideal for four-wheelers of any skill level.
Beginners will love the mild Bunce School trail. Close to the Peak to Peak highway, the wide, scenic route offers an easy five-mile ride through groves of aspens and pines. Riders can start at the trail's north end and check out the old Bunce School, a late nineteenth-century schoolhouse on the National Register of Historic Places. Or start at the south end, where Camp Dick offers pit toilets and camp sites for those inclined to stay awhile.
From Camp Dick, riders can also find the more moderate Middle St. Vrain trail. The three-mile route offers a few moderate obstacles as well as several small stream crossings. Riders who make it to the end are rewarded with a scenic area with several hiking trails and stream fishing.
The extra adventurous can try out the Coney Flats trail. The challenging five-mile ride is easily accessed near the end of the Middle St. Vrain trail. Riders climb a steep, rocky and narrow trail up to The Lake, a large body of water that can run from shallow to deep depending on the season. Four-wheelers should stay in the center of the lake to cross and watch to make sure their air intakes don't go under water. Those who make it across will find a smaller water obstacle and then a downhill ride to Beaver Reservoir. Alternatively, riders can start at Beaver Reservoir and then take the steep, rocky road downhill to the Middle St. Vrain trail.
Whatever trail - or trails - you choose, Allenspark is sure to offer a thrilling ride.
To get there:
Bunce School Trailhead: Take Highway 7 south through Allenspark. Before the turnoff for Highway 72, there is a brown sign for a "Point of Interest." Follow the sign, and you'll find yourself at the old Bunce School and the northern start of the Bunce School trail.
Camp Dick: Take Highway 72 through Peaceful Valley and follow the signs to Camp Dick.
Beaver Reservoir: Take a left at the 96 Road off Highway 72 and follow the signs to Beaver Reservoir. The Coney Flats trailhead is on the far side of the water.

Places to Stay & Fun Things to Do
Estes Park ATV Rentals


2-6 person UTV, 1-2 person ATV Rentals: unguided adventures! We take you to the trailheads! Visit a 1965 T33A jet crash the Air Force left in the mountains near Estes Park, Colorado. Maps provided!
More Activities & Information
Allenspark, Colorado includes: Meeker Park, Raymond
---
---
Jeep & 4WD in Colorado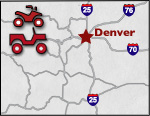 ---