Allenspark - North Central Colorado
Includes Meeker Park, Raymond
Experience Allenspark, Meeker Park, and Raymond, Colorado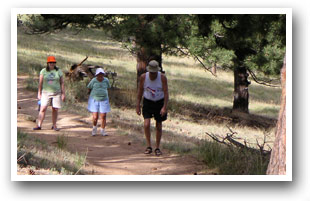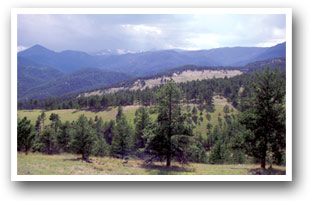 Located just 17 miles northeast of the city of Boulder, Allenspark has an elevation of 8,521'. Allenspark at one time was hot spot of ski jumping. Between the years 1922 and 1940, skiers came for tournaments held in Allenspark. Great for rest and relaxation from the big cities, Allenspark has a population of 183. Enjoy a day of horseback riding at a dude ranch or take a 12 mile drive to Estes Park. Cross country skiers will want to travel the Ski Road to Old Ski Area trail, perfect for beginning skiers. Allenspark is along the Highway 7 scenic route into Estes Park, where majestic Long's Peak, named after explorer Steven H. Long, presents its most dramatic face. Also, Allenspark is along the 55 mile Peak-to-Peak Scenic Byway. This scenic byway stretches along the Front Range from Central City to Estes Park and highlights Colorado's mountain scenery, history and culture. Established in 1918, this is Colorado's oldest scenic byway. In Allenspark, this highway is particular popular during the fall when aspen trees turn golden under crisp, blue skies.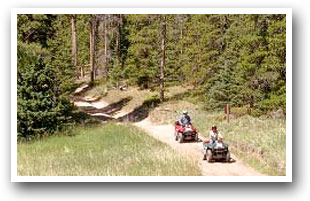 Allenspark is near: Boulder, Estes Park, Lyons, & Nederland

Featured Allenspark Businesses

Allenspark Lodge - Classic Mountain B&B



Hearty mountain breakfasts at an Authentic 1930s log lodge in Allenspark, CO. 12-romantic rooms for retreats, getaways, scrap-booking. Come, unhook and unwind: hiking, horseback riding, snowshoeing.







---
Hideout Cabins - Private Rocky Mountain Retreat




Charming, pet-friendly, semi-secluded vacation homes close to Allenspark, Rocky Mountain National Park, Estes Park, Lyons. Hideout Cabins: riverfront, private hot tubs, woodstoves. Each rental is unique!






---
Meeker Park Lodge and Mountain Cabins

Tranquil mountain cabins and lodge rooms east of Rocky Mountain National Park along Peak to Peak Scenic Byway. Meeker Park Rec Building has a pool table, ping pong, laundry, grocery. Stables on-site.


---
Middle Fork Cabins, Raymond


Cozy cabins nestled on the St. Vrain River in Raymond -- population 60. Middle Fork borders Rocky Mountain National Park and Indian Peaks Wilderness Area. 30 minutes to: Estes Park, Boulder, Lyons.





---
Pinebrook Vacation Rentals


Vacation at the doorstep of Rocky Mountain National Park, Pinebrook fits your budget from Cozy Rustic Cabins hidden in the pines to Exquisite Mountain Homes full of amenities. Some Pet Friendly Rentals!




---
Sunshine Mountain Lodge and Cabins

Year round cabins near Allenspark and Estes Park. Sunshine Mountain is along the scenic Peak to Peak Highway. A family reunion lodge in the mountains when you need to get-a-way . . . Pets welcomed!





---
Allenspark Activities & Maps
National Parks and Monuments:
Rocky Mountain National Park

Scenic Byways:
Peak to Peak Scenic Byway -UPDATED-

Rafting & Kayaking:
St. Vrain River Rafting & Kayaking

Jeep & 4WD:
Roosevelt National Forest Jeeping & ATV/UTV Trails -UPDATED-

Snowshoeing:
Rocky Mountain National Park Snowshoeing Trails

Local Area Maps:
Rocky Mountain National Park Area Map

---