Colorado Scenic Byways Map
Peak to Peak Scenic Byway
The byway passes a few of Colorado's ghost towns. Caribou used to be a silver camp but is deserted now. However, Nederland (the town that was established to supply Caribou) lives on. There are also many gold mines along Hwy 72 and 119. On the weekends, prospectors still pan for gold in the creeks, and there are a few gold mines along the way that allow the public to pan for the sparkling golden flakes. Visitors have to pay to pan, but children find it exciting and many times rewarding, making it worth the small fee.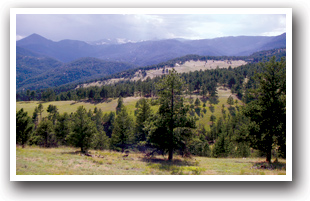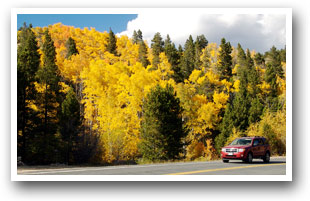 In addition to the stunning mountain scenery, this byway also provides a unique close-up look at the Continental Divide. The area is filled with aspen trees, so in the fall it becomes a dazzling quilt of gold, yellow, orange, green and brown. The fall is also a wonderful time to visit the area because it is elk mating season. Visitors flock to Estes Park to watch the mating rituals of the elk. Female and baby elk gather in a field as one male monopolizes his harem until he is challenged. The elk in this town have become so abundant that it is almost impossible to drive through Estes Park without seeing them - they almost seem to know the traffic laws!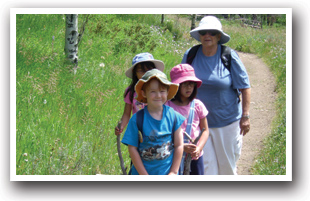 Whether looking for a relaxing vacation or for adventure, there are activities for all kinds of people in this area. There is hiking, climbing, river rafting, ATVing, horseback riding, biking, fishing, hunting, bird watching, shopping, dining, camping and nearby skiing in Eldora Mountain Resort. For some Hollywood sightseeing, Estes Park is also home to the Stanley Hotel, Steven King's inspiration for his famous novel "The Shining"; he stayed in room 217 in the nearly empty hotel the night before it closed for the season. The original film with Jack Nicolson and Shelley Duvall was not filmed here but the mini-series was.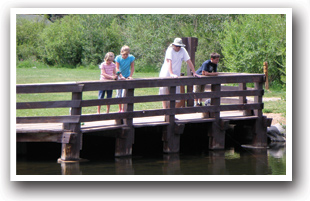 Starting in Nederland, turn right on Hwy 72 on the way to Ward. The byway will take you to Estes Park.

Places to Stay & Fun Things to Do
A Liquid Descent Whitewater Rafting


Rafting trips near Estes Park, Summit County and the Denver Area. Enjoy relaxing float trip or extreme whitewater with Liquid Descent. Highlights: A riverside hot springs, gorgeous scenery, abundant wildlife.
Allenspark Lodge



Authentic 1930s log lodge, 12-rooms, in Allenspark, CO. Come, unhook and unwind: hiking, horseback riding, snowshoeing. Hearty Mountain breakfasts. Romantic getaways, small retreats, scrap-booking.
Blackhawk Lodges


THE ONLY LOG CABINS IN ESTES PARK; all with woodburning fireplaces and lofts. Full kitchens, knotty pine interiors, cable TV. Riverside hot tub. 5 minutes to Rocky Mountain National Park and Estes Park.
Evergreens On Fall River, The


Romance and Special Occasion Packages. RIVERFRONT CABINS & VACATION HOMES in Estes Park. Intimate 1 and 2 bedroom cabins on Fall River. Near Rocky Mountain National Park. Gift certificates.
Machin's Cottages in the Pines



Near Estes Park stay in deluxe, immaculately clean cottages surrounded by scenic views, pines, wildlife. Machin's is inside Rocky Mountain National Park, clean mountain air, secluded location! WI-FI available.
Middle Fork Cabins, Raymond


Cozy cabins are nestled near the secluded town of Raymond, population 60. Middle Fork borders Rocky Mountain National Park, Indian Peaks Wilderness Area, and 30 minutes to Estes Park and Boulder.
Phoenix Gold Mine Tour


CATCH GOLD FEVER at working gold mine -- The Phoenix Tour seen on the Discovery Channel! A great day trip for folks in the Metro Area, a short drive from Denver, in historic Idaho Springs mining district.
Pinebrook Vacation Rentals


Vacation at the doorstep of Rocky Mountain National Park, Pinebrook fits your budget from Cozy Rustic Cabins hidden in the pines to Exquisite Mountain Homes full of amenities. Some rentals are pet friendly.
Range Property Management Vacation Rentals



Sit back and relax in Estes Park, Colorado. Our rentals: mountain cabins, homes, condos; Range Property Management is here for you. Give us the pleasure of helping you find your vacation dream.
Sunshine Mountain Lodge & Cabins

Pets Welcome! Near Allenspark and Estes Park, open year round. Along the scenic Peak to Peak Scenic Highway. Perfect for Family Reunions. Your place in the mountains when you just need to get-a-way . . .
More Activities & Information
Allenspark, Colorado includes: Meeker Park, Raymond
Boulder, Colorado includes: Eldorado Springs, Lafayette, Louisville
Denver Mountain Area, Colorado includes: Black Hawk, Central City, Empire, Evergreen, Genesee, Georgetown, Golden Mountains, Idaho Springs, Idledale, Morrison
Estes Park, Colorado includes: Drake
Nederland, Colorado includes: Eldora
---
---
Scenic Byways in Colorado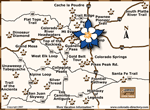 ---