Colorado Scenic Byways Map
Grand Mesa Scenic Byway
Before settlers came west, the Native American people populated the area of Colorado, Utah and surrounding areas. The Ute Indian tribe lived in the Grand Mesa Area. They called the Grand Mesa "Thunder Mountain" because of how the mesa towers over the valley 6,000' below. In 1776, the Utes guided Europeans through the area. Later, buggy trips lasting several days brought touring travelers to area. Stage lines and freight wagons soon replaced the buggy trips. Improvements on roads in 1911 from convict labor provided easier travel. In 1933 the Civilian Conservation Corps built "Veteran Road" (now Land's End road) that twists its way to the top of the mesa. Other improvements over the years make the byway one of the easiest to travel. Start in Cedaredge, just east of Grand Junction, and travel through Grand Mesa National Forest to end your journey in mesa. The 63 mile road goes through the canyon up to the mesa top to 11,000' above sea level. Give yourself an hour and a half along Highway 65 and an additional 30 minutes to travel Land's End to see everything there is to offer.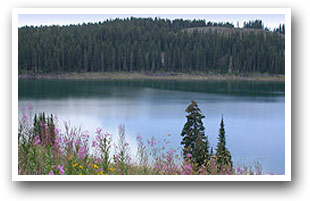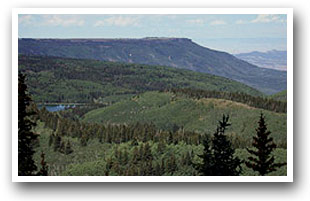 Along the byway, you can travel through various scenery changes. Start in a desert canyon, and as you make your way to the top of the mesa, you pass aspen foothills, lakes, alpine forests, lily ponds and meadows bursting with wildflowers. The byway provides many scenic overlooks to view each of these wonders.
For two wonderful overlooks, be sure to hike the Land-O-Lakes Overlook or visit the Land's End Observatory. The Land-O-Lakes is a trail that you can hike, and at the overlook, view many of the lakes surrounding the area as well as the West Elk Mountains to the East. Or, drive up to the top of the mesa on Land's End road. At the top, you can visit Land's End Observatory and look down the 6,000' to the bottom of the canyon.
The area also boasts many recreational activities. Blessed with over 300 stream fed lakes full of rainbow, cutthroat and brook trout you can fish or go small lake boating. With many trails, hiking, mountain biking and horseback riding is a favorite past time in the area. During the fall and winter months, big game hunting, cross country skiing, snowmobiling and skiing at the Mesa Powderhorn are popular activities. Be sure to visit the nearby Colorado National Monument.

Places to Stay & Fun things to Do
Gunnison River Farms & Black Canyon Anglers



On the gold medal fishing waters of the Gunnison River near the Black Canyon National Park: lodging, dinner, private river access, stocked trout ponds. Perfect for your family, wedding, retreat, or event.
More Activities & Information
Grand Mesa Area, Colorado includes: Austin, Cedaredge, Collbran, Eckert, Mesa
---
---
Scenic Byways in Colorado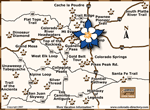 ---