Grand Mesa Area - Northwest Colorado
Includes Austin, Cedaredge, Collbran, Eckert, Mesa
At 10,000', Grand Mesa is one of the largest flattop mountain in the world rising more than a mile above the valley floor and stretching over 40 miles of Colorado's landscape. The entire area is a focal point of back roads and trails leading into the wilderness. The Ute Indians called the Grand Mesa "Thunder Mountain" because of how the mesa towers over the valley 6,000' below.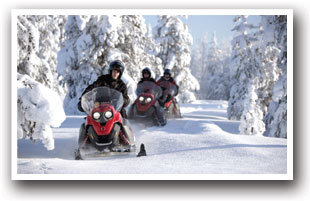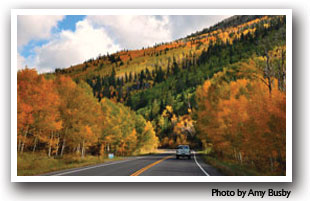 Escape the summer heat and relax in Grand Mesa's cool mountain air. Hikers will want to trek along the Crag Crest National Recreation Trail, a 10-mile circle that is only open to foot traffic.
Discover over 300 lakes offering fantastic fishing. Rainbow, brook, and brown trout like to roam these waters. Some lakes have boat launches accessible via Highway 65; for the more adventurous anglers, visit one of the many lakes only accessible by 4WD vehicles/ATV, foot, or horseback.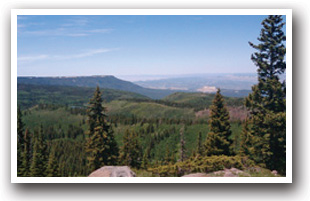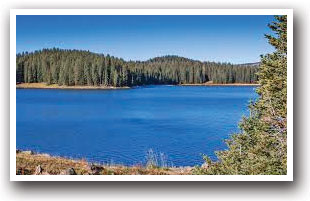 The town of Cedaredge is a 19th-century Western village. It has a blacksmith shop, jail, saloon, schoolhouse, and a frontier museum. Experience the American West at the turn of the century. Cedaredge also hosts the annual AppleFest with activities including a scarecrow contest, wine and beer garden, the Golden Gala, and an antique tractor show.
Drive the Grand Mesa Scenic and Historic Byway and tour the changing aspen in the fall. Travel through Austin, Cedaredge, Collbran, Eckert, and Mesa to view various scenery changes; start in a desert canyon, and pass aspen foothills, lakes, alpine forests, lily ponds, and meadows bursting with wildflowers as you make your way to the top of the mesa. The byway provides many scenic overlooks to view each of these wonders.
Almost entirely within the Grand Mesa National Forest, Grand Mesa has abundant wildlife making this a popular area for fall hunting. Stay in a Cabin/Cottage, Motel/Hotel, RV Park, Lodge Room, or Tent Site.
The winter months bring many skiers to the Powderhorn Resort only 35 miles southeast of Grand Junction. The forested top of the mesa remains snowbound much later in the spring than the surrounding valleys, and is a popular location for cross-country skiing and snowmobiling.
Annual events in the area include a sled dog race/skijoring competition, golf tournaments, the Little Britches Rodeo, and the Parade of Lights.
Grand Mesa Area is near: Aspen & Snowmass Village, Crystal River Valley, Crawford, Delta, Grand Junction & North Fork Valley

Featured Grand Mesa Area Businesses
Cedaredge Country Cabins - An Enclave of Pet Friendly Cabins

North of Cedaredge, at the foot of Grand Mesa stay in cozy county cabins with full kitchen, dining area, and fireplace. Log cabins sleep 3 to 7 plus your family pet. Enjoy 24/7 the fresh air of Western Colorado!


---
Grand Mesa Adventures Tours: Snowmobiling ATVing & Fishing


You Only Live Once . . . Put Adventure in Your Life . . . Atop Colorado's Grand Mesa! TOURS: ATVing and Snowmobiling on Grand Mesa. Winter Ice Fishing Tours. Summer Fly-Fishing Guided Adventures.



---
Grand Mesa Lodge, Snowmobile Tours & Canoe Rentals


In Grand Mesa National Forest with snowmobile rentals and tours. Mountain cabins and lodge rooms overlook beautiful Island Lake: canoe rentals and fishing. ATVing, hiking, hunting, snowmobiling tours.



---
Historic Alexander Lake Lodge, Bar and Restaurant

Fish and boat at Alexander Lake. Cabins in Cedaredge CO, surrounded by National Forest on top of Grand Mesa, 350 lakes, snowmobiling. This historic lodge, bar and restaurant was built in the 1890s.



---
Thunder Mountain Lodge - Modern Cabins, Snowmobile Tours & Rentals


OPEN YEAR ROUND. Thunder Mountain Lodge offers modern cabins, snowmobile tours and rentals under towering spruce trees. In Grand Mesa National Forest, overlooking trout filled lakes with fish here!




---
Vega State Park

Near Collbran, this 4 season State Park surrounds by Vega Lake. A vacation destination for birding, hiking, fishing (ice), cross-country skiing, snowmobiling. Cabins - microwave, refrigerator. Campsites.



---
For more travel information contact:
Grand Mesa Area Activities and Maps
National Parks and Monuments:
Black Canyon of the Gunnison National Park
Colorado National Monument

Scenic Byways:
Grand Mesa Scenic Byway -UPDATED-

Fishing:
Grand Mesa Fishing Map

Jeep & 4WD:
Grand Mesa Area Jeeping & ATV/UTV Trails

Ski Areas & Resorts:
Powderhorn Resort

Snowmobiling:
Grand Mesa Snowmobile Trails -UPDATED-

---