Colorado Fishing
Grand Mesa Fishing Map
Click Trout Symbols on Map for More Fishing Information
The Grand Mesa area is so surrounded by water - from lakes toreservoirs to streams to creeks - visitors will likely forget they're in land-locked Colorado.
Perched on a 10,000-foot plateau, Grand Mesa National Forest ishome to more than 200 lakes as well as multiple streams, rivers andcreeks. The waters are stocked by the Colorado Department of Wildlifeand teem primarily with rainbows, brooks and cutthroat, mostly rangingfrom eight to 12 inches long. Occasionally, a lucky angler will comeacross fish more than 18 inches in length, though.
The mesa's south slope is called the Land O'Lakes region and ishome to 18 lakes, all within walking distance of each other. Island Lakeis the largest of the group, and vacationers can get a spectacularglimpse of it from the scenic Land O'Lakes lookout on the Grand MesaScenic Byway. A visitor's center in the area also offers interpretiveexhibits, a bookstore and plenty of Forest Service staff to answerquestions.
On the north side of the mesa, vacationers will find the MesaLakes area. Many of the lakes in this area are certified Gold Medalwaters and are easily accessed using the area's well-developed trailsystem.
Just to the east, the Cottonwood Lakes offer a true backcountry fishingexperience. Many of the lakes in this area are secluded and accessibleonly by foot, four-wheel drive or horseback - contrasting greatly withthe lakes that are easily accessible from the road, which are morepopulated and offer amenities such as restrooms and boat launch ramps.
The large Vega Reservoir lies outside the forest and is a greatyear-round fishing hole, with plenty of trails for hiking, snowshoeing,and cross-country skiing. The reservoir, as well as most of the otherlakes in the area, is a popular spot for local wildlife, so keep an eyeout for elk, deer and even bears.
More Activities & Information
Grand Mesa Area, Colorado includes: Austin, Cedaredge, Collbran, Eckert, Mesa
---
---
Fishing in Colorado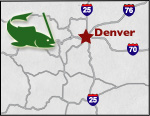 ---