Colorado Fishing
Rio Grande Fishing Map - West of Creede
Click Trout Symbols on Map for More Fishing Information
Creede provides an abundance of fishing opportunities for the Colorado angler. The following list correlates with the numbered fish on the map above:
Rio Grande River - Begins above Rio Grande Reservoir and continues throughout area -
The Rio Grande River offers some of the best fishing in Colorado. From early spring to late fall, travelers flock to the area for its great brown trout fishing. A portion of the waters are designated Gold Medal.
Clear Creek River - from Continental Reservoir to Rio Grande - Clear Creek is perfect for fly fishing. Expect to catch mostly rainbow and brown trout.
Trout Creek - from Trout Lake to Rio Grande - Trout Creek's name says it all. Visitors will find abundant rainbow trout up to 14 inches and brown trout up to 16 here.
Ute Creek - from Ute Lake to Rio Grande - The upper end of this nine-mile stretch is best for catching the cutthroats, brooks, rainbows and browns that swim the creek's waters.
Squaw Creek - from Squaw Lake to Rio Grande - Squaw Creek is a great place for those seeking high mountain fly fishing. The creek runs about 10 to 15 feet wide with nice pools. The best chance for catching the stream's brooks and cutthroats is at Squaw's upper end.
Brown Lakes - Brown Lakes, offering 180 acres of water filled with rainbows, cutthroats, browns and brooks, is best in the early summer. No matter what time you visit, though, check out the marmots, birds and other animals that call the state wildlife area home.
Rito Hondo Reservoir - Rito Hondo is a good destination year round. Whether ice fishing in the winter or angling in the summer, visitors will find plenty of trout and might even glimpse some of the beaver that like to visit the area. The site's undeveloped campsites have no trash cans or drinking water, so plan to pack your own. Boats and rafts with gas-powered engines are not allowed, but wind and electric-powered crafts are.
More Activities & Information
---
---
Fishing in Colorado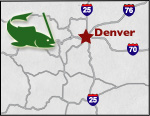 ---