Colorado Fishing
Elevenmile Reservoir Fishing Map
At 8,600 feet, Eleven Mile Reservoir offers fishing with altitude in the Pikes Peak West area.
Anglers will find roughly 3,400 surface-acres of water at the reservoir, filled with Kokanee Salmon and Rainbow, Brown and Cutthroat Trout. Northern Pike and Carp can also be found in the nearby shallow bays and inlets. Keep in mind there are bag and possession limits.
The Kokanee Salmon population, while still present, has been declining since 2006. What is responsible is a parasite called "gill ice." This is only affecting the salmon population because trout and other fish in the lake have a higher resistance to it. It is not harmful to humans as long as the salmon is prepared properly.
Eleven Mile offers year-round fishing, with ice fishing permitted once the water freezes over, usually around mid-December. Ice shelters must be portable.
There are various tournaments throughout the year. Most are in the winter months (January, February, March). There are two more tournaments in May and September.
The reservoir is located on the South Platte River, between Highways 24 and 9. To access Eleven Mile, travel 38 miles west of Colorado Springs on Highway 24 until you are about 1 mile west of Lake George. Travel south on County Road 90 for 6 miles and then take CR 92 south for about 5 miles until you reach the park.

Places to Stay & Fun things to Do
Cardinal Oaks Cabin & Llama Ranch

Secluded 1912 log cabin on a 43 acre ranch surrounded by mountains, completely remodeled. Visit Pikes Peak & Florissant Fossil Beds National Monument. Good fishing at 11 Mile & Spinney reservoirs.
More Activities & Information
Pikes Peak West, Colorado includes: Divide, Eleven Mile Reservoir, Florissant, Lake George, Tarryall Reservoir
---
---
Fishing in Colorado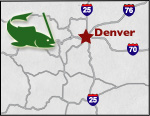 ---