Elevenmile Reservoir Fishing Map
Click Trout Symbols on Map for More Fishing Information
Not all towns appear on map. The publisher does not assume any responsibility for accuracy or completeness of maps. This information was compiled as accurately as possible.
---
At 8,600 feet, Eleven Mile Reservoir offers fishing, with altitude.
Anglers will find roughly 3,400 surface-acres of water at the reservoir, filled with Kokanee Salmon and several varieties of trout. Northern pike and carp can also be found in the nearby shallow bays and inlets.
Eleven Mile offers year-round fishing, with ice fishing permitted once the water freezes over, usually around mid-December. Ice shelters must be portable, though, and there are bag and possession limits all year on trout and salmon.
The reservoir is located on the South Platte River, between highways 24 and 9. To access Eleven Mile, travel 38 miles west of Colorado Springs on Highway 24 until you are about one mile west of Lake George. Travel south on CR 90 for six miles and then take CR 92 south for about five miles until you reach the park.
More Activities & Information
Pikes Peak Area - includes Chipita Park, Cascade, Deckers, Green Mountain Falls, Manitou Springs & Woodland Park

---
Arkansas River Headwaters - North Fishing Map
•
Arkansas River Headwaters - East Fishing Map
•
Big Thompson River Fishing Map
•
Blue Mesa Reservoir Fishing Map
•
East River Fishing Map
•
Elevenmile Reservoir Fishing Map
•
Lake Estes Fishing Map
•
Grand Lake Fishing Map
•
Grand Mesa Fishing Map
•
Gunnison River Fishing Map
•
Lake Fork Gunnison River Fishing Map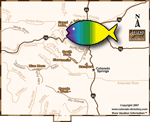 Middle Colorado River Fishing Map
•
North Fork South Platte River Fishing Map
•
Pagosa Springs Fishing Map
•
Rampart Reservoir Fishing Map
•
Rio Grande Fishing Map - Creede to South Fork
•
Rio Grande Fishing Map West of Creede
•
San Juan River Fishing Map
•
San Juan River - Navajo Dam Fishing Map
•
South Park Fishing Map
•
Taylor River Fishing Map
•
White River Fishing Map
---