Colorado Fishing
Arkansas River Headwaters Fishing Map - East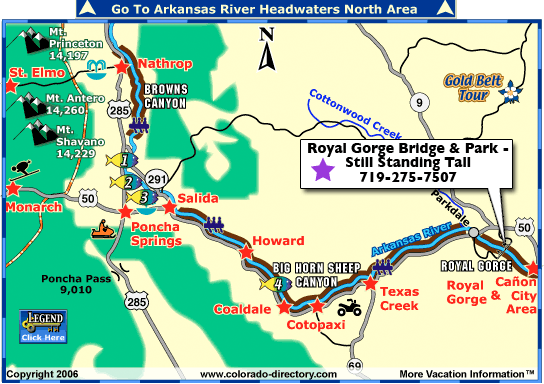 The area surrounding the south Arkansas River is filled with many possibilities for adventures as well as places to relax and just enjoy nature. The river is located 90 miles west of Colorado Springs, and 120 miles southwest of Denver. Its flows usually peak between the 1st and 3rd week of June. The lower section of the river runs from Nathrop through Salida and south to the Royal Gorge and Canon City Area. The lower section stays right near US Highway 50.
The Browns Canyon is a spectacular place for scenery and adventures down the river. Here you can enjoy stunning granite rock formations that are accented by the clear blue Colorado sky. The granite walled canyon holds the river below filled with boulder-strewn waters followed by calm pools, scattered with exciting class III rapids. Enjoy incredible views of the 14,000' peaks of Mt. Princeton, Mt. Antero and Mt. Shavano.
Further down the river holds the Bighorn Sheep Canyon. The river here flows through class II-III rapids beneath the Cotopaxi cliffs with incredible views of the Sangre de Cristo Mountain Range.
Royal Gorge section of the river features giant waves, steep technical drops and almost continuous whitewater through the narrow canyon of the Royal Gorge. Here, the Royal Gorge Bridge stretches 1,260 feet across the canyon and 1053' above the class IV-V rapids.
For some time for relaxation be sure to visit the Mt. Princeton Hot Springs or the Salida Hot Springs Aquatic Center. The Mt. Princeton springs will relax your tired body in its 135 degree water, as you sit under the 14,000 foot mountain peaks that surround you. These hot springs are located between Nathrop and St. Elmo. The Salida Hot Springs is Colorado's largest indoor hot springs pool facility. Natural spring water is transported by pipeline from Poncha Springs.
Also in the area is Poncha Pass and the Goldbelt Tour Scenic Byway. Poncha Pass is at the northern tip of the Sange de Cristo Mountains, used in the 19th century by Native Americans, overland immigrant and mountain men. It is at an elevation of 9,010 feet, making it one of the lowest passes in Colorado. The Goldbelt Tour Scenic Byway travels 135 miles through beautiful scenery, three fossil sites and lots of opportunity for outdoor recreation. Monarch Ski Area also provides downhill skiing. The ski area is situated in the San Isabel National Forest in South Central, Colorado. The average snowfall is 350 inches!

Places to Stay & Fun Things to Do
4 Seasons RV Resort



In the Heart of the Rockies, 2 miles E of Salida. Full RV hookups on level, grassy sites by the Arkansas River. 3 mountain resort cabins. Open 4 Seasons! $AVE MONEY, LONGER STAY! Multi-night discounts.
Arkansas River KOA, Loma Linda Motel & Kitchenette Cabins


Along beautiful Arkansas River with 2000 foot of great fly-fishing. WI-FI! KOA Campground and Loma Linda Kitchenette Motel rooms and cabins. Riverside group pavilion. Near ATV tours, trails. Family rates.
City of Salida Hot Springs Aquatic Center


The largest indoor hot springs aquatic center in Colorado! Open year-round in Salida. Relax in natural, hot, mineral water with family swimming and soaking pools. Private European style natural hot baths.
Colorado Vacation Property Managers at MoonShadow Ranch

Mild Weather Year Round -- MoonShadow is a Family Vacation Home -- 4-bedroom Ranch -- between Salida and Canon City -- In the Royal Gorge Region. In summer and winter gear up for ATVing or fishing.
Sweetwater River Ranch - Experience A River Vacation

On the Arkansas River - Sweetwater. WI-FI. At the Ranch fishing and bird watching. Nearby: raft, hike, ATV Jeep Trails, wildlife. Small, peaceful, relaxing. Near Royal Gorge, Canon City, Salida, and Westcliffe.
More Activities & Information
Buena Vista Area, Colorado includes: Johnson Village, Nathrop, St. Elmo
Royal Gorge Area, Colorado includes: Cañon City, Coaldale, Cotopaxi, Florence, Guffey, Penrose, Texas Creek
Salida, Colorado includes: Howard, Monarch, Poncha Springs
---
---
Fishing in Colorado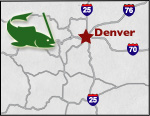 ---