Leadville CO & Southern Railroad Co
866-386-3936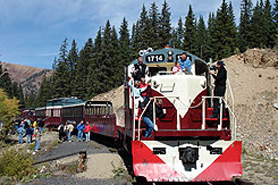 Current Schedule | Train Ride Reservations
Discover a Hidden Gem High Above The Clouds . . .
. . . in the Colorado Rocky Mountains . . .
All Aboard Leadville's Scenic Train
The historic mining town of Leadville is tucked away in an alpine valley at the base of Colorado's highest peak. Here you will find spectacular views, volumes of living history and a population proud of its working class heritage. Winding through this colorful tapestry like a brilliant red ribbon is the Leadville, Colorado & Southern Railroad.
Originating in "the highest incorporated city in North America," the LC&S takes passengers along the old Denver, South Park & Pacific and Colorado & Southern lines to the Continental Divide. But, as the old adage states, "It's not the destination, but the journey that's important." This journey is full of panoramas across the Arkansas River Valley and humorous narratives about Leadville's colorful past. Mining and railroading were a large part of the local history, and today's passengers will find it easy to step back in time.
Besides the spectacular views and relaxing ride, the best part is entering the untamed wilderness. We go through aspen and pine forests with brilliant colors in the fall, and meadows covered with wildflowers and sometimes wildlife. We stop just before the Climax Molybdenum Mine. There you can get off the train to view the wildflowers, take pictures and wander for fifteen minutes.
The train is dog and turtle friendly!
2015 SCHEDULE
Leadville Colorado & Southern Railroad Train Runs From May 23 - October 4 in 2015.
(All trips are 2-1/2 hours long unless otherwise noted.)
May 23 - June 12: 1pm
June 13 - August 16: 10am and 2pm
August 17 - October 4 (weekends): 10am & 2pm. (Weekdays): 1pm
SPECIAL TOURS - Call for information and reservations
July Night Ride -- July 12, 6pm BBQ SPECIAL
July Wildflower Tour -- July 18th 10am TRIP ONLY
July Wildflower Tour -- July 25th 10am TRIP ONLY
August Wildflower Tour -- August 1st 10am TRIP ONLY
September Fall Photo Special -- September 12th & 13th, 19th & 20th, 26th & 27th: 10am & 2pm.
TRAIN RIDE RESERVATIONS
326 East 7th Street, PO Box 916, Leadville CO 80461; 719-486-3936; 1-866-386-3936.
RATES

Specialty Discounts (call for availability): Groups.

FACILITIES

Elevation: 10000 feet above sea level.
Credit Cards: Visa Card. MasterCard.

GROUPS REUNIONS AND WEDDINGS

Groups Welcome: Club. Corporate. Reunion. Weddings. Elopements. Youth group with adult leaders. Retreat.
Group Meeting Area: Outdoor area.
Maximum # of Day-Use Guests in Outdoor Open Picnic Area: 250
Your Host will Cater or Arrange Meals with Advance Arrangements: Yes

FUN THINGS TO DO

Open Dates For On-Site Activities: 5/25 to 10/6

PRIMARILY SUMMER ACTIVITIES

Tourist Train Rides: On site.
Historic/Cultural Tours: On site.
---
Find local Maps & Fun Things To Do for your Colorado Vacation:
---