Centennial RV Park & Campground
toll-free 866-268-3115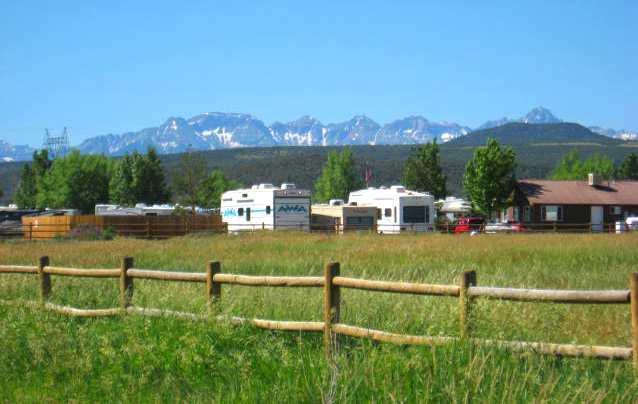 FREE WI-FI. Open May - October!
Centennial RV Park and Campground is in central Southwest Colorado where all roads lead to Montrose! Camp in a rural setting with BIG RIG SITES that are grassy and level, full hookup, 50 amp service, and pull-thru.
TENTERS WELCOME!
Whether you're bringing the whole family for vacation, or just passing through, our Park's first class amenities and large modern sites are sure to make your stay with us an enjoyable one.
Sit and relax at your site with breathtaking views of the San Juan Mountain Range. The easy drives to the Black Canyon of the Gunnison National Park, Ouray Hot Springs, Blue Mesa Reservoir, and Curecanti National Recreation Area are all fun day trips.
CAMPGROUND AMENITIES: Clean restrooms and hot showers, laundry facilities, propane, handicap accessible.
DIRECTIONS: 10 miles South of Montrose on scenic Highway 550.
ADDRESS: 23449 US Highway 550, Montrose CO 81401.
For Current Rates and Availability; To Make Your Reservations: 970-240-3832, toll-free 866-268-3115; mention The Colorado Vacation Directory.
RATES

Specialty Discounts (call for availability): Groups.

CAMPING

Camping Open Dates: 4/15 to 10/31
Along a Highway: Easy access for quick and convenient RVing along Interstate or State Highways.

CAMPING RATES

Additional Person Rate: Kids free under the age of 5.

SITE DESCRIPTION

RV Sites: 61
Tent Sites: 10
Total Sites: 61
Full Hookups: 61 sites with water, electric and sewer.
50 Amp Hookups: 61 sites with 50 amp electrical service.
Long RV Sites 45+ Feet: 61 RV sites are 45 feet or longer.
Pull-Thru Sites: 61
RV Sites Wide Enough for Slideout(s): 61

FACILITIES

Elevation: 6000 feet above sea level.
Location: Close to Town.
Setting: Mountain views. Country feel. Ranch setting.
OPEN Campfires (individual use): Yes. (If no local fire bans are active.)
On-Property in Central Area for Guests to Use: Central Area for OPEN Campfires. (If no local fire bans are active.) Laundry Area (washers and dryers).
Kid's Play Structure: On site.
Credit Cards: Visa Card. MasterCard.

PET POLICIES

Pets at Campground & RV Park: Pets are allowed at campsites for no additional cost. Well-behaved dogs or cats are allowed on a leash outdoors while their owners are on-site.
Kennel (sitting service for your pet) Available: 15 minutes drive.
Vet Services: 15 minutes drive.

TECHNOLOGY FOR GUESTS TO USE IN A COMMON AREA

Phone: In common area.
Fax Machine: Available with an additional fee.
Internet Cafe: 15 minutes drive.
PC with Internet Access: Available with an additional fee.
WI-FI Wireless Internet: Available free.
High-Speed Wired Internet: Available free.

GROUPS REUNIONS AND WEDDINGS

Groups Welcome: Club. Reunion. Weddings.
Group Meeting Area: Indoor room and outdoor area.
Central Area for OPEN Campfires: Yes. (If no local fire bans are active.)
Maximum # of Day-Use Guests in Indoor Meeting Room: 45
Maximum # of Day-Use Guests in Outdoor Open Picnic Area: 200
Maximum # of Camping Sites with a Group: 60
Your Host will Cater or Arrange Meals with Advance Arrangements: Yes

FUN THINGS TO DO

PRIMARILY YEAR ROUND ACTIVITIES

National Park OR Monument: 30 minutes drive.
National Forests & BLM Lands: 5 minutes drive.
State Parks: 10 minutes drive.
Designated Historic District, Site or Plaza: 25 minutes drive.
Designated Scenic/Historic Byway: 15 minutes drive to the scenic byway.
Designated Hiking Trails: 15 minutes drive to trailhead.
Museum: 10 minutes drive.
Hot Mineral Springs: 20 minutes drive.
Public Rec Center: 15 minutes drive.
Golf Course: 10 minutes drive.
Hot Air Balloon Rides: 15 minutes drive.
Movie Theater: 15 minutes drive.
Art Gallery: 15 minutes drive.
Restaurant(s): 10 minutes drive.
Internet Cafe: 15 minutes drive.

PRIMARILY SUMMER ACTIVITIES

Stocked Fishing Pond: 15 minutes drive.
Fishing in River, Stream or Creek: 10 minutes drive.
Fishing in Lake, Reservoir or Pond: 10 minutes drive.
Marina: 15 minutes drive.
Fishing Tackle Sold: On site.
Boat Rentals: Canoe, Raft, Row, Paddle &/or Motor: 15 minutes drive.
Whitewater Rafting Office/Pickup point: 15 minutes drive.
Kayaking Rentals: 15 minutes drive.
Horseback Trail Rides (Guided): 10 minutes drive.
Jeep Trails: Trails start on site. (off road, back country, 4WD, Jeep, or jeeping).
Jeep Rentals: 15 minutes drive. (off road, back country, 4WD, Jeep, or jeeping).
4-Wheel Drive Sales & Services: 15 minutes drive. (off road, back country, 4WD, Jeep, or jeeping).
ATV (All Terrain Vehicles) and/or Dirt Bike Trails: 10 minute drive.
ATV (All Terrain Vehicles) and/or Dirt Bike Rentals: 15 minute drive.
ATV Sales & Services: 15 minutes drive.
Tourist Train Rides: 60 minutes drive.
Mine Tours: 30 minutes drive.
Mountain Bike Trails: 10 minutes drive to trailhead.
Bike Path: 10 minutes drive.
Bicycle Shop: 10 minutes drive.
Waterfall Trails: 30 minutes drive to trailhead.
Performing Arts Theatre: 10 minutes drive.
Mini Golf: 15 minutes drive.

HUNTING

Hunting in Area: 5 minutes drive.
Private Land Unguided Hunting On-Site: Yes.
Colorado Hunting Units/Areas: 61, 62, 63, 64, 64, 66, 67,
Find local Maps & Fun Things To Do for your Colorado Vacation:
---