Dolores Area - Southwest Colorado
Includes Mcphee Reservoir, Stoner
Experience Dolores, McPhee Reservoir, and Stoner, Colorado
The city of Dolores was first established as a city in 1900 when it became a major stop on the Rio Grande Railroad. Today, it is a center for recreational activity and educational and cultural history.
Dolores boasts one of the largest lakes in Colorado, McPhee Reservoir. This reservoir is the perfect place to spend an afternoon fishing for Kokanee Salmon, Small and Largemouth Bass, Walleye, and various kinds of Trout.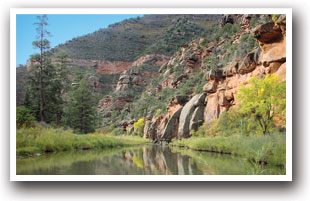 The Dolores River, named by two Spanish priests in honor of "Our Lady of Sorrows," is perfect for whitewater rafting and kayaking with rapids ranging from class II to IV. This is the perfect adrenaline activity for history buffs; you will pass through canyons filled with interesting geological formations and beautiful colors of the sandstone cliffs.
The Dolores River Valley is filled with beautiful history; visit the Canyon of the Ancients National Monument, the Hovenweep National Monument, or the Mesa Verde National Park to learn about how Natives to the area built and established their homeland. See the area's beautiful archeology at the Anasazi ruins, and learn about them in the nearby Anasazi Heritage Center Museum that has over 2 million artifacts and exhibits.
Snowmobile in the San Juan National Forest north of Dolores. There are over 100 miles of groomed trails that are perfect for wildlife lovers and history buffs. A popular area is the Boggy Draw Trail System.
Two Scenic Byways run through this area: the San Juan Skyway and the Trail of the Ancients. The San Juan Skyway is a big loop along Highways 145 and 550 that runs east to Durango, north to Ridgway, and then back south through Telluride until you reach Dolores again. The Trail of the Ancients connects with the Utah border at two places: down south at the Four Corners Monument and up north near the Hovenweep National Monument and Canyons of the Ancients National Monument.
Driving Directions and Location: Dolores, McPhee Reservoir, and Stoner, Colorado
Dolores is 39 miles north of the Colorado-New Mexico border along Highway 160 and is 40 miles east of the Colorado-Utah border via Highway 491. Cortez is 12 miles to the south and Telluride is 65 miles to the north along Highway 145.
Stoner is 15 miles northeast of Dolores along Highway 145 and McPhee Reservoir is just west of Dolores.
Commercial air travel accommodations are handled by the Cortez Municipal Airport or the Durango-La Plata County Airport. Please contact your preferred travel agent or airline for flight arrangements.
Dolores is near: Mesa Verde Area & Telluride

Featured Dolores Area Businesses
Circle K Guest Ranch Cabins and Outfitters

Family vacations and reunions in Dolores -- Colorado hunting and fishing outfitters without a high price tag! Circle K Guest Ranch: riverside cabins, horseback riding, home-cooked meals. Near Mesa Verde.






---
Doc's Outdoor Sports and Recreation
Plan your Boating and Fishing Vacation in Dolores with Doc's! Boat Rentals: canoe, paddle-boat, motor boat, pontoon. Outdoor Recreation Rentals. Sporting goods sold. FLY-SHOP: sport fishing pole rentals.

---
Green Snow Oasis -- Cabins Along Dolores River


Mountain log Cabins along the Dolores River offer excellent trout fishing between Telluride and Dolores in southwest Colorado. Your Green Snow Oasis vacation will be full of fishing, hiking, relaxing. Pets OK!



---
Groundhog Lake RV Park, Campground and Cabins

Outdoor Family FUN! Between Telluride and Dolores, Groundhog Lake is a favorite local fishing spot. Campground: mountain cabins, RV sites, lakeside tenting. Sustainable trophy hunting. Boat rentals.



---
Outpost: Motel Rooms, Cabins, RV Park

Your SW outpost in the cozy town of Dolores along the River: mountain cabins, motel rooms, RV Park hookup sites. Minutes to McPhee Reservoir: boating and fishing. Day trip to Mesa Verde National Park.



---
Sophia Retreat and Event Center



LET OUR EVENT CENTER SERVE YOUR: Reunion; retreat: spiritual, corporate or yoga; seminars; and wedding; all with lodging included. Sophia's Retreat is between Durango and Telluride in Dolores.

---
For more travel information contact:
Dolores Area Activities & Maps
National Parks and Monuments:
Canyons of the Ancients National Monument -UPDATED-
Hovenweep National Monument -UPDATED-
Mesa Verde National Park

Scenic Byways:
San Juan Skyway Scenic Byway -UPDATED-
Trail of the Ancients Scenic Byway -UPDATED-

Fishing:
Four Corners Area Fishing Map -NEW-

Rafting & Kayaking:
Dolores River Rafting & Kayaking

Snowmobiling:
Dolores Snowmobile Trails

---