Georgetown Loop Railroad and Lebanon Silver Mining Tours
888-456-6777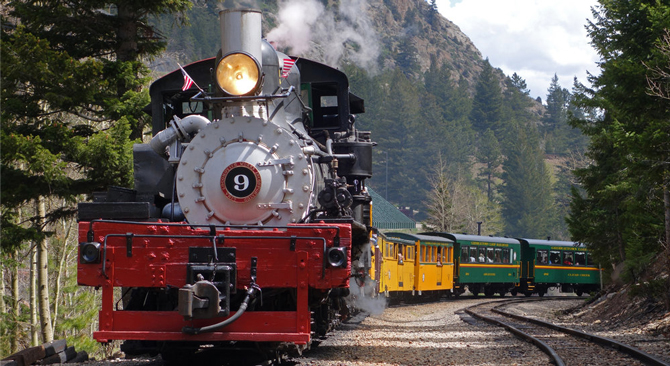 Our 2017 Season Starts on April 29th -- All Aboard the Georgetown Loop Railroad
Ever wonder what train travel through the mountains might have been like 100 years ago? The Georgetown Loop Railroad brings this history to life in a fun adventure that will thrill the entire family. The beauty of the rugged Rocky Mountains surrounds you as an old-time narrow gauge steam locomotive chugs its way up and down the canyon, hauling you past the remains of several gold and silver mines. Our open cars allow an unobstructed view of everything along the line. Along the route, visitors may stop for an optional guided tour of the historic Lebanon Silver Mine. Whether you are a railroad fan, traveling with an organized group, looking for a great family activity or just an individual wanting a taste of Colorado's past, a visit to the Georgetown Loop Railroad is the perfect way to spend a day!
COACH CLASS: Coach Service is box cars with bench seating. They are open air cars in the spring, summer, and fall, then enclosed and heated during the winter months.
FIRST CLASS: Parlor Service cars are fully enclosed, carpeted, with tables and padded chairs. Guests receive small snacks and a non-alcoholic beverage. Beer and wine are available.
PRESIDENTIAL CLASS: Waldorf Car Service is the ultimate VIP section. Guests have a dedicated attendant, who offers special holiday drinks and snacks. Guests receive a special 'golden ticket' to take home. This is a wonderful experience for a family reunion or wedding party. Beer and wine are available.
SILVER MINE TOURS AND GOLD PANNING
A mine tour adds another 1 hour and 15 minutes to your train trip. All guests must wear hard hats. The tours involve about 3/4 of a mile of walking into dark, enclosed spaces. Please use your discretion and consider yours and your child's limitations. Strollers and wheelchairs are not permitted. Mine tours are not available on the last train departure of the day.
THE LEBANON SILVER MINE TOUR: Complete your historic experience with an optional mine tour of the Lebanon Silver Mine. Located at the halfway point on the railroad, the tour takes you 500 feet into a mine tunnel bored in the 1870s. Your guide will point out rich veins of silver and tell you about early-day mining. The temperature inside the mine is a constant 44 degrees Fahrenheit, bring a jacket or buy one in our well-stocked gift stores. The tour also includes visits to the manager's office, and the miners' change room.
THE LEBANON EXTENSION MINE TOUR: The newly re-opened southwest Lebanon access tunnel takes you over 900 feet into Leavenworth Mountain. This tunnel follows a section of the Hise ore body that extends from the silver mines of Silver Plume to the Silver Queen mine in Georgetown. You will see naturally occurring "silver pearls", calcified hobnail boot prints, calcite dams, stalactites that are over 100 years old.
THE EVERETT GOLD PANNING & SILVER MINE TOUR: The Everett Mine has recently reopened! It gives visitors a sense of a mine when it was brand new and in operation in the late 1880s. The lighting is set to a level similar to the candle lights the miners would have been using. The interior mine exhibits cover: the transition from hand drilling to mechanical drilling, the differences between black powder and dynamite blasting, ore removal, timbering, and tunnel construction. Guests also pan for gold, and can take home everything they find! Every guest receives a hot dog, chips, and lemonade. This tour is open Fridays though Mondays through September.
RAILROAD FARES
Our season at the Loop can be very busy with many trains running SOLD OUT on weekends, on holidays, and during the holiday season. We recommend making a reservation.
During our summer season, the Silver Plume Depot opens at 9am and the Devil's Gate Station in Georgetown opens at 9:30am. Trains depart from both locations.
FARES ARE ROUND-TRIP. Adults start at $25.95; children (3-15) start at $18.85; Babies and Toddlers (2 and under) are free and must sit on an adult's lap.
ADD THE LEBANON MINE TOUR: Adults start at $10; children (3-15) start at $9; Babies and Toddlers (2 and under) are free.
GROUP RATES: For groups of 20+ people please call 1-888-456-6777 to speak with our group coordinator.
LOCATION: Georgetown and Silver Plume
We are 45 miles west of Denver off I-70 at exit 228 for the Devil's Gate Station in Georgetown Depot or Exit 226 for the Silver Plume Depot.
RESERVATIONS
For information about making reservations for the 2017 season, call 1-888-4-LOOP-RR (1-888-456-6777).
RATES
Specialty Discounts (call for availability): Stay & Play Packages Groups.
FACILITIES
Elevation: 8500 feet above sea level.
Credit Cards: Visa Card. MasterCard. Discover Card. American Express.
GROUPS REUNIONS AND WEDDINGS
Groups Welcome: Club. Corporate. Reunion. Weddings. Elopements. Youth group with adult leaders. Retreat.
Group Meeting Area: Outdoor area.
Maximum # of Day-Use Guests in Outdoor Open Picnic Area: 200
FUN THINGS TO DO
Open Dates For On-Site Activities: 5/26 to 10/8
PRIMARILY YEAR ROUND ACTIVITIES
Designated Historic District, Site or Plaza: On site.
Designated Hiking Trails: Trails start on site.
Museum: On site.
PRIMARILY SUMMER ACTIVITIES
Tourist Train Rides: On site.
Mine Tours: On site.
Historic/Cultural Tours: On site.
Find local Maps & Fun Things To Do for your Colorado Vacation:
---