High Canyon Adventures @ Bair Ranch
970-945-9773















Authentic Western Colorado Vacation Experience!
High Canyon Adventures Guest Ranch, operated on the Bair Ranch, is in the mountains of Colorado's western slope, in the heart of Glenwood Canyon, only minutes from Glenwood Springs, Aspen and Vail. Ranch activities are close to I-70 with easy access, while the lodging is away from the Highway and feel remote and secluded; the best of both worlds.
Bair Ranch is one of Colorado's oldest family run working live stock ranches. Family owned and operated as a working live stock ranch since 1919. It encompasses over 5500 acres and miles of trails, surrounded by forest, canyons, and the Colorado River.
Secluded and Private Lodging -- Near Glenwood Springs
Lodging is secluded and private. Stay in our wide range of accommodations, from our Teepee to the Golden LeGrande Vacation home.
The Golden LeGrande is private, this three-bedrooms vacation home set in the most beautiful high country of Colorado. Complete with a kitchen and dining room. Additional luxuries include a 2,100 square foot deck, beautiful hickory floors, a fireplace, and a BBQ grill.
The Caribou Cabin sleeps 6 comfortably with one-bedroom and a spacious loft.
Spring Creek Cabin is the perfect backwoods getaway in secluded area of the ranch, sleeps 8 people in three-bedrooms. Fully furnished with beautiful views of the local mountains.
For large groups, rent our two remodeled buildings. One building is set up as a kitchen and dining facility with a bedroom and half bath for the cook. The other building is a bunk house with bathroom and sleeping quarters setup with four large bedrooms. Two of the bedrooms have 4 sets of bunk beds and two of the bedrooms have full beds, along with 2 showers and 2 toilets. They sleep 20. Both buildings are located close to the picnic area, camping area, stocked fish pond and other cabins. Great for Church groups and youth groups.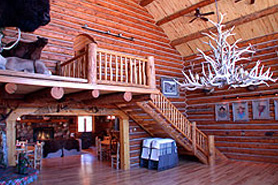 Also available are numerous smaller more rustic cabins that can accommodate 4-6 people. Take some time to relax in one of the most beautiful and scenic areas of the Colorado high country. Cabins are located near stocked fish ponds.
For a once in a lifetime and unique experience you may choose to spend a night in one of our teepees. Our teepees were erected with the assistance of the chief of the Southern Ute Indian Tribe. For young and old this is an experience that will never be forgotten. Fun for the entire family.
We welcome groups and special events for all activities on site. Private dinner parties can be arranged for all occasions, business, family, wedding, reunions, special occasions.
ON-SITE FUN THINGS TO DO - EXPLORE OUR RANCH
Colorado's Outdoor Family Adventure Experts
Whether you stay with us or somewhere else in Glenwood Canyon we offer guided horseback riding, ATV tours, and snowcat tours for your enjoyment. We also have chuckwagon suppers.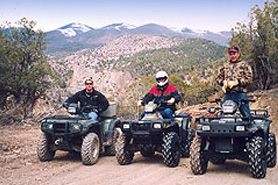 HORSEBACK RIDES -- For all experience levels, novice to adventurous.
SHORT RIDES FOR THE NOVICE RIDER: riders are offered lessons on basic horse handling and operation. We teach the Do's and the Don'ts of horsemanship to ensure the enjoyment and the safety of each rider.
LONG RIDES FOR THE EXPERIENCED & ADVENTUROUS RIDER: Ride into the mountains on a scenic trail. Lunch or dinner may be provided at the half way point in the ride or at the end.
Overnight Rides are also available (dinner and cabin Included).
Looking for a family activity for young and old alike a HAY RIDE is always fun for the entire family or group.
ATV TOURS -- Come enjoy more than 50 miles of amazing trails. It is incredible!!!
We have the best terrain for ATVs in the state. Every time is different . . . Every ride, an experience of a lifetime. Ride single or double on one of our Polaris Sportsman 500CC ATVs. Tours Include: Professional guide, Polaris ATV, helmet, drink, outdoor attire is appropriate (jeans and boots are recommended). Scenic Tours are available 7 Days a week. Call for Reservations. We Welcome Groups, and Special Events.
SNOW CAT TOURS -- Possible Wild Game Sightings!
Snow cat tours run during winter months - pending adequate snow. The scenic tour covers terrain that would normally be inaccessible during the winter months. Wildlife is abundant on the ranch and deer and elk sightings are possible. We offer a Canyon Tour (2 hour) and a Mountain Tour (3 hour).
COOKOUTS & CHUCKWAGON SUPPERS -- A Little Country Cookin!
Meals are catered and served by an authentic "Old West" chuck wagon as well as cook cabin. Breakfasts, Lunches and Dinners may not be included in some packages but are all available upon request. Private Dinner Parties can also be arranged for all occasions: reunions, weddings, corporate retreats and meetings or other special occasions. Our Western BBQs are very popular for company outings or just for a good time.
ELEGANT WEDDING IN COLORADO'S MOUNTAINS
The Golden LeGrande Lodge is the perfect location for your outdoor wedding. Have the wedding of your dreams; our staff will help make it happen!
LOCATION: Easily accessible, 12 miles east of Glenwood Springs, take I-70 to Exit 129, south of the Colorado River. 66586 US Highway 6, Glenwood Springs CO 81601.
Call today for your Colorado family vacation and to start making your Mountain Wedding plans: 970-945-9773.
LODGING

Lodging Open Dates: All Year

LODGING RATES

Nightly Lodging Rates On-Season: Range from $69 to $500
Off-season rates available, call for information.
Multi-Night Stay Required: During holidays and special events, please call for details.

ACCOMMODATION DESCRIPTION

About Smoking: All non smoking units.
Cabins/Cottages with Cooking Facilities: 2
Vacation Homes or Guest Houses: 1
Camper Cabins/Yurts Outdoor Cooking: 5
Units with King Beds: Some units.
Units with Queen Beds: Some units.
Units with a Private Jetted Bath Tub: 1
Units with Wood Fireplaces: 1
Additional Amenities (ask about availability): Coffee Maker with coffee.

FACILITIES

Elevation: 7700 feet above sea level.
Region: Vail Area - Northwest, Colorado
Location: Close to Town.
Setting: Mountain views. Adjoins public lands. Country feel. Forested. Ranch setting.
On-Property in Central Area for Guests to Use: Central Picnic Area with BBQ Grills.
Wagon/Hay Rides: On site.
Overnight Pack Trip: On site.
Credit Cards: Visa Card. MasterCard. Discover Card. American Express.

PET POLICIES

Pets in Lodging: Some pets are allowed in private rental units. There may be a fee or a deposit. Make advance arrangements

TECHNOLOGY FOR GUESTS TO USE IN A COMMON AREA

Phone: In common area.
Internet Cafe: 20 minutes drive.

GROUPS REUNIONS AND WEDDINGS

Groups Welcome: Club. Corporate. Reunion. Weddings. Youth group with adult leaders. Retreat.
Group Meeting Area: Indoor room and outdoor area.
Conference Center: Meeting room with tables and chairs can be set up class room style. Some A/V equipment available for seminars. Call for more details.
Central Picnic Area with BBQ Grills: Yes
Maximum # of Day-Use Guests in Indoor Meeting Room: 100
Maximum # of Day-Use Guests in COVERED Outdoor Picnic Area: 150
Maximum # of Day-Use Guests in Outdoor Open Picnic Area: 500
Maximum # of Lodging Guests with a Group: 20
Your Host will Cater or Arrange Meals with Advance Arrangements: Yes
Your Host will Provide Wedding Planning Help: Yes

FUN THINGS TO DO

PRIMARILY YEAR ROUND ACTIVITIES

National Park OR Monument: 30 minutes drive.
National Forests & BLM Lands: 30 minutes drive.
Designated Historic District, Site or Plaza: 15 minutes drive.
Museum: 15 minutes drive.
Hot Mineral Springs: 15 minutes drive.
Golf Course: 20 minutes drive.
Movie Theater: 20 minutes drive.
Art Gallery: 20 minutes drive.
Outlet/Mall Shopping: 20 minutes drive.
Restaurant(s): 15 minutes drive.
Internet Cafe: 20 minutes drive.

PRIMARILY SUMMER ACTIVITIES

Stocked Fishing Pond: On site.
Fishing in River, Stream or Creek: On site.
Fishing in Lake, Reservoir or Pond: On site.
Guided Fishing Trips (Licensed): Wade Fishing.
Whitewater Rafting Office/Pickup point: 10 minutes drive.
Kayaking Rentals: 10 minutes drive.
Horseback Trail Rides (Guided): On site.
Jeep Trails: 15 minute drive. (off road, back country, 4WD, Jeep, or jeeping).
Jeep Tours: On site (off road, back-country, 4WD, Jeep, or jeeping).
ATV (All Terrain Vehicles) and/or Dirt Bike Tours: On site.
Cave Tours: 15 minutes drive.
Bike Path: 1 minutes drive.
Performing Arts Theatre: 30 minutes drive.
Mini Golf: 20 minutes drive.
Chairlift/Gondola/Tram Rides: 15 minutes drive.

HUNTING

Hunting in Area: On site.
Guided Hunts: Yes.
Private Land Unguided Hunting On-Site: Yes.
Rifle Hunting Season: Yes.
Archery Hunting Season: Yes.
Muzzle Loading Hunting Season: Yes.
Deer Hunting: Yes.
Elk Hunting: Yes.
Bear Hunting: Yes.
Mountain Lion Hunting: Yes.
Colorado Hunting Units/Areas: 44, 444,

WINTER ACTIVITIES

Downhill/Snowboarding Ski Area: 45 minutes drive.
Cross Country Skiing Trails: Trails start on site.
Ski/Snowboard Equipment Rentals: 20 minutes drive.
Snowshoe Trails: Trails on site.
Snowmobile Trails: 20 minutes drive to trailhead.
Snowmobile Rentals: 20 minutes drive.
Snowmobile Tours: 20 minutes drive.
Ice Skating (outdoor) Skates Available: 20 minutes drive.
Find local Maps & Fun Things To Do for your Colorado Vacation:
---