Sterling - Eastern Colorado
Includes Briggsdale, Crook, Fleming, Grover, Stoneham
Sterling developed through a series of pioneering events. French-Canadian trappers passed through the area seeking beaver skins in the Colorado Rockies. The gold rush drove settlers to California along the Oregan Trail. The Overland Trail developed in the process, becoming the heaviest traveled trail from 1862-1869, and brought enterprising people to the area to start ranching, freighting, newspapers, and other thriving businesses.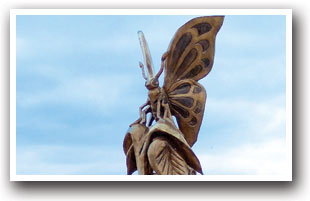 The Civil War contributed to western popularity. The south required renovation and many folks desired a new beginning and clean slate. Initially looking near present day Greeley, with the farmland already spoken for, moved east to land just north of Sterling. The first irrigation ditch was carved out in 1873.
Railroad played an incredible role in development across the United States and Sterling roots itself similarly. When the Union Pacific decided to extend its line from Julesburg to Lasalle, early Sterling Colony members elected Minos C. King to meet with railroad officials in Omaha to lure the line through Sterling. In 1881 the railroad came through and the town began to develop with a lumberyard, general store, and hotel near the depot. Articles of incorporation were completed in 1884 and George Wilson became the first mayor.
Today Sterling Reservoir provides 3,000 acres of aquatic recreation fed by the South Platte River. Water skiing, sailing, and swimming are all popular pastimes at the lake. Plenty of facilities for camping are also available. If fishing is your style, look for these warm-water dwellers - Bass, Bluegill, Catfish, Crappie, Perch, Tiger Muskie, Walley, & Wipers.
Sterling is near: Julesburg & Fort Morgan

Featured Sterling Businesses
North Sterling State Park

Reservoir 12 miles north-west of Sterling. This is the State Park families are looking for: a boater's paradise, Saturday night campfires, swim beach, campsites, wildlife watching, hiking, winter camping.


---
For more travel information contact:
Sterling Activities and Maps
National Parks and Monuments:
Pawnee National Grasslands

Scenic Byways:
Pawnee Pioneer Trails Scenic Byway -UPDATED-

---