Westcliffe - South Central Colorado
Includes Rosita, Silver Cliff
When silver was king in 1881, the Denver & Rio Grande Railroad expanded from Cañon City west and built Westcliffe. After silver went bust, Westcliffe managed to hang on as a ranching and farming community. Silver ore was first discovered in black stained cliffs in 1878.
The new Frontier Pathways Scenic and Historic Byway connect Rye/San Isabel, Westcliffe and Colorado City/Pueblo via Colorado Highways 165 and 96.
SUGGESTED STOPS ON THE FRONTIER PATHWAYS
SCENIC AND HISTORIC BYWAY
Be sure to stop and see The Colfax Colony Experiment 4.5 miles south on SH69. Carl Wulsten formed this German Colony bringing 100 families from Chicago in March 1871 by December the colony fell apart. The "Westcliff" Schoolhouse, listed on the National Register of Historic Places, is located on 4th street, was dedicated on Christmas Eve 1891. No one knows why the school name, still visible above the door as "Westcliff" spelled without the 'e'. Mingus Homestead, listed on the National Register of Historic Places, is located on Forest Service Road 383 near mile marker 11, stay to the right when the road forks, about 1 mile off Highway 165. The town of Ula is nothing more than a cemetery and cabin you can see from Highway 69 near mile marker 63.2. Ula was the first settlement in the valley boasting a post office, general store and hotel.
Just north of town is Lake DeWeese, in the bowl of the Wet Mountain Valley, which offers fishing and water sports. Grape Creek, which flows below the reservoir, has rainbow and brown trout. Lake Isabel, in the San Isabel National Forest, is ideal for picnicking, fishing and hiking. Lakes of the Clouds, at 11,200', are accessible by four-wheel drive or hiking in 5 miles. But the trip is worth it as the remote beaver ponds below the lakes have brook and cutthroat trout while the upper lake has rainbow trout.
In the winter, try cross-country skiing or snowshoeing in the area.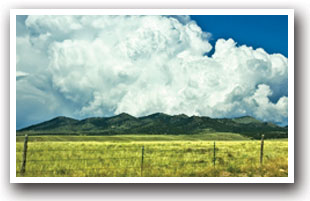 Westcliffe is near: Greenhorn Valley & Royal Gorge Area

Featured Westcliffe Businesses
Alpine Lodge - Dinner Restaurant, Lounge, Mountain Cabins


An alpine holiday near Westcliffe bordered by the San Isabel National Forest. On-site lodge restaurant and lounge with prime rib dinners nightly! Two-bedroom mountain cabins have kitchenette, private bath.





---
Colorado Cabin For 2 (Spa Sola Fide)


Kindle romance in a beautiful Colorado setting. PACKAGES: 2-5 night stay, massages (Spa Sola Fide), wine, flowers. Enjoy the privacy of being the only cabin guest. One hour from Canon City, near Westcliffe.


---
Cross D Bar Trout Ranch

Family Fun at the Cross D Bar! Known as the "Trout Ranch" fish 4 stocked lakes for trout. In south central Colorado, Westcliffe is perfect for reunions: RV hookup sites, cabins, deluxe tipis, ranch guesthouse.


---
Custer County Visitor's Center
Stop in to learn about the Wet Mountain Valley: historic towns of Westcliffe and Silver Cliff, the Rainbow Trail, waterfall hikes, art galleries, the Sangre de Cristo Mountains, and the San Isabel National Forest.


---
Golden Corner Inn of Westcliffe Colorado


Stay in the picturesque Wet Mountain Valley. On the corner in Westcliffe. Golden Inn has rooms with full kitchens, bathrooms, air conditioning, dining space, good WI-FI. In-site oxygen bar in a tranquil setting.



---
Music Meadows Ranch


Amazing horseback riding adventure on a true working cattle ranch! Music Meadows is in Westcliffe CO between Canon City and Walsenburg. Enjoy a day of riding then stay in our intimate 3 room ranch lodge.



---
Shining Mountain Rentals


BRING the FAMILY to our mountain retreat near Westcliffe with shining views of the Sangre de Cristos and Wet Mountains. We have the vacation rentals for you! Love hunters. Your adventure; Your season!

---
Westcliffe Activities and Maps
National Historic Sites and Landmarks:
Spanish Peaks

Scenic Byways:
Frontier Pathway Scenic Byway -UPDATED-

Hiking Trails:
Rainbow Trail Hiking

Snowmobiling:
San Isabel Area Snowmobile Trails

---