Denver & Rio Grande Railroad
970-749-7575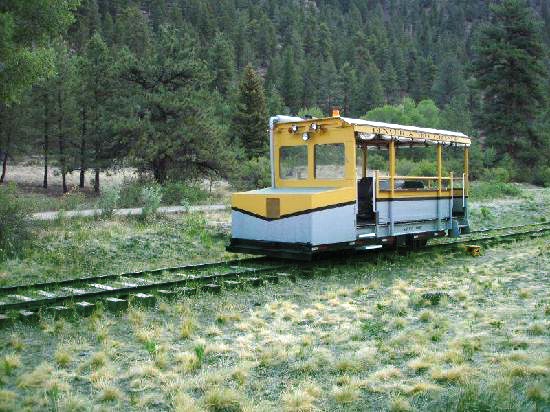 The Main Event | Rail and Raft | Afternoon Delight | Rio Grande Moonlight | The Depot
Denver & Rio Grande Railway Historical Foundation
Travel back in time with us along the Denver & Rio Grande Railroad! Our historic route takes you over tracks that date back to the gold and silver rush, when the West was Wild. Regularly scheduled trips are offered along the Wagon Wheel Gap Route - Historical and Educational Scenic Rail Excursions between South Fork, CO and Wagon Wheel Gap, CO. If your looking to extend your experience add an additional leg to Wasson Wye along the Upper Rio Grande River and Palisades.
Silver Streak is our first rail vehicle, and will be the rail-car. Your conductor, an engineer and principal with the railroad foundation, will take you back in time to relive the rich mining and railroad history of the area.
If you have only seen the Rio Grande between South Fork and Creede from an automobile, do yourself a favor, shut off your cell phone and take this trip by rail. The scenery is spectacular, the guide is entertaining and informative, and the lunch is great.
The Foundation is a (501c3) non-profit Corp.
THE MAIN EVENT
It's an "open air" train ride and as you journey along the Rio Grande your guide will stop to show you the amazing history of the area and tell the many stories that made the West famous for adventure. You'll see views of the mountains that you just can't see from the road.
Departs Daily - 10am May 24 - October 7 Route: South Fork to Wagon Wheel Gap
RAIL and RAFT
Add 1/2 Day Raft trip on the Rio Grande near Creede/South Fork and see the Rio Grande National Forest.
Departs Daily - 10am May 26 - October 7 Route: South Fork to Wagon Wheel Gap
AFTERNOON DELIGHT
Departs Daily - 3pm June 24 - August 19 Route: South Fork to Wagon Wheel Gap
RIO GRANDE MOONLIGHT
Departs at 8:30pm Full Moon Nights & Other Dates Too! In 2014 the Full moon happens June 13, July 12, and August 10. Route: South Fork to Wagon Wheel Gap
THE DEPOT
Scenic and Historic Rail Excursions depart from the South Fork Depot on State Highway 149 - 1/2 mile North of US 160. 0097 Ponderosa Drive, South Fork CO 81154.
Reservations: 970-749-7575.
RATES

Specialty Discounts (call for availability): Seniors. Military Personnel.

FACILITIES

Elevation: 7664 feet above sea level.
Credit Cards: Visa Card. MasterCard. Discover Card. American Express.

FUN THINGS TO DO

Open Dates For On-Site Activities: 5/24 to 10/7

PRIMARILY SUMMER ACTIVITIES

Tourist Train Rides: On site.
---
Find local Maps & Fun Things To Do for your Colorado Vacation:
---