Melody Lodge Cabins, Store & MLC Fishing Service
800-468-8495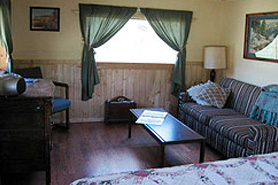 Cozy and comfortable vacation cabin rentals are at Green Mountain Reservoir, nestled in north Summit County, only 1.5 hours from Denver yet "a million miles away." The surrounding open landscape has big, beautiful views of 2 mountain ranges, rustic sage flats and huge meadows of the adjacent, historic Knorr Lakeside Ranch -- all perfect for bird and wildlife watching.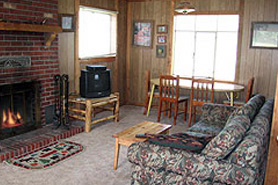 BOATING AND FISHING for trout and kokanee salmon at Green Mountain Reservoir are the best. Bring your boat (we have parking) or rent a pontoon or fishing boat from the Heeney Marina just down the road. Don't feel like navigating a rental boat? Our MLC Guided Fishing Service will take you on our pontoon boat for a memorable half or full day fishing trip on the lake.
Scenic Cataract Lake and Falls and several hiking trails into the Eagles Nest Wilderness Area are 5 miles away. Experience renowned fly-fishing -- access to the Lower Blue River Gold Medal Trout Waters (designated by the Sate of Colorado) one mile down the road. Or, fish the Wild Trout Waters, 8 miles away below the dam. Fall salmon snagging is great fun with the spectacular gold aspens coloring the valley.
5 HOUSEKEEPING CABINS -- 1 and 2 bedrooms plus a small one-room cabin -- with full kitchens and fully furnished, perfect for your quiet, romantic getaway OR bring the family and friends (up to 27) and your dog. You'll be pleasantly surprised at the generous size of your "home away from home," the relaxing quiet, and the convenient location for all that central Colorado offers in outdoor activities and sightseeing.
LOCATION: Between Silverthorne and Kremmling at Green Mountain Reservoir off Highway 9; 1534 Heeney Road 30, Heeney Colorado 80498.
Dale and Debbie Mitchener; welcome you.
For Fishing Conditions; Current Rates and To Make Your Reservations: 800-468-8495; 970-468-8497.
LODGING

Lodging Open Dates: 5/15 to 11/15

LODGING RATES

Nightly Lodging Rates On-Season: Range from $90 to $240
Weekly Lodging Rates On-Season: Range from $600 to $1470
Monthly Rates Available: Yes, call for details.
Multi-Night Stay Required: During holidays and special events, please call for details.

ACCOMMODATION DESCRIPTION

About Smoking: All non smoking units.
Cabins/Cottages with Cooking Facilities: 5
Units with King Beds: None.
Units with Queen Beds: Most units.
Units with Wood Fireplaces: 1
Units with Wood Stoves: 1
Units with Gas/Electric-Log Fireplaces: 2
Additional Amenities (ask about availability): Coffee Maker with coffee.

TECHNOLOGY IN UNITS

Units with TV: Most units.
Type of Reception: Satellite.
Number of Channels: 50
TV Screen 32" or Larger: Most units.
Internet Access in Units: All units.
Internet Access at No Additional Fee: Through Wi-Fi wireless.

RATES

Specialty Discounts (call for availability): Stay & Play Packages

FACILITIES

Elevation: 8100 feet above sea level.
Map Location: Property Location Map
Location: Away from Town, but close to a community convenience store and restaurant.
Setting: Mountain views. Adjoins public lands. Country feel. Ranch setting.
OPEN Campfires (individual use): Yes. (If no local fire bans are active.)
BBQ Grills (individual use): Yes
On-Property in Central Area for Guests to Use: Fully equipped kitchen with pots, pans, dishes and serving utensils. Outdoor Hot Tub. Central Area for OPEN Campfires. (If no local fire bans are active.) Central Picnic Area with BBQ Grills.
Kid's Play Structure: On site.
Credit Cards: Visa Card. MasterCard. Discover Card.

PET POLICIES

Pets in Lodging: All Dogs are allowed in private rental units. There may be a fee or a deposit.
Vet Services: 15 minutes drive.

TECHNOLOGY FOR GUESTS TO USE IN A COMMON AREA

Television: Available.
Internet Cafe: 30 minutes drive.

GROUPS REUNIONS AND WEDDINGS

Groups Welcome: Club. Reunion. Weddings. Elopements. Youth group with adult leaders. Retreat.
Group Meeting Area: Outdoor area.
Central Area for OPEN Campfires: Yes. (If no local fire bans are active.)
Central Picnic Area with BBQ Grills: Yes
Maximum # of Day-Use Guests in Outdoor Open Picnic Area: 27
Maximum # of Lodging Guests with a Group: 27

FUN THINGS TO DO

PRIMARILY YEAR ROUND ACTIVITIES

National Park OR Monument: 60 minutes drive.
National Forests & BLM Lands: Walking distance.
Designated Scenic/Historic Byway: 20 minutes drive to the scenic byway.
Designated Hiking Trails: 5 minutes drive to trailhead.
Museum: 20 minutes drive.
Golf Course: 20 minutes drive.
Movie Theater: 30 minutes drive.
Outlet/Mall Shopping: 25 minutes drive.
Internet Cafe: 30 minutes drive.
Casino Gambling: 60 minutes drive.

PRIMARILY SUMMER ACTIVITIES

Stocked Fishing Pond: 10 minutes drive.
Fishing in River, Stream or Creek: Walking distance.
Fishing in Lake, Reservoir or Pond: Walking distance.
Guided Fishing Trips (Licensed): Lake Fishing.
Marina: 10 minutes drive.
Fishing Tackle Sold: On site.
Boat Rentals: Canoe, Raft, Row, Paddle &/or Motor: 10 minutes drive.
Whitewater Rafting Office/Pickup point: 30 minutes drive.
Kayaking Rentals: 30 minutes drive.
Horseback Trail Rides (Guided): 30 minutes drive.
Horse Rides with a Wrangler (Open Range): 30 minutes drive.
Jeep Trails: 1 minute drive. (off road, back country, 4WD, Jeep, or jeeping).
Jeep Rentals: 30 minutes drive. (off road, back country, 4WD, Jeep, or jeeping).
4-Wheel Drive Sales & Services: 20 minutes drive. (off road, back country, 4WD, Jeep, or jeeping).
ATV (All Terrain Vehicles) and/or Dirt Bike Trails: 1 minute drive.
ATV Sales & Services: 20 minutes drive.
Tourist Train Rides: 50 minutes drive.
Mountain Bike Trails: Trails start on site.
Bike Path: 25 minutes drive.
Bicycle Shop: 25 minutes drive.
Waterfall Trails: 5 minutes drive to trailhead.
Chairlift/Gondola/Tram Rides: 30 minutes drive.

HUNTING

Hunting in Area: 10 minutes drive.
Colorado Hunting Units/Areas: 37, 371, 28
Find local Maps & Fun Things To Do for your Colorado Vacation:
---