Colorado National Parks
The United States Air Force Academy
The United States Air Force Academy was established in 1954 by President Eisenhower. Since the doors were opened in 1958, 33,000 men and women have graduated from this prestigious school. With their motto of "To educate, train, and inspire men and women to become officers of character, motivated to lead the United States Air Force in service to our nation," it is apparent why many apply to this competitive school.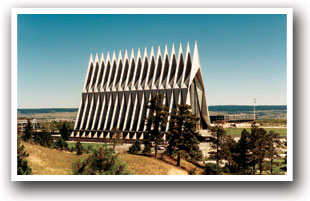 The Academy is open to the public daily from 8:00 AM to 6:00 PM. There are no guided tours, but when you enter, you can visit the Visitor Center and Gift Shop - open daily from 9:00 AM to 5:00 PM. Here you can view the 14-minute video that shows the life of a Cadet on the base. The visitor center also has exhibits for you to explore. From here you will get a map, which guides you to the chapel and the field house.
The Air Force Academy Chapel took 5 years of planning before it was built, and 4 years to build. The chapel contains an upper level for 1,300 Protestant worshipers, and a lower level with a 500 seat Catholic chapel, as well as a 100 seat Jewish Temple. The goal of the chapel was to provide a place for the spiritual needs of all the cadets.
Also on your tour you can visit the field house. At the field house, you can find cadets working out or practicing with a team. With the major role that athletics play in academy life, Sports Illustrated dubbed the academy "the most athletic school in the country." Many of the intercollegiate teams compete at the field house, one team being hockey. In the field house there is also an indoor field where lacrosse and football teams can practice during bad weather. The Clune Arena is the most impressive arena of the field house, seating 6,000. It was built in memorial of former Athletic director Colonel John J. Clune. Outside the field house, 57 athletic fields cover 140 acres.
Downloads:
View a map of the U.S. Air Force Academy
(Map provided by the U.S. National Park Service)
Directions:

North of Colorado Springs Metro and south of Denver. Enter the Academy from the North Gate entrance. Exit off I-25 at exit 156B.

Places to Stay & Fun Things to Do
Rocky Mountain Lodge & Cabins



2 CABINS with kitchens and a 5 bedroom LODGE B&B are in the Rocky Mountains at the base of Pikes Peak near Colorado Springs, in the small community of Cascade. Romance and Attraction Packages.
More Activities & Information
Colorado Springs Metro, Colorado includes: Black Forest, Fountain, Monument
Pikes Peak Area, Colorado includes: Cascade, Chipita Park, Deckers, Green Mountain Falls, Manitou Springs, Woodland Park
---
---
National Historic Sites and Landmarks in Colorado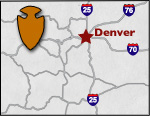 ---