Colorado National Parks
Garden of the Gods Recreation Area
Garden of the Gods recreation area covers 480 acres in the Colorado Springs area. In the 1850's, two surveyors from Denver City came upon this area of sandstone formations. M. S. Beach, who related this incident, suggested that it would be a "capital place for a beer garden" when the country grew up. His companion, Rufus Cable, a "young and poetic man," exclaimed, "Beer Garden! Why it is a fit place for the Gods to assemble. We will call it the Garden of the Gods." Committed to remaining free to the public, Garden of the Gods Park is open from 5 AM - 11 PM in the summer and 9 AM - 5 PM in the winter, bringing over one million visitors every year.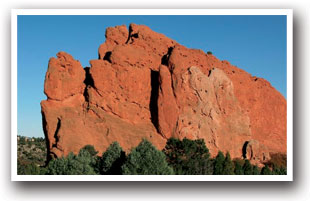 The park is best known for its stunning rock formations, which began forming over 320 million years ago. Sculpted through time by erosion, the 20 sandstone rock formations offer beautiful views. Two of the most well known formations are Balanced Rock and Kissing Camels. Balanced Rock sits upon another rock, looking as if it will fall on the road. However, after a group of college students tried to topple the rock, a cement layer was added to secure the rock. Kissing Camels formation looks as its name implies, two camels kissing each other.
Hiking in Garden of the Gods is a popular activity. The park has eight miles of trails, both paved and unpaved. Perkins Central Garden Trail is the easiest and most accessible trail for all. Usable by wheelchairs and strollers, the 1.5 mile trail only gains 30'. For a more difficult trail, try the Chambers/Bretag/Palmer Trail. Almost circling the entire park, the 3 mile hike is of moderate difficulty, gaining 250'.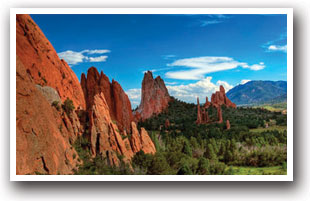 The Visitor and Nature center offers many exciting ways to learn about the park. Be sure to view the movie "How Did Those Red Rocks Get There?" This twelve minute movie explores the geological history of the park. The center also provides a 30 minute bus tour of the geology and history of the park, as well as, hands on exhibits relating to the geology, ecology and cultural history of the park. The visitor center is open from 9 AM - 5 PM in the winter, and 8 AM to 8 PM in the summer.
Directions:
From I-25 in Colorado Springs, take exit 146 and head west on Garden of the Gods Road. Follow to its end ("T" intersection) at 30th Street; turn left (south) and go about 1.5 miles. The visitor center will be on the left and the park entrance on the right.

Places to Stay & Fun Things to Do
Avenue Hotel Bed and Breakfast & Carriage House


The first hotel in Manitou Springs! 1886 Victorian home offers Bed and Breakfast rooms with claw foot tubs. Plus a private vacation Carriage House. Avenue Inn has spa services and a hot tub in the garden.
Clear Creek Rafting Co.



Something for everyone! Whitewater trips on 2 GREAT RIVERS: The Arkansas River and Clear Creek. 2 CONVENIENT LOCATIONS: Royal Gorge and Idaho Springs! From 2 hours to multi-day rafting tours.
Colorado Springs Convention and Visitors Bureau


Pikes Peak inspired 'America the Beautiful' in Colorado Springs - A scenic drive. Visitors find plenty to explore: affordable lodging, mountains, outdoor adventures, 55 attractions! Family vacation, conventions.
Colorado Springs KOA - Camp In The Foothills


Close to Pikes Peak and Colorado Springs. BIG RIG luxury pull-thru RV sites with patios. KOA Kabins. Tent camping in the foothills. Groups welcome. OPEN ALL YEAR. FREE WI-FI. Instant phone hookups.
Crystal Kangaroo Campground - RVs Only!
A herd of deer live at Crystal Kangaroo! The most beautiful Campground in Manitou Springs overlooking Garden of the Gods. Quiet RV Park, BIG RIGS love our 50 or 30 amp, long, pull-thru sites. Open all year.
Garden of the Gods Trading Post

The largest gift shop, trading post and art gallery in Colorado is at the entrance to Garden of the Gods Park: jewelry, apparel, gifts, artwork, Peakview Wedding Center. Buffalo Burgers at Balanced Rock Cafe!
Goldfield RV Park & Camper Cabins

Urban resort park with WI-FI, cable TV, full hookup pull-thru RV sites, air-conditioned camper cabins, tent sites, Goldfield Camp Store. Stay in the Historic District of Old Colorado City, west of I-25 on US 24.
M Lazy C Ranch - Mule Creek Outfitters


In a high mountain valley near Lake George, homesteaded in the early 1900s, M Lazy C Ranch is a cattle ranch. Log cabins and RV Sites. Mule Creek Outfitters: Horseback rides, chuckwagon meals, hay rides.
Rock Ledge Ranch Historic Site


Walk back in history at Rock Ledge Ranch in Colorado Springs. Experience frontier life first-hand: Native American and Homestead Farming: an historic site, daily activity demonstrations and seasonal events.
Rocky Mountain Lodge: Bed & Breakfast and Cabins



Romance and Attraction Packages. 2 CABINS with kitchens and a 5 bedroom LODGE B&B are in the Rocky Mountains at the base of Pikes Peak near Colorado Springs, in the small community of Cascade.
More Activities & Information
Colorado Springs Metro, Colorado includes: Black Forest, Fountain, Monument
Pikes Peak Area, Colorado includes: Cascade, Chipita Park, Deckers, Green Mountain Falls, Manitou Springs, Woodland Park
---
---
National Historic Sites and Landmarks in Colorado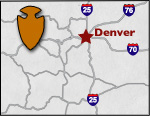 ---